The New Student Experience
The New Student Experience
Introducing a new Scoir for Students
We're happy to announce the release of the new Scoir Student Application!
We've been hard at work these last few months evaluating and iterating on our student application based on feedback from student focus groups and our exceptional counselor community.
We believe we've come up with an engaging experience for students to discover unique and exciting college opportunities, manage their college list, and curate their student profiles.
Most importantly, this is a framework for new beginnings--a focused, simplified experience which will continuously improve and evolve with guidance and feedback from our users. In light of this, a few features have been sidelined while we optimize them for gametime. We'd like to take an opportunity to provide you with context and insights for when similar functionality might make its return to the platform.
What's new for students?
A new look
The Scoir Student Application has been rebuilt from the ground up with a modern visual style and simplified navigation to emphasize three key areas: College Search, My Colleges, and My Profile.
College Preferences
Finding the right college can be tough. With over 3,000 colleges available on Scoir, it can be hard for students and their counselors to know where to begin.
College Preferences is our latest enhancement to College Search.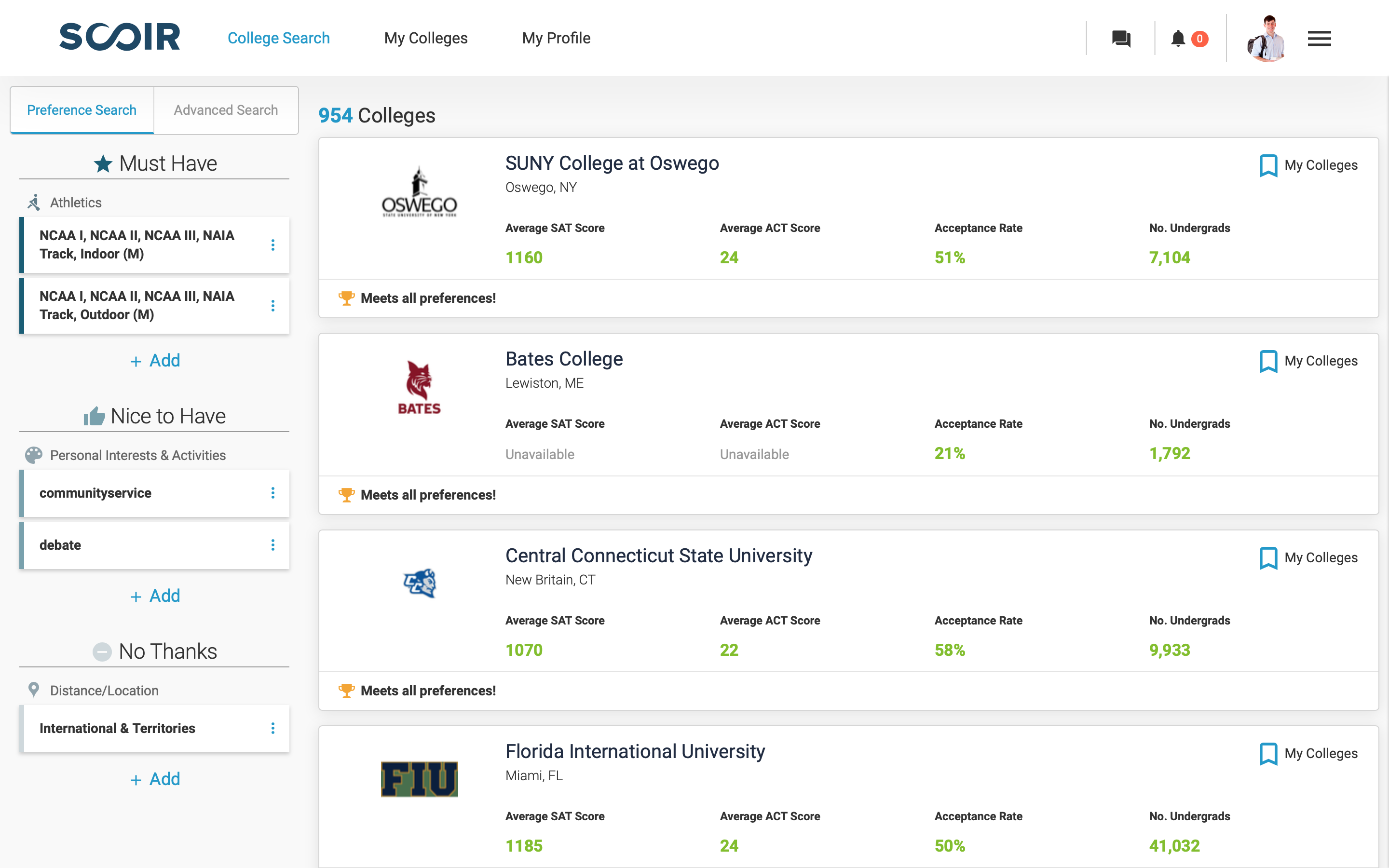 With Preferences, students have the ability to rank their prefered college attributes on their profile (must have, nice to have, or no thanks). These preferences influence the ranking and results of a unique college search that can be accessed on the College Search page, or by clicking Search my preferences in the College Preferences section of the Student Profile.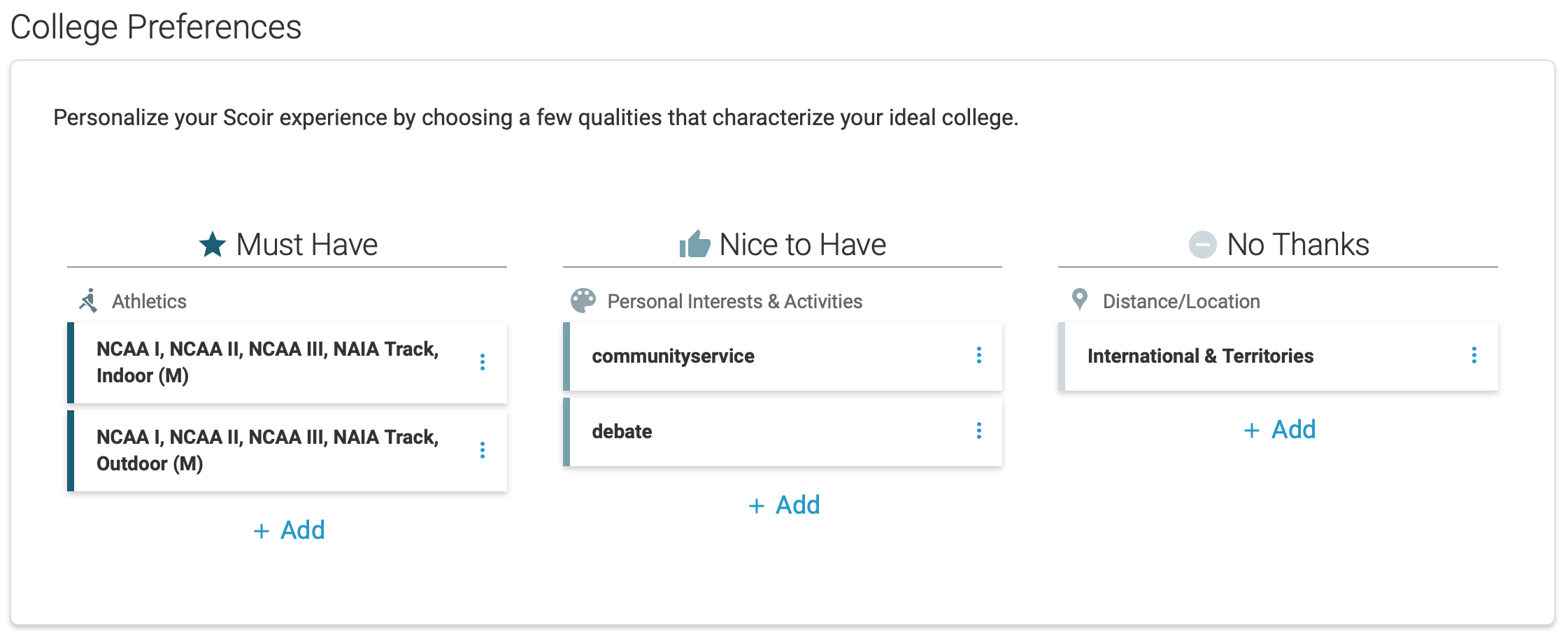 New Student Profile
While the Student Profile might have a new look, all its original functionality remains intact.
All student information now lives on a single, easily scannable page and can be accessed by clicking My Profile in the global navigation.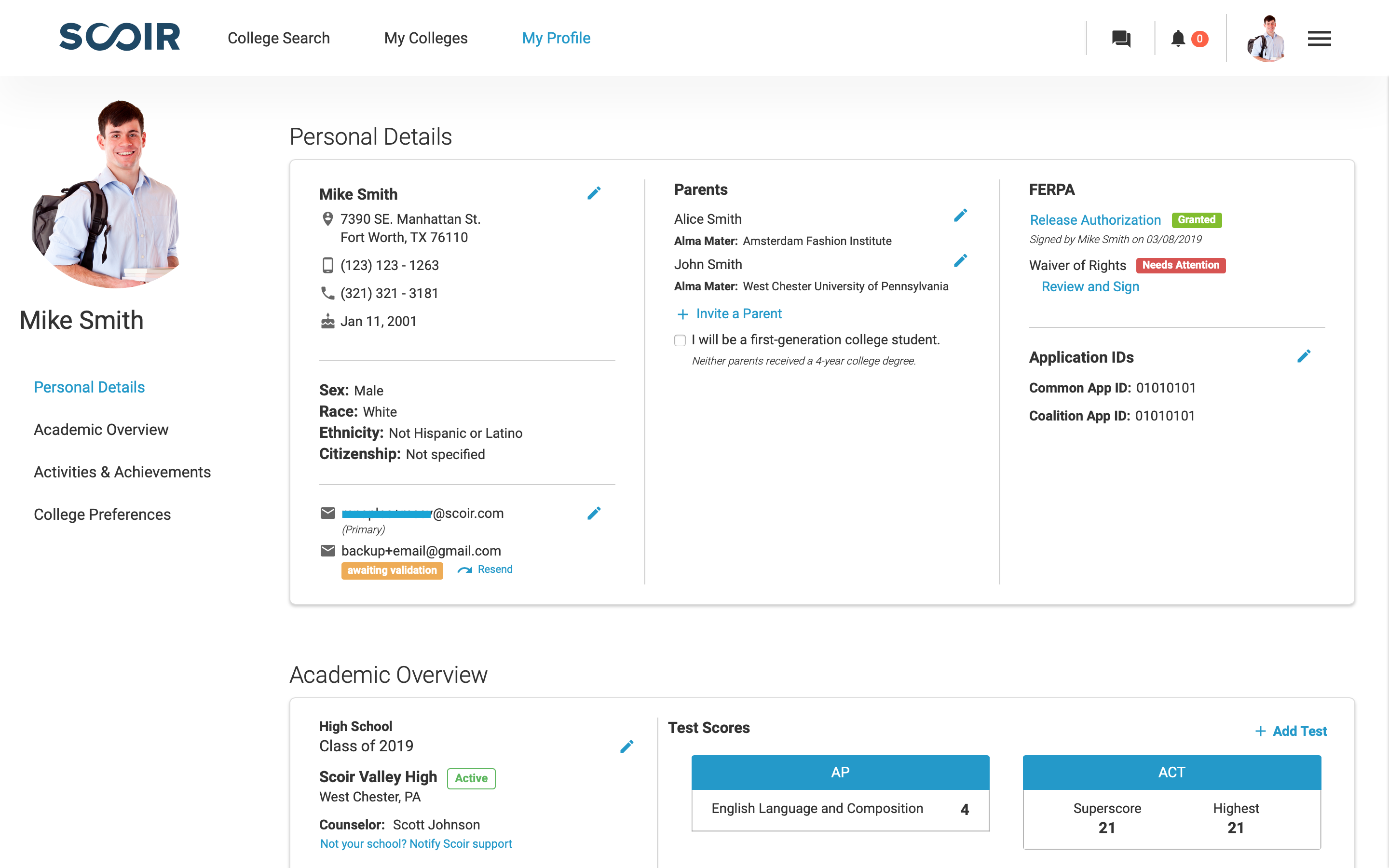 Student Profiles have been enhanced with new fields for Preferred Name, Sex, Race, Ethnicity, and Citizenship.
Furthermore, students can now add a parent's education history and alma mater affiliation, as well as indicate whether they are to be a first-generation college student.
Introducing YouScience
Scoir has partnered with YouScience to offer students a comprehensive career and aptitude assessment in which your students will have access to engaging, neuroscience-based 'brain games' that capture innate aptitudes, which are explained in an affirmative and personalized manner to build self-efficacy and guide their career exploration.
Once a student has completed the YouScience assessment, they can save their favorite career results. In the future, our partnership with YouScience will allow for greater integration between their career assessment tools and Scoir's college discovery features.
The YouScience assessment can be taken once per student account.
This is really nice and all, but where are...
Backpacks
Our original vision for Backpacks as a means for students to share work with admissions reps encountered friction around content creation and storage--however, we've spoken with students and counselors who have utilized the feature in different ways.
In an effort to account for the varying needs of our users, we have decided to retire Backpacks in favor of a more flexible and intuitive document storage solution. In the near future, this will enable us to deliver on our vision for a curated Student Portfolio with the flexibility to fulfill the administrative needs of counselors and more.
More information on document storage will be available in the weeks to come. For the time being, access to existing Backpack materials will still be available to students and counselors through the Student Profile view in the counselor application.
Notebooks and Ideaboards
Notebooks have narrowed in scope as a mechanism for students to document their campus visits and college tours; consequently, the primary home for Notebooks is the Scoir mobile application.
Notes will return with a greater focus on collaboration between students and counselors, along with tighter integration between the college search, selection and comparison process. We're working hard to research and identify the most efficient and valuable evolution of this feature.
For the time being, students can access their existing Notebooks and create new ones by downloading the Scoir mobile app on the Apple App Store or the Google Play Store.
Interests
The Interests page has been temporarily put on hold as we reevaluate our ideas surrounding college discovery, Notes, and College Walls. Students can still search for colleges by interest via the Personal Interests & Activities search bar in College Search, and College Walls are still intact.
When should I be expecting an update to the counselor application?
We're planning on bringing the new Student Profile view--along with its new and expanded fields--to the Scoir Counselor application in the coming weeks.