For Counselors: YouScience Aptitude & Career Assessment Settings in Scoir
For Counselors: YouScience Aptitude & Career Assessment Settings in Scoir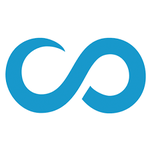 Updated by Client Success Team
Actions described in this guide require the Account Administrator role.
This article contains the following sections:
Students can only take the YouScience Assessment once.
What is YouScience?
Scoir has partnered with YouScience to provide your students with free career and aptitude assessments. YouScience consists of eleven fun, game-like exercises (9 aptitude 'brain games', 1 interest survey and 1 personality profiler).
Unlike simple interest surveys, YouScience uncovers a student's innate ability and matches them to careers for which their natural talents will help them excel.
To complete a YouScience assessment, your student must have a Scoir student account.
The entire assessment takes around 90-120 minutes to complete, with each section lasting around five to ten minutes. Once the assessment has begun, students can leave and pick up from where they left off at any time from their Student Profile.
Currently, there is no method to link an existing YouScience account to a Scoir account. We're working with YouScience to provide this functionality as soon as possible.
Enabling YouScience access for your students
To enable YouScience for your students, follow these steps.
Go to the School Account & Settings page.
Navigate to the Account Settings tab.
In the Career Profiles section, toggle Enable YouScience Access on.
Select whether to enable access for all classes, or for students beginning in the selected class year via the dropdown menu.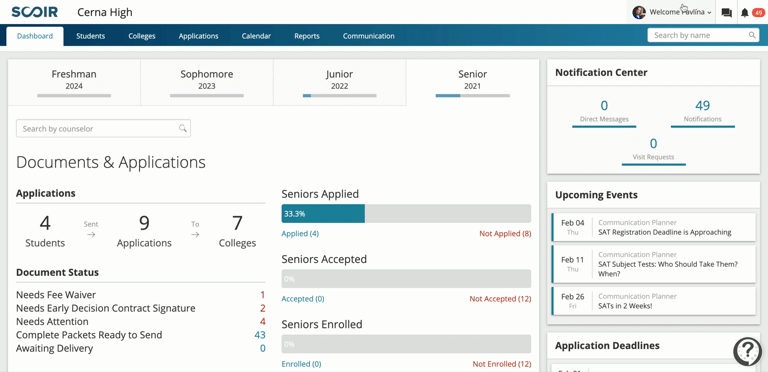 Viewing your students' progress and results
You can view high-level information regarding your students' YouScience progress directly from your dashboard under the Career Profile section of your Class Overview.
You can view detailed information regarding your students' results by class year by clicking on View in YouScience.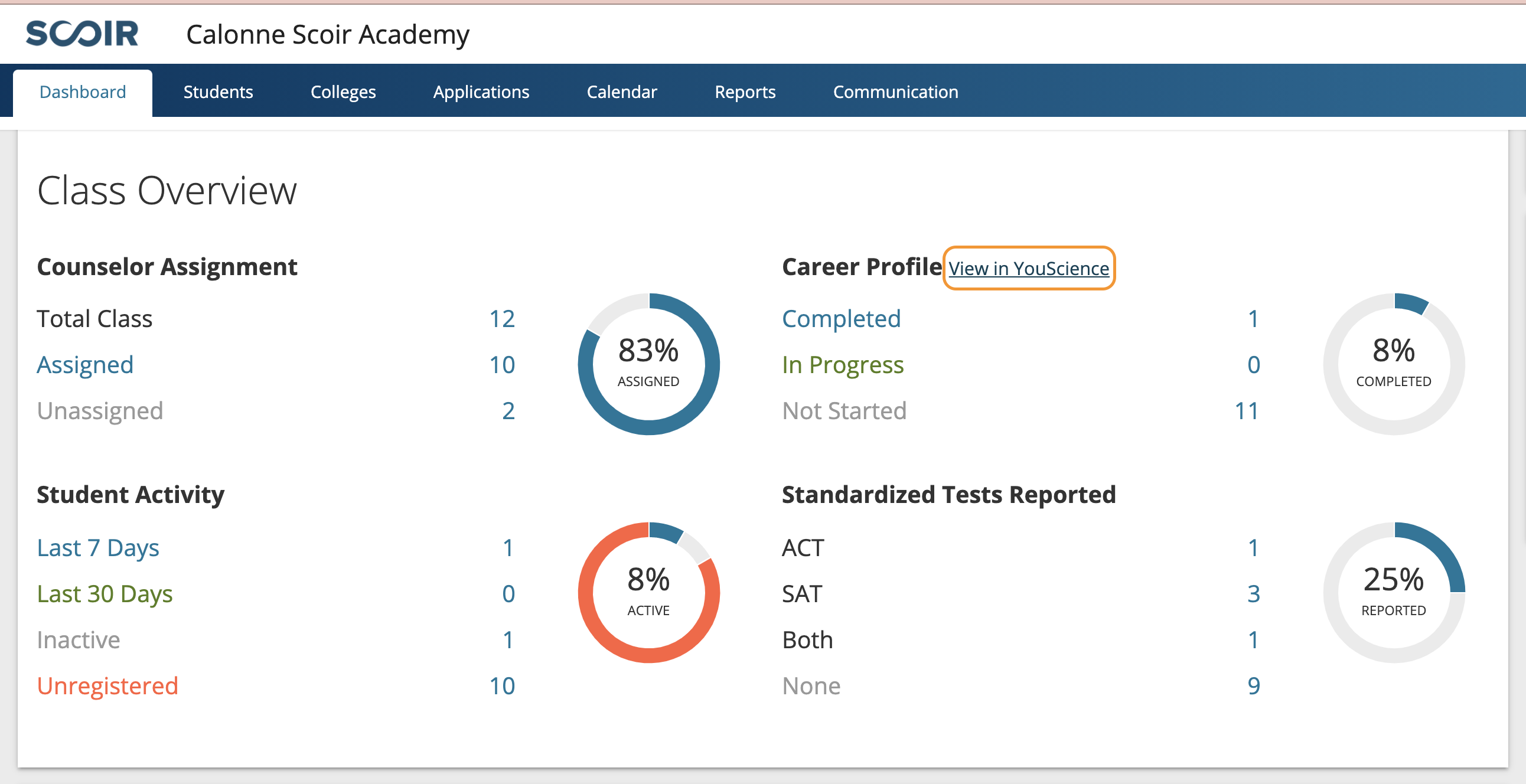 Once in YouScience, you can click on Admin Dashboard to get students started, view results, and more. You can even click on Aptitude + Interest = Success! to take the YouScience assessment that students see. Once completed, you will be able to see your own best fit careers and more!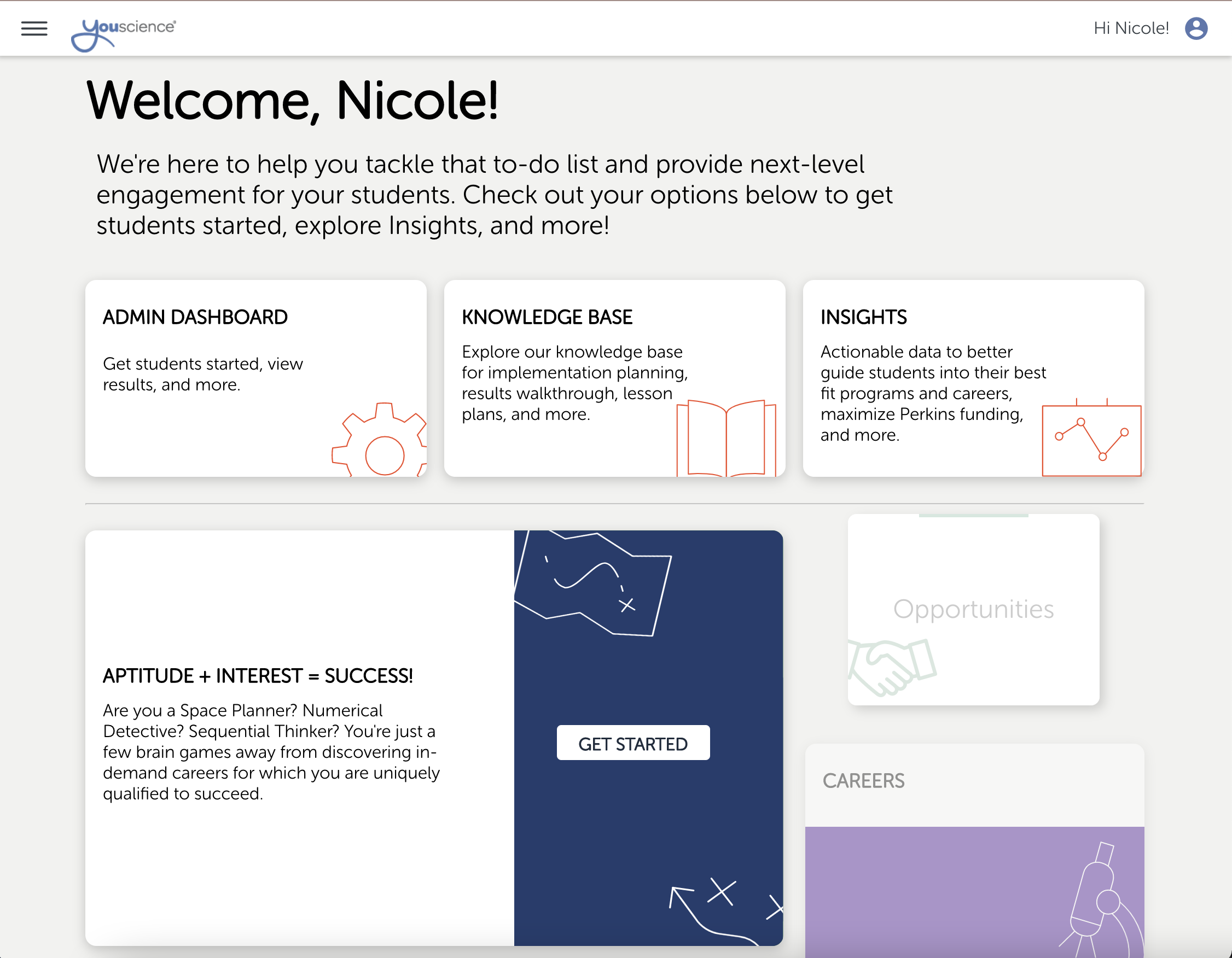 Clicking on Admin Dashboard will allow you to Manage Groups and see the progress of each Class Year. Clicking on a View Group for a particular Class Year will allow you to see the status of all students in that group. You can then click on a student and click Impersonate to view their results.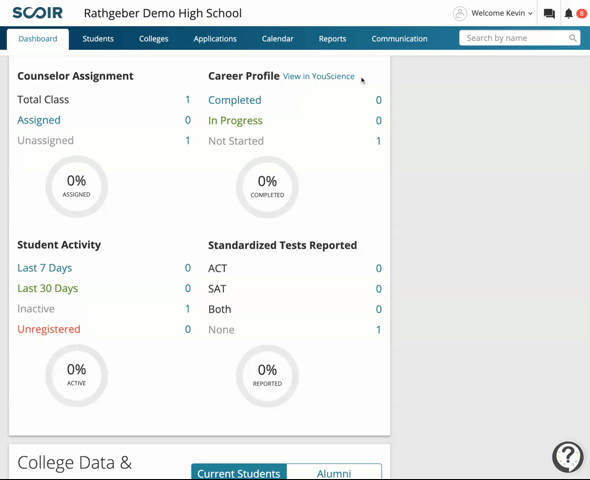 For more information, you can access YouScience knowledge base dedicated to all things Scoir by
clicking here
.
Students will need to log back in to Scoir to view their YouScience results after the 24 hour waiting period, in order for their report to be marked as complete on the counselor portal.
For additional reporting and analysis options, costs for optional features, and more, please contact YouScience directly.
profile, overview, careers