For Students: College Profiles
For Students: College Profiles
Updated by Customer Support Team
A college's profile contains all of the information available for a college on Scoir, and is broken into five main sections: Overview, Academics, Admissions, Cost & Aid, and Student Life. Virtual tours, powered by YouVisit, are also displayed at the top of the page (where available).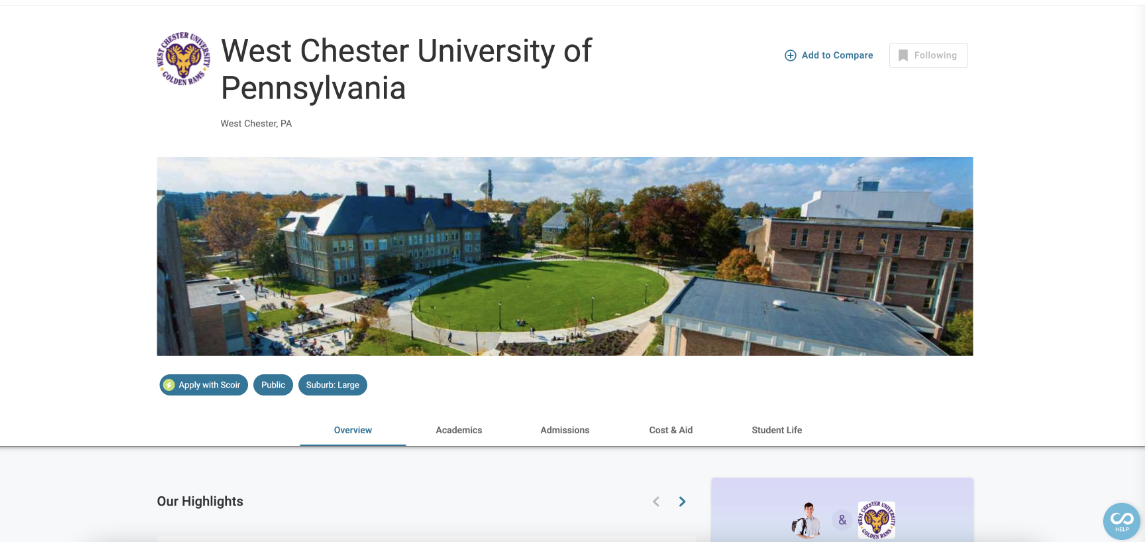 If you're already familiar with the college and want to add it to your My Colleges list, click the Follow button; or compare the college to other schools by clicking the +Add to Compare button.

Overview
The college profile overview section contains general information about the college's size and type, as well as their average net price. If the college has available visit sessions, they will be displayed here as well (above the location and nearby transportation tile.)
Similar colleges will be displayed in their own adjacent tile to promote the discovery of related institutions, as well as colleges that match your set preferences in Scoir.
The application methods accepted at this college will be listed in this overview as well. If the college has the option to Apply with Scoir, this will be listed in this section as well.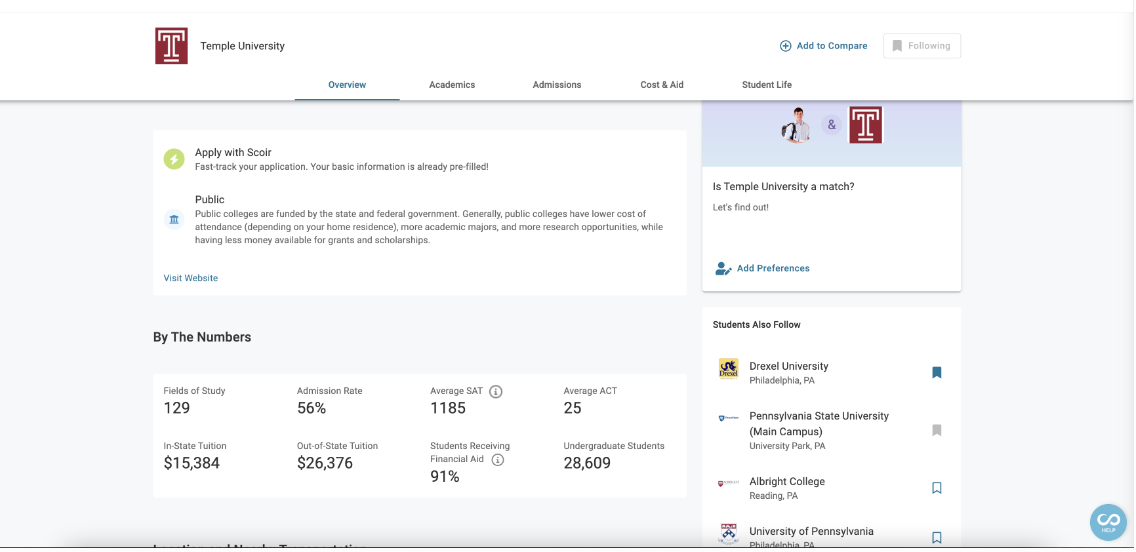 Academics
The academics section highlights degree offerings, popular majors, and other noteworthy details about the college's academic programs. There is also a filterable fields of study list that contains every course available in the college's catalog.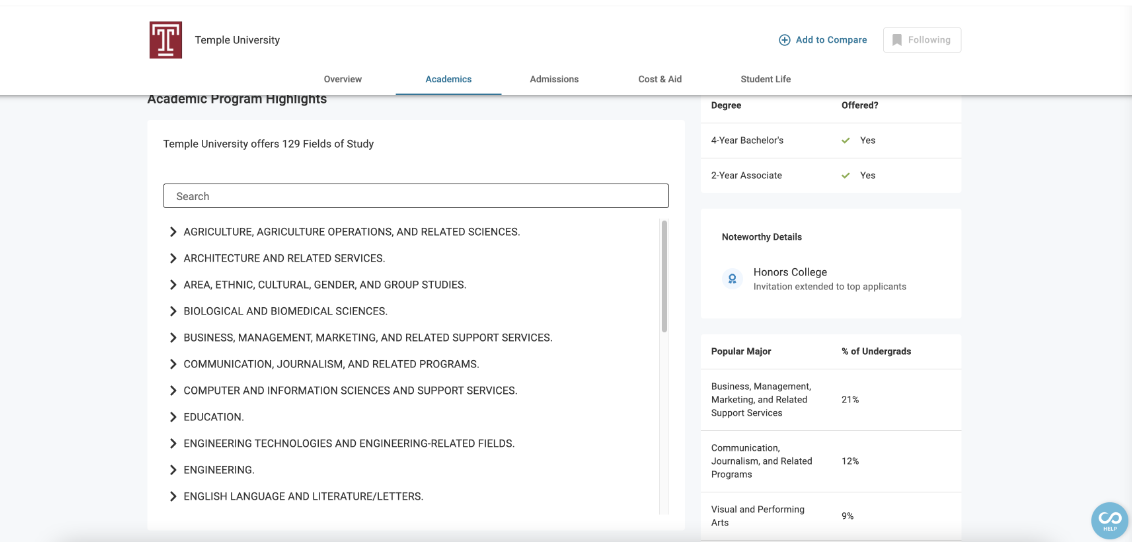 Admissions
The admissions section contains admitted student statistics such as acceptance rate and average standardized test scores. It also includes important information about application deadlines, how you can apply (Apply with Scoir, Common App, or Coalition App) and details relevant to the upcoming application cycle.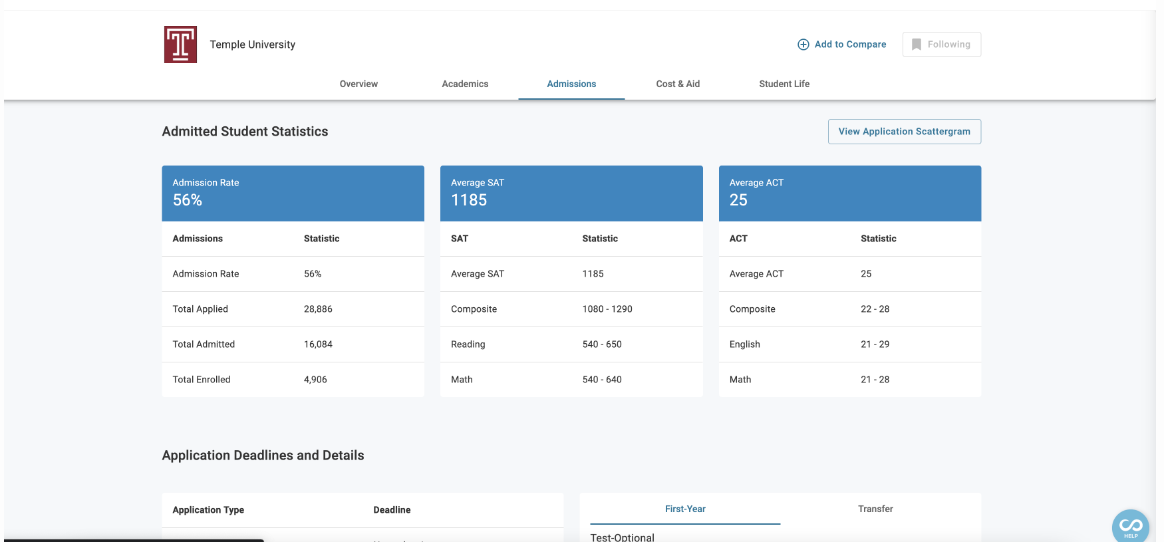 As well, if you are linked to a high school in Scoir, the Admissions tab is also where you can view historical scattergram data for a particular college by clicking the View Application Scattergram button at the top of the section. Scattergrams visually depict historical admissions decisions using previous students' GPAs and standardized test scores.
As a general disclaimer, scattergrams are only intended to provide a guidepost to gauge acceptance likelihood and are not intended to be a definitive predictor of admission. To learn more about scattergrams,
visit our guide
.
Cost & Aid
The cost & aid section contains estimated tuition and fees as listed by the college, along with net price estimates and figures regarding the population of students who receive financial aid.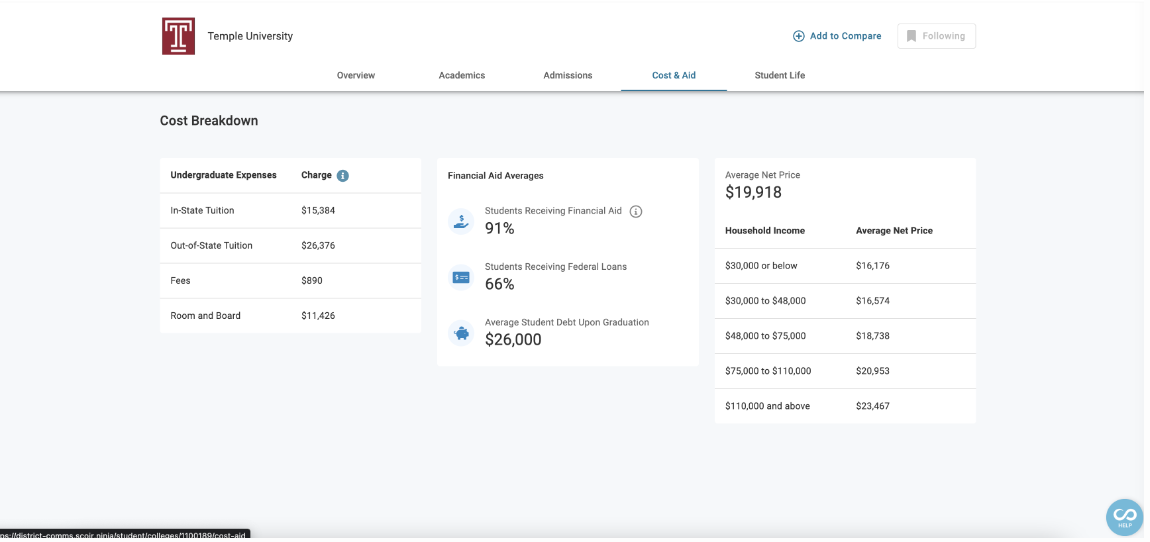 Student Life
The student life section contains student body statistics concerning enrollment, diversity, and campus life details, as well as the availability of ROTC programs.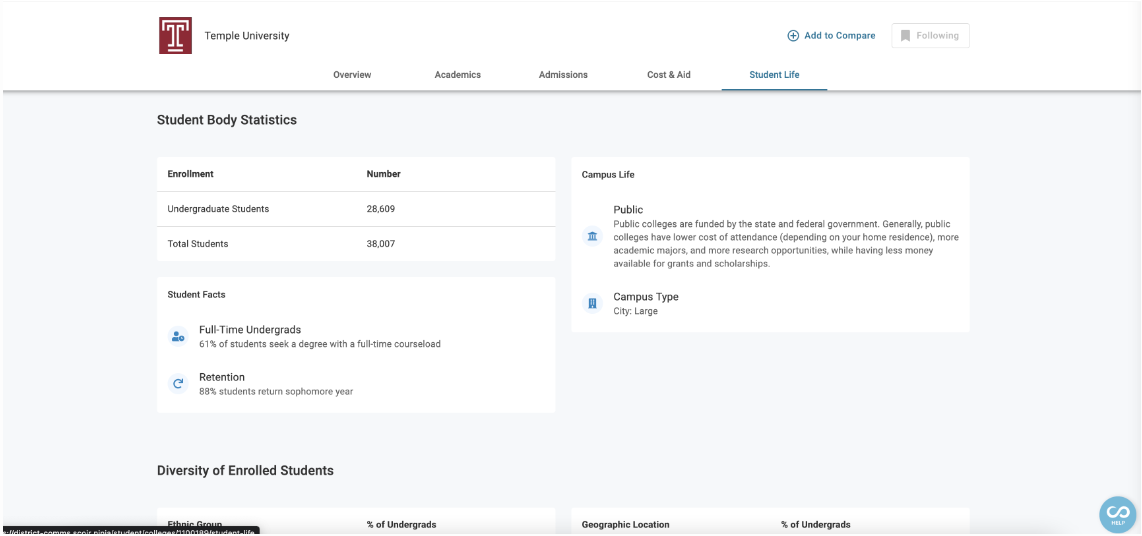 If at any point you wish to add the college to your My Colleges list, click the Follow button in the profile's header, or at the bottom of each section.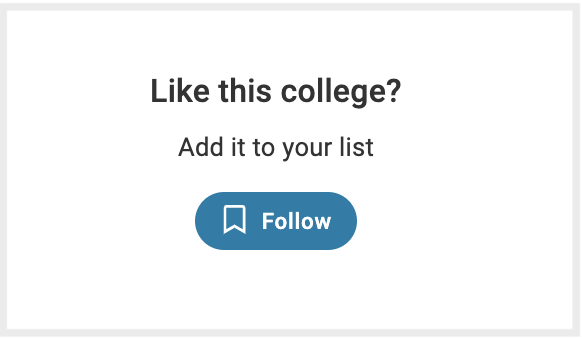 College Profiles [Video]
Verified Colleges

While browsing college profiles in Scoir you may come across a school with a green "Verified" badge next to its seal.
The Verified Badge is given to Colleges that have assigned a staff member to represent their school on the Scoir platform. This includes taking ownership of the data presented on the school's College Profile page. A verified badge indicates that the information for this school has the highest possible level of accuracy.
How do schools get a badge?
Only schools that pass a review process by a Scoir team member will be rewarded with a badge to be placed on the College Profile in Scoir for users to see.  In order to pass the review the schools must have assigned a staff member to take accountability for their data accuracy. 
Does the badge ever expire?
Verified schools and data are reviewed annually. Schools that do not maintain updates over time will have the badge removed.
What does it mean if a school does not have a badge?
If a school does not yet have a badge this means the data is currently managed by Scoir, and we update this data as often as it becomes available. Our school data typically comes from the IPEDS database yearly. More information on IPEDS can be found here: About IPEDS
colleges, search, advanced