For Colleges: Application Management and Rounds
For Colleges: Application Management and Rounds
Updated by Customer Support Team
Students use Scoir to manage their shortlist of schools, as well as to request official school documents be sent to colleges during the application process. Scoir partner schools have the ability to manage the decision rounds and documents required as a part of this process.
The Importance of Up to Date Information
By regularly updating your schools application rounds and required documents, students will have access to the most accurate information about your school. Scoir is viewed by students and school counselors as a source of truth for college information. By keeping your application round and document requirement information updated, this ensures that students and school counselors have accurate information when it comes time for them to complete a college application and submit application related documents.
The Application Manager Role
Only Application Managers are able to update both the decision rounds that are available at their individual school as well as the documents that are required for the application.
Application Managers can be added and designated by an account administrator.
Accessing Application Deadline Information
Application round management can be accessed under the Application Rounds Section within the Application tab.

Editing, Duplicating, or Removing an Application Round Deadline
Clicking the icons next to an application round will allow you to edit, duplicate, or remove that particular round respectively.

Creating a New Application Round
A new round can created by clicking the Create New Round button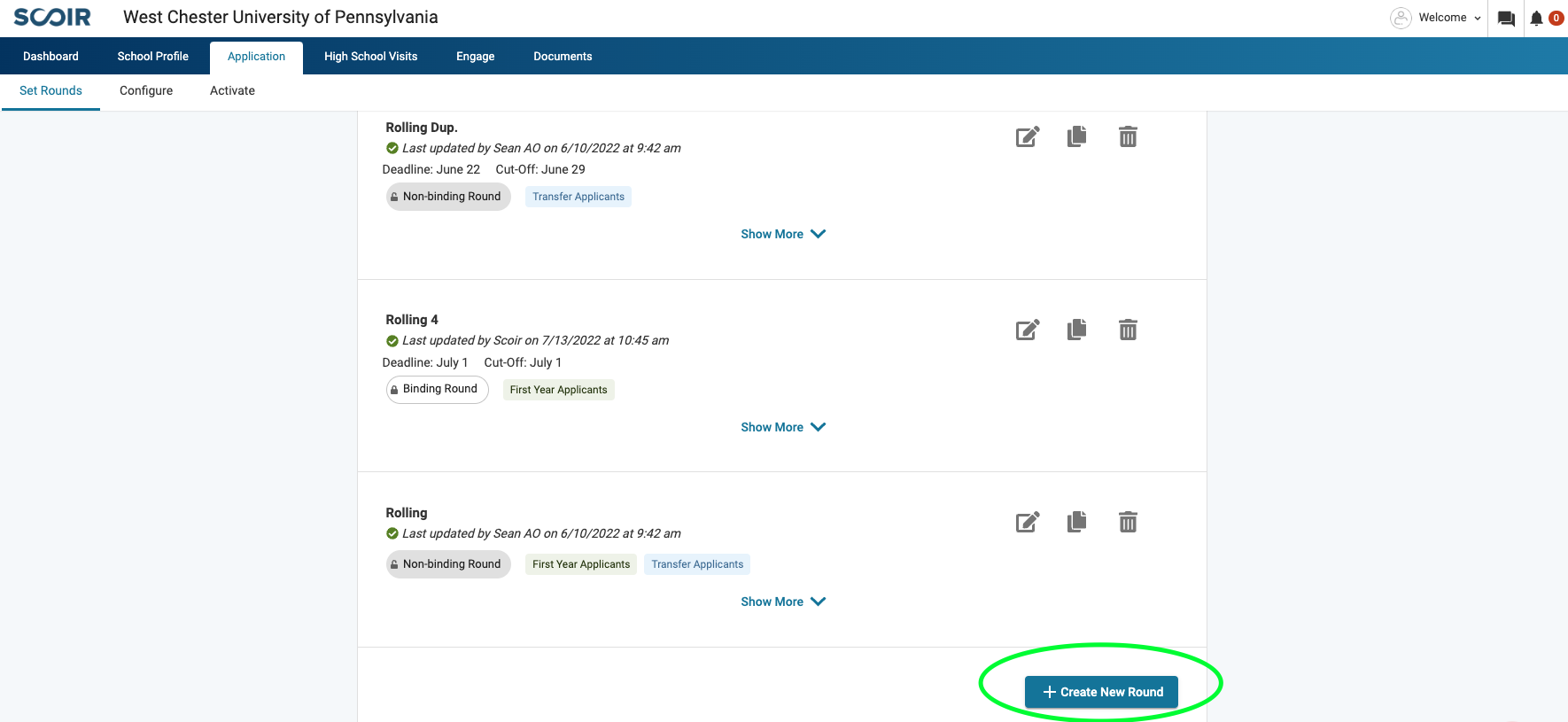 Choose a round name from the drop-down. Common round types are pre-populated.
If you have school-specific application rounds that go by unique names or apply to certain programs, they can be entered by selecting "Custom Name" and providing the name of the round in the box below.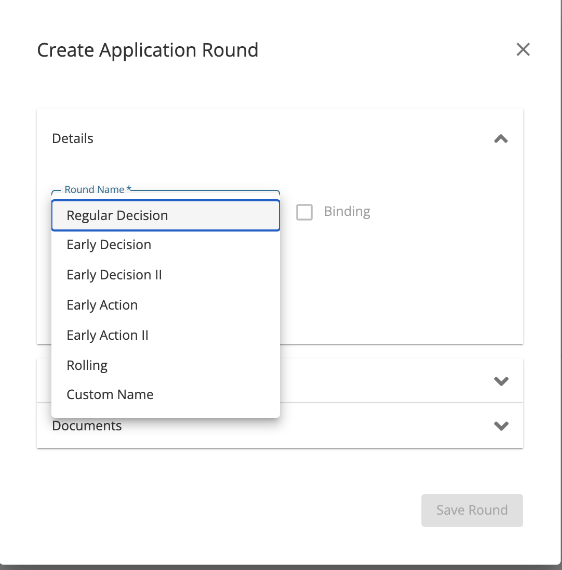 For colleges using Apply with Scoir that also have Transfer applications enabled, you will have the option for Transfer App Rounds in 'Applicant Type(s)'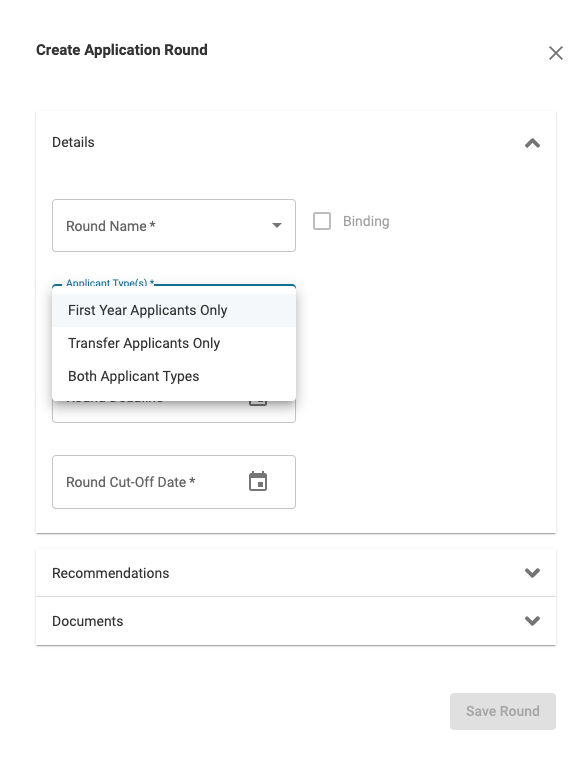 Use the binding checkbox to indicate if the round is binding. Binding rounds require an applying student to complete an Early Decision contract in support of their application.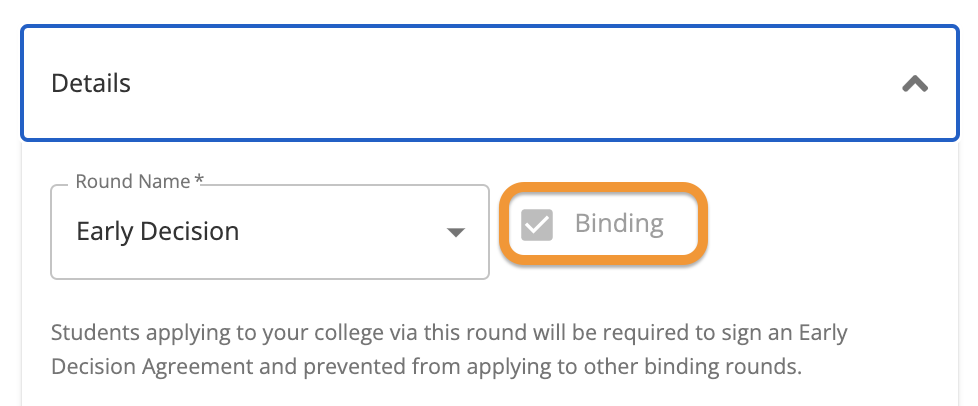 Round details can then be added and edited via the popup window.





Choose the round deadline by clicking on the calendar icon and selecting a date.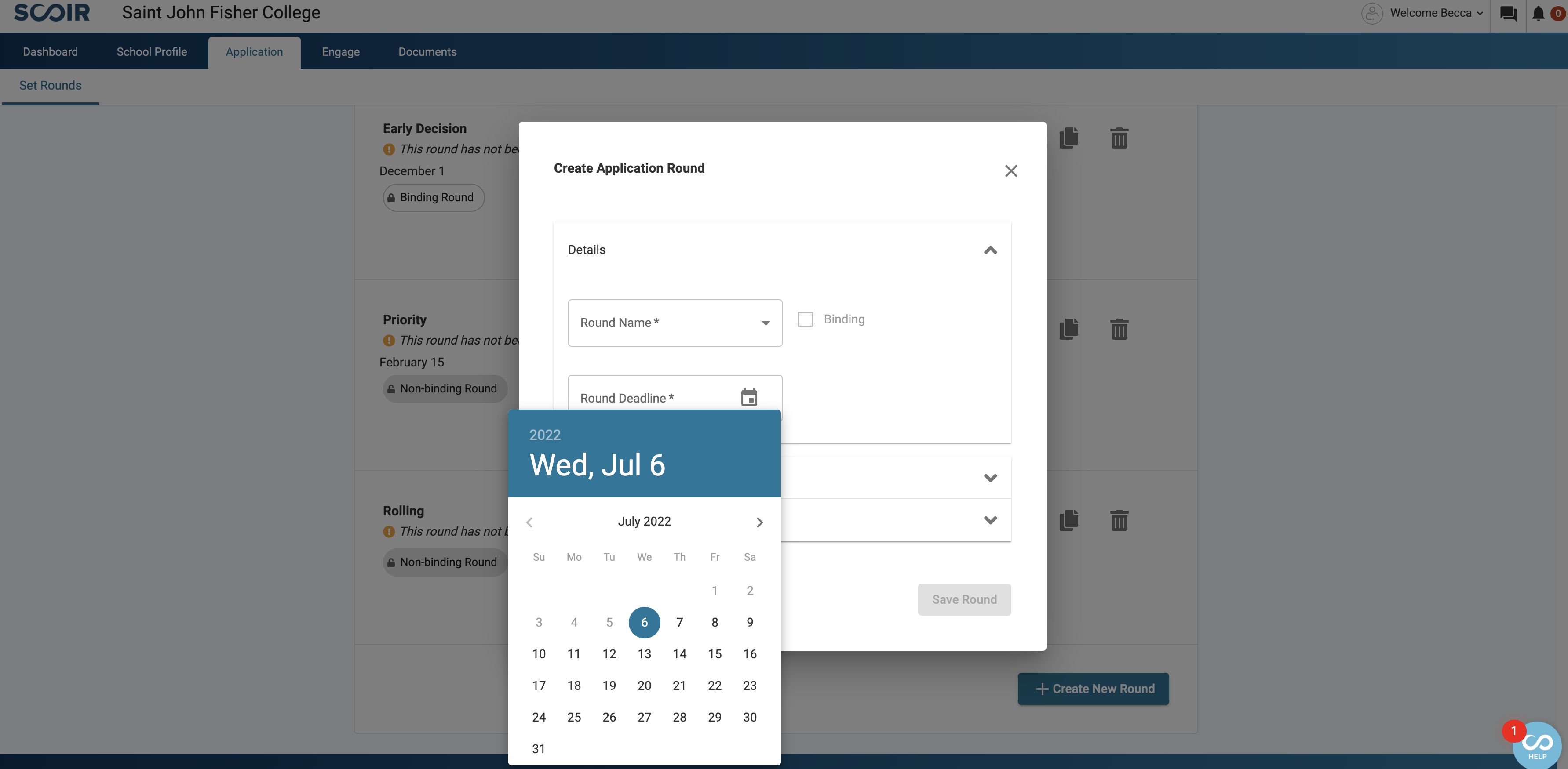 For colleges using Apply with Scoir that also have Transfer applications enabled, you will have the option for a cut-off date as well. The cut-off date is the date on which the college will stop receiving applications, which may be later than the published application deadline.
Please Note: the cut-off date is not published to students. Apply with Scoir will shut off on the cut-off date at 11:59pm UTC and no additional applications can be received after the set cut off date.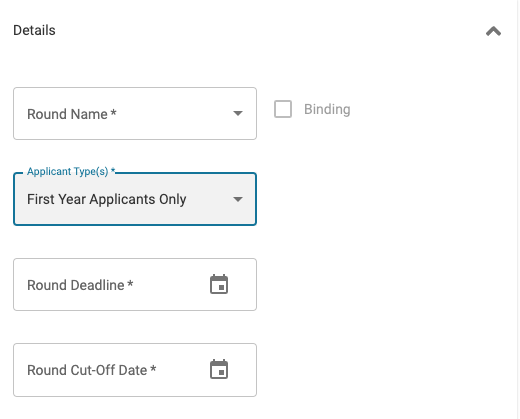 Indicate the number of required and optional recommendations within the Recommendations section.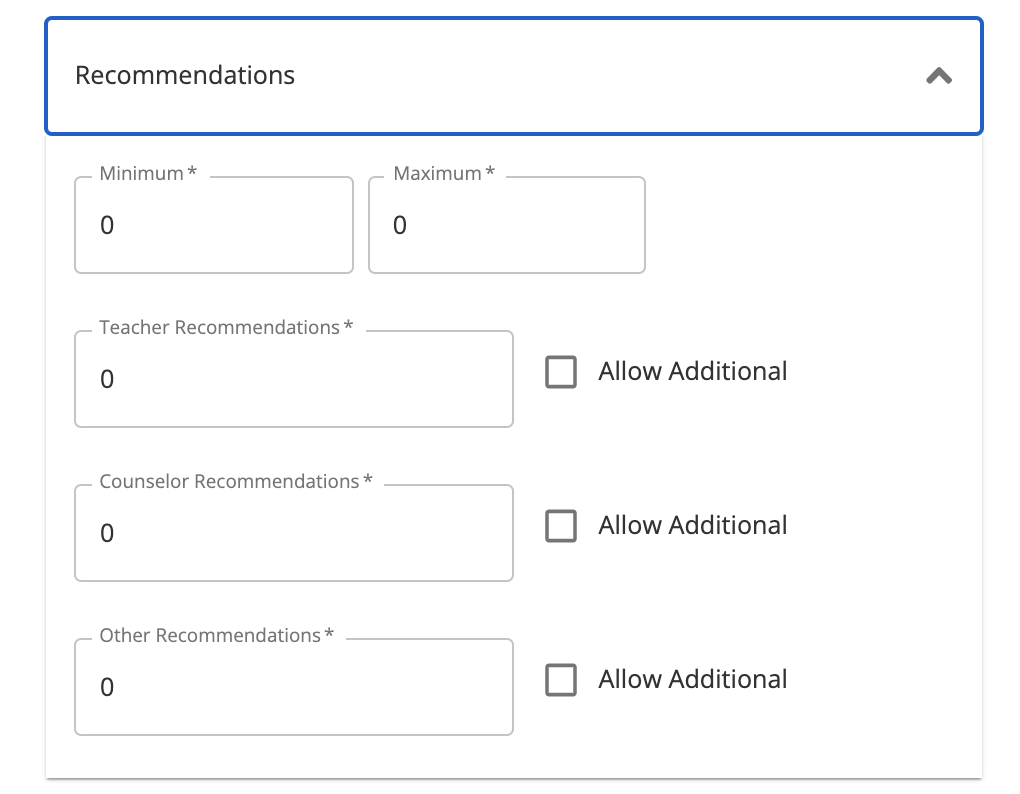 The minimum and maximum fields set the parameters that encompass all recommendation types. The minimum value cannot exceed the maximum value. If the total number of required recommendations does not meet the specified number of maximum recommendations, at least one box must be checked to "allow additional."
Example: My college requires (1) Teacher LOR and (1) Counselor LOR. However, we accept up to (1) additional LOR which can come from any of the Teacher, Counselor or Other. My screen would look like this with the min. as (2) required (from the sources listed) and max as the optional amount of (3) but all boxes are checked to allow an 'optional, additional' LOR which can come from any of the listed sources.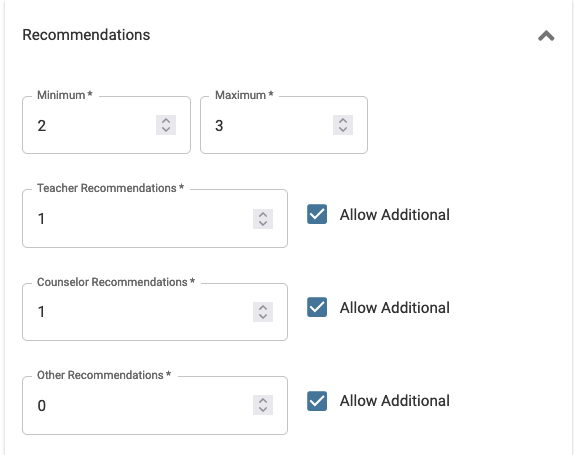 In the documents section, use the dropdown next to each document type to indicate which documents your school will accept if available (As Available) and the documents that you do not wish to receive (Do Not Send) as a part of this particular application round. Both the transcript and SSR can be marked as Required (Required). If a document is 'optional' it must be listed 'As Available' in Scoir. If a document is marked 'Do not Send', users will be prevented from adding this document to a student's packet.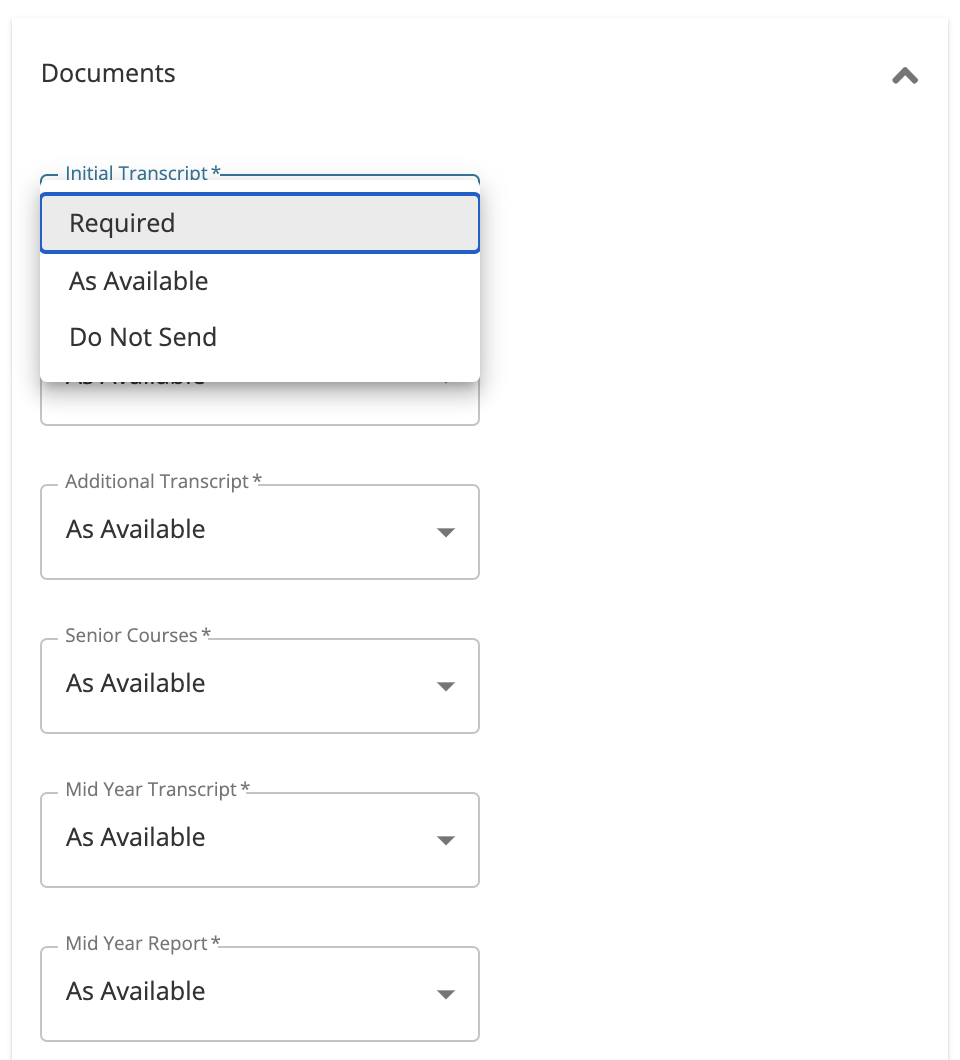 Finally, select Save Round to complete the creation of the application round.
Application Management Video
(the tabs have changed slightly, but this video represents correct instructions. The Application Rounds have been moved under the 'Application' tab in the top blue bar in Scoir, instead of the School Profile tab as previously recorded)