For Students: Viewing Scattergrams
For Students: Viewing Scattergrams
Updated by Customer Support Team
Please Note: This article is ONLY applicable for students whose high schools use Scoir and students that are connected to their high school in Scoir.
Scattergrams show historical admissions decisions using GPAs, test scores, and other outcomes of students who graduated from your high school. Scattergrams are meant to provide a guidepost to gauge likelihood of acceptance, and are not intended to predict admission results.
Let's explore them further 🕵️
Each high school uses Scattergrams differently, based on their unique policies. This can impact the amount of data (if any) that you are shown on your scattergrams in Scoir.
What are Scattergrams?
Scattergrams provide valuable insights into the likelihood of acceptance at the colleges a student follows. At a glance, they show historical admission decisions using alumni students' GPAs, test scores, and other outcomes.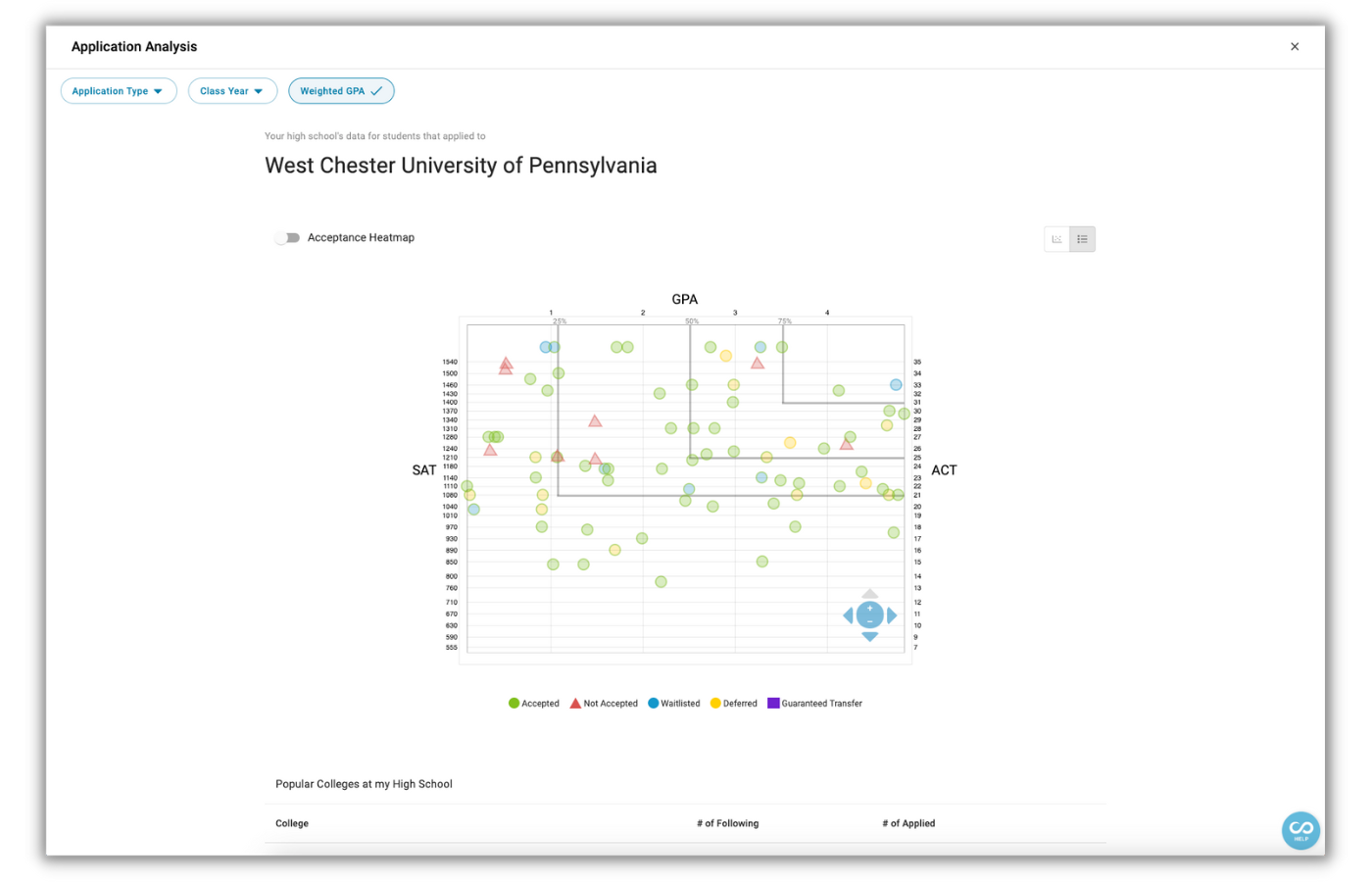 The number one driver of data in Scattergrams is from alumni who report their college acceptance outcomes in Scoir, such as ACT/SAT scores and GPAs. Report outcomes by taking these steps! Counselors can also report outcomes on your behalf.
Exploring Scattergrams
When exploring data in Scattergrams, here's a look at what you can expect. 
Remember! As you explore Scattergrams, if data isn't available, it could be due to your school's policies or that no prior student outcomes at your high school were recorded for the particular college you're viewing.
Accessing Scattergrams
Scattergrams are located in My Colleges or on the College Detail page.
Scattergrams in College Detail pages
Using the search bar on any page, type in the college name. You can also select from the popular filters listed in Start Your Search or choose a college from your recent searches.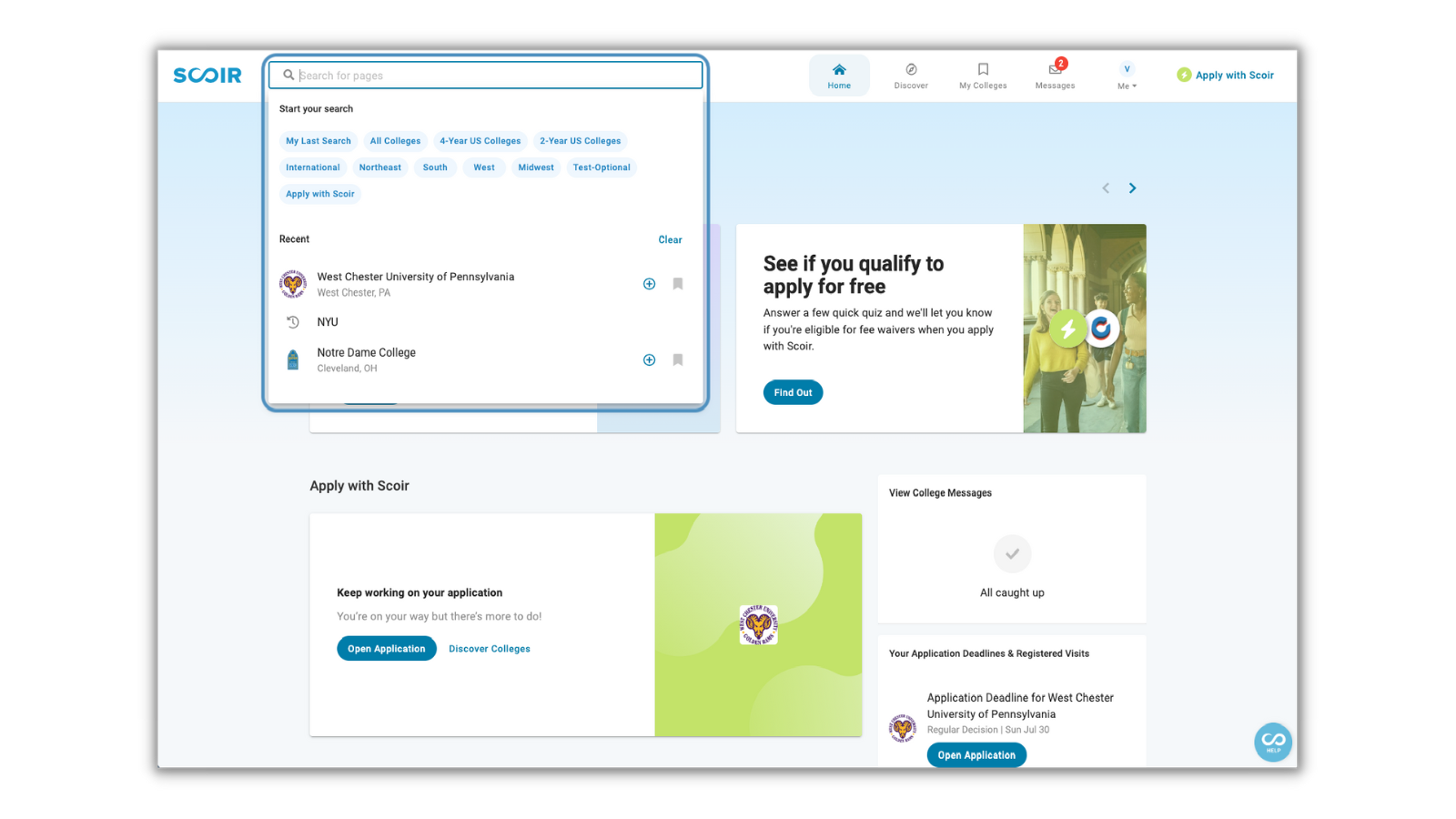 Once you've clicked into a specific college, select "Admissions" and "View Application Scattergram" to see the data.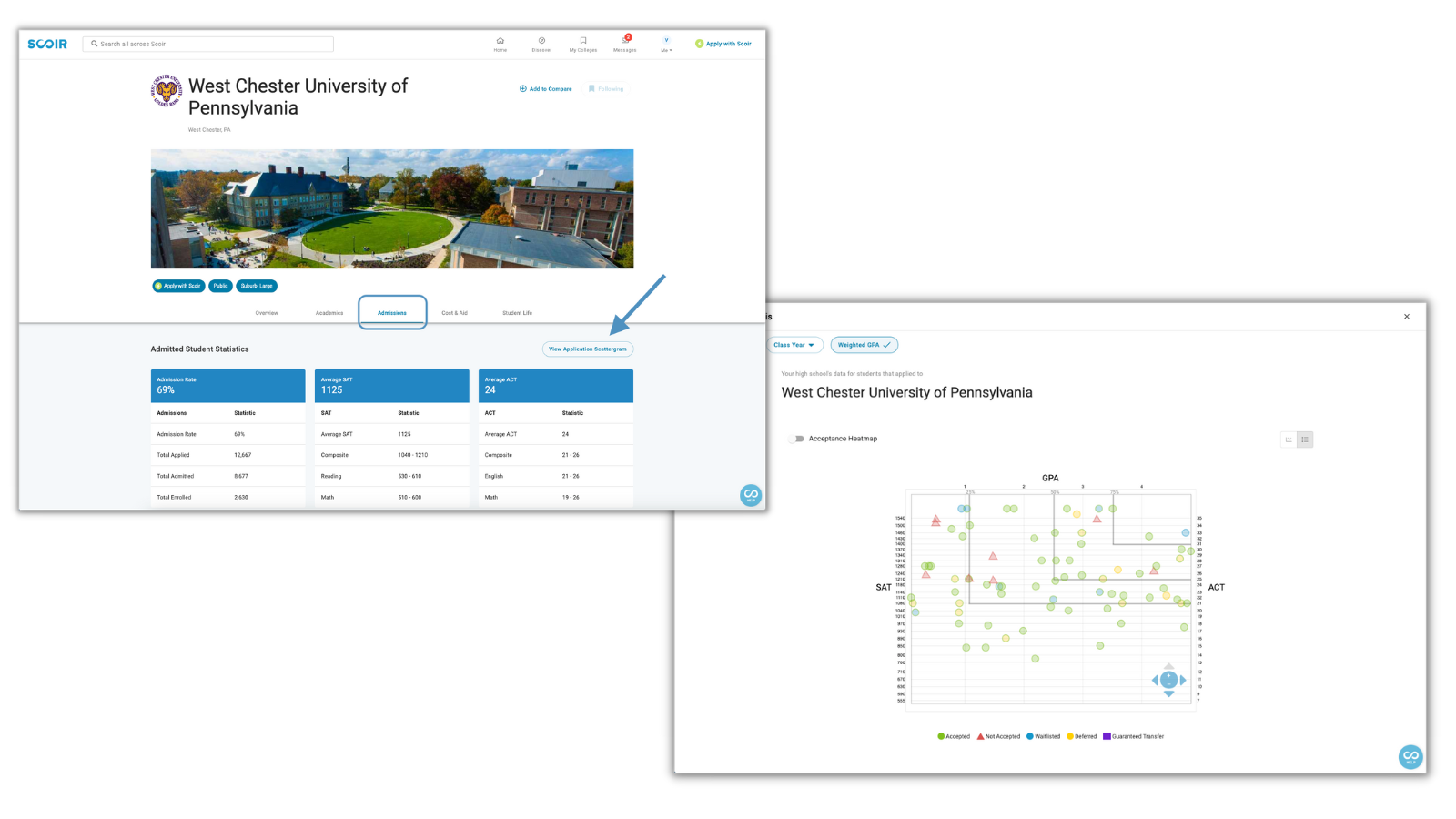 Scattergrams in My Colleges
Select My Colleges in the top navigation and choose the college for which you'd like to view a Scattergram. Expand the Scattergram using the down arrow on the right side to see the results.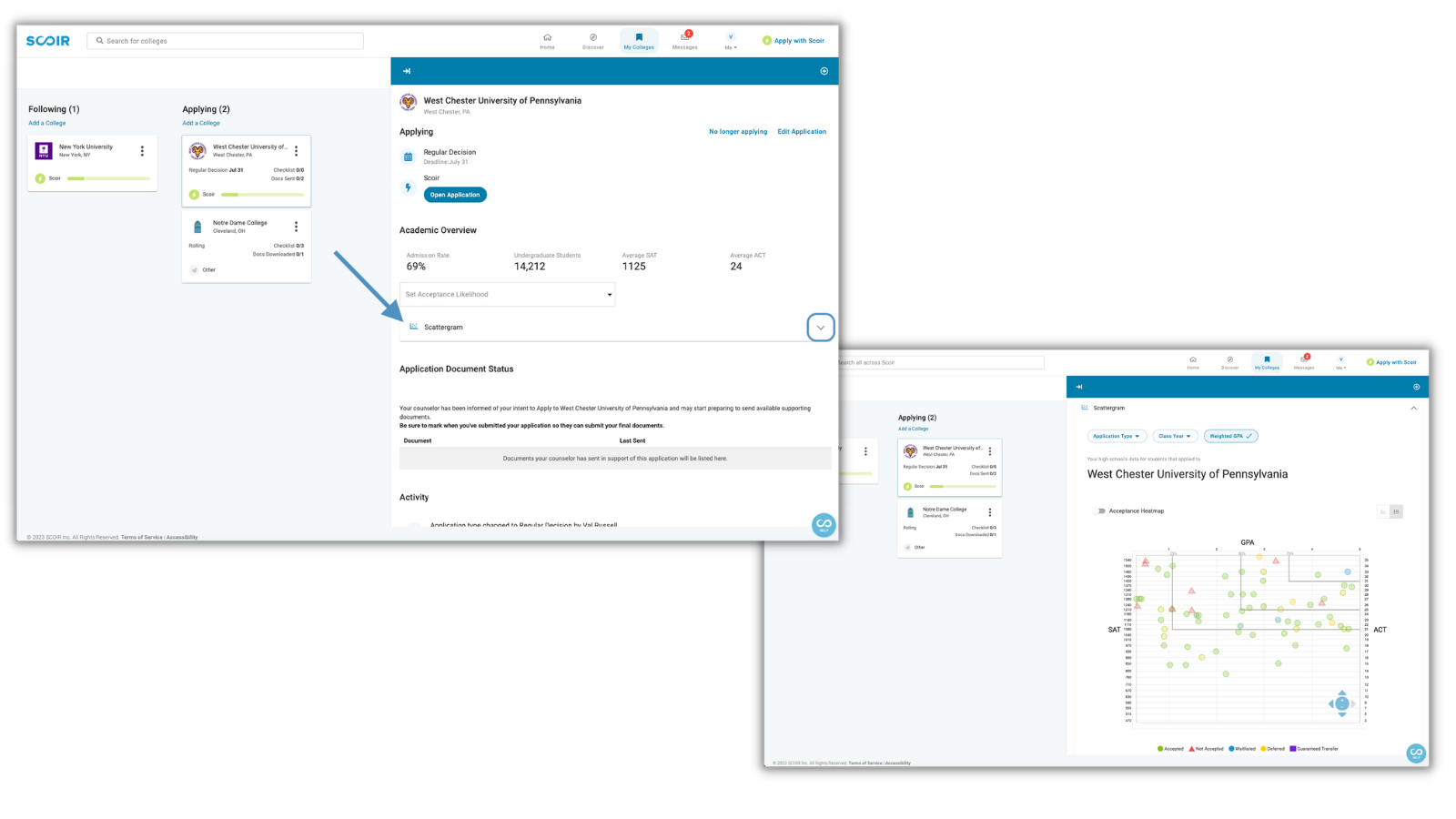 Customizing your view
At the top, filter by Application Type, choose a date range by Class Years, and view by Weighted GPA (leave unchecked for Unweighted GPA results).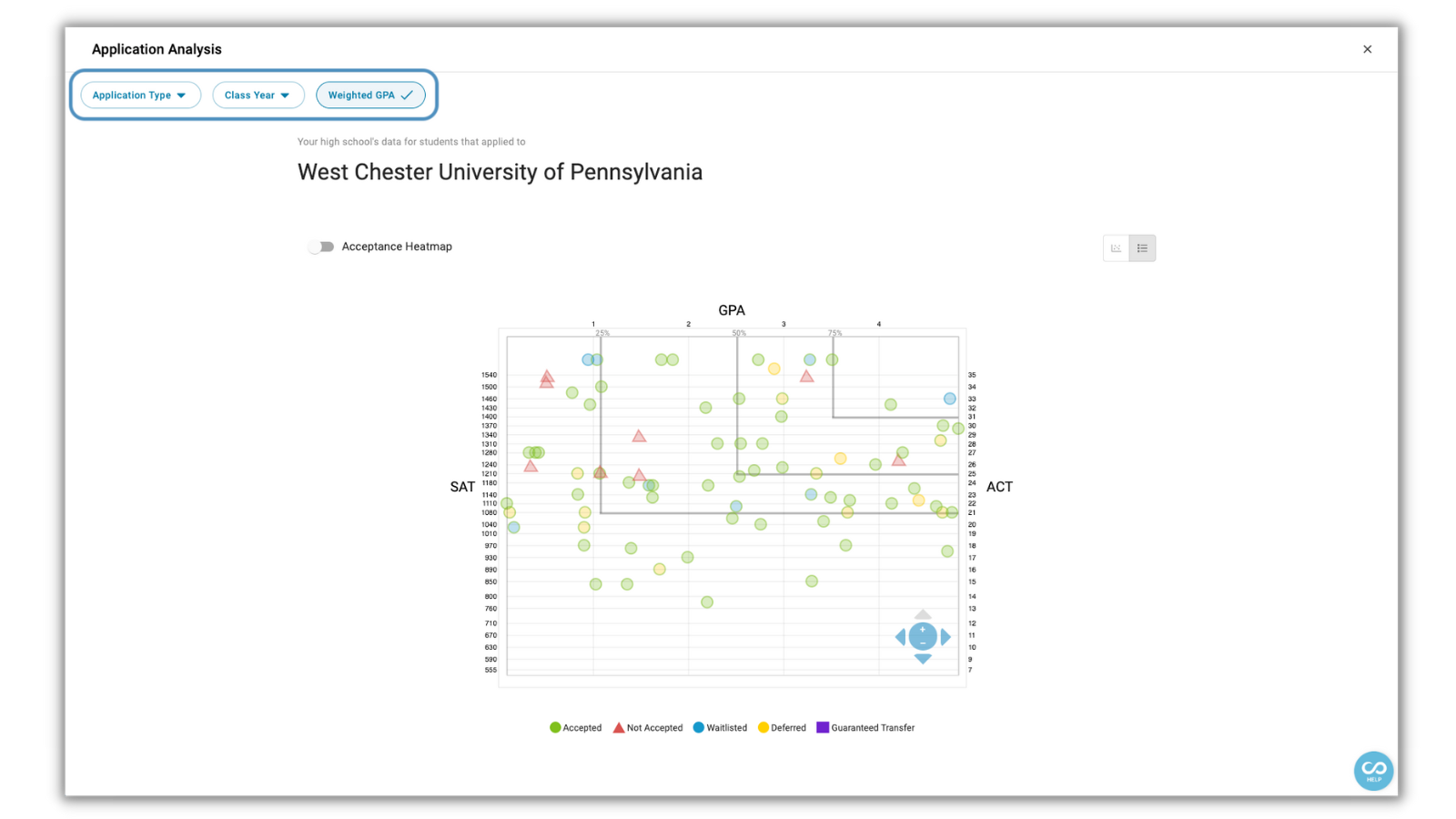 Understanding Scattergram data
On the left axis, you'll see SAT scores and on the right ACT scores. The top axis shows GPA.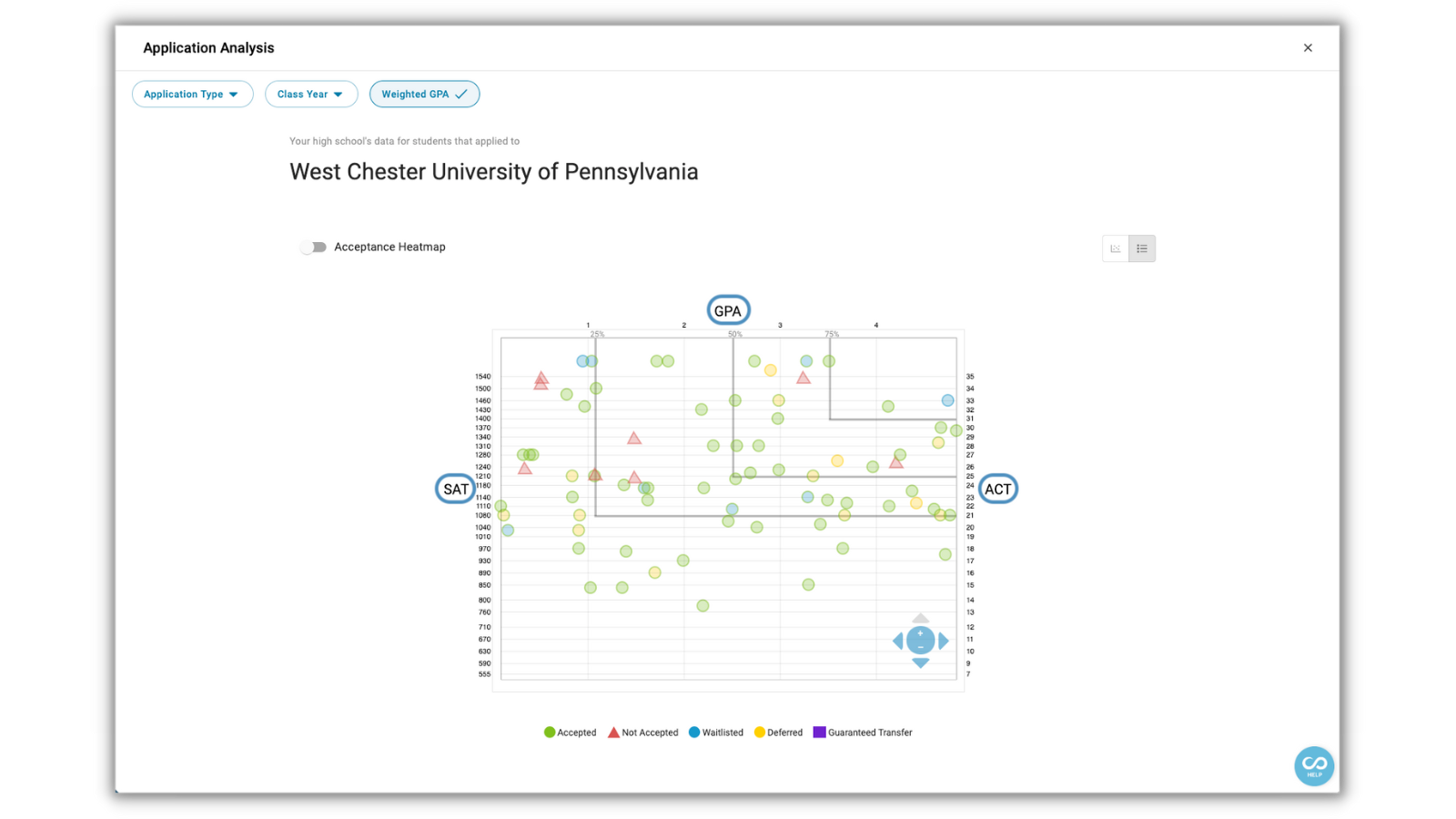 On the upper left of the Scattergram, you can toggle to view the Acceptance Heatmap. Each section shows the percentage of students accepted from your high school.
Green displays the highest percentage accepted, followed by yellow, and red being the lowest percentage.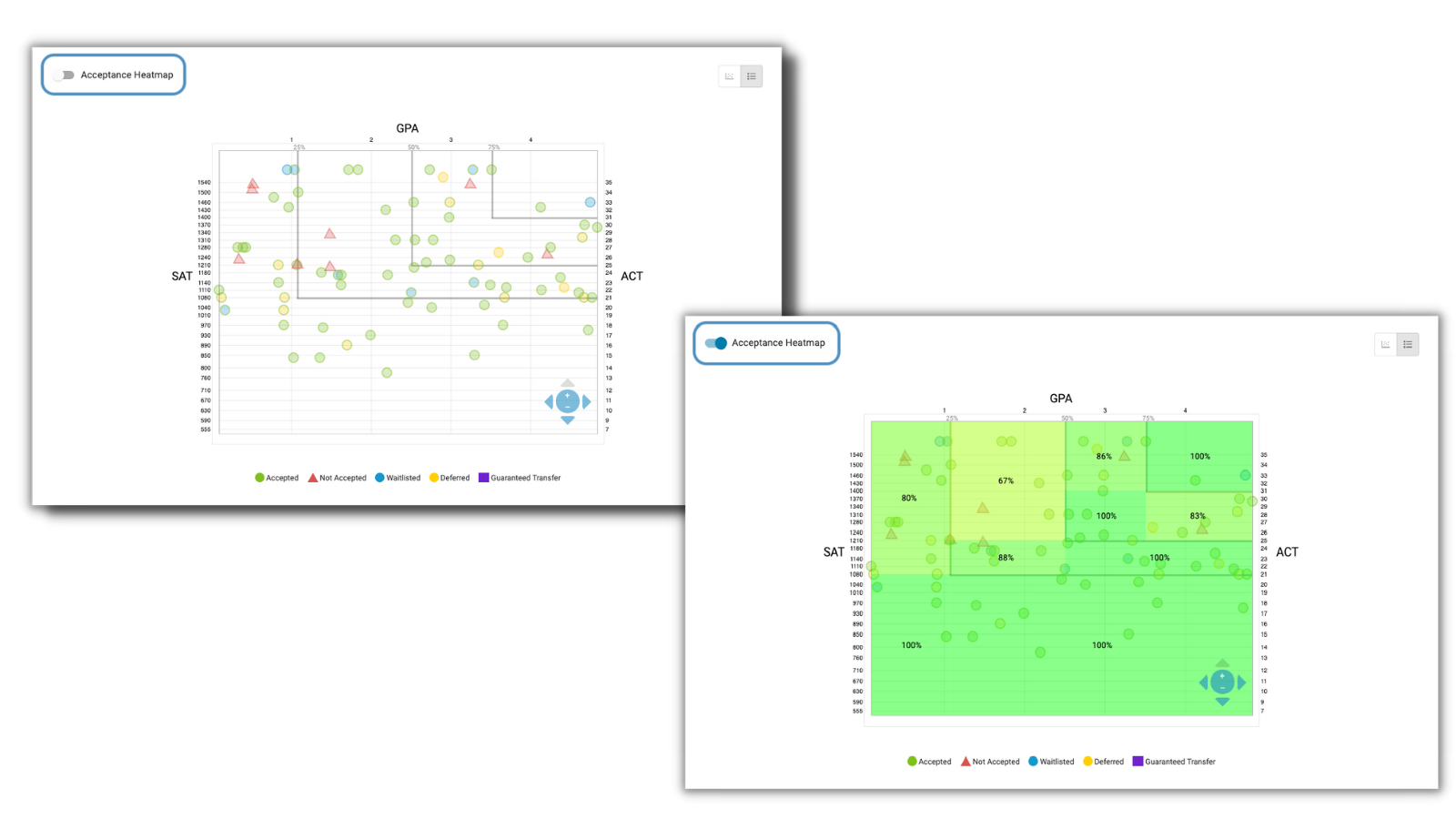 You'll notice a key at the bottom of the Scattergram showing you what each plot point represents. 
Accepted: The college accepted the student's application and offered a spot at the school
Not Accepted: The student did not get accepted into the college at this time
Waitlisted: The college finished reviewing the application and made a decision to put the student on a waiting list for admission
Deferred: In most cases, this means the college has not completed their review of the application and is "deferring" a decision until a later date
Guarantee Transfer: After a certain amount of time and once the student fulfills other requirements such as maintaining a certain grade point average, the college will accepted them as a transfer student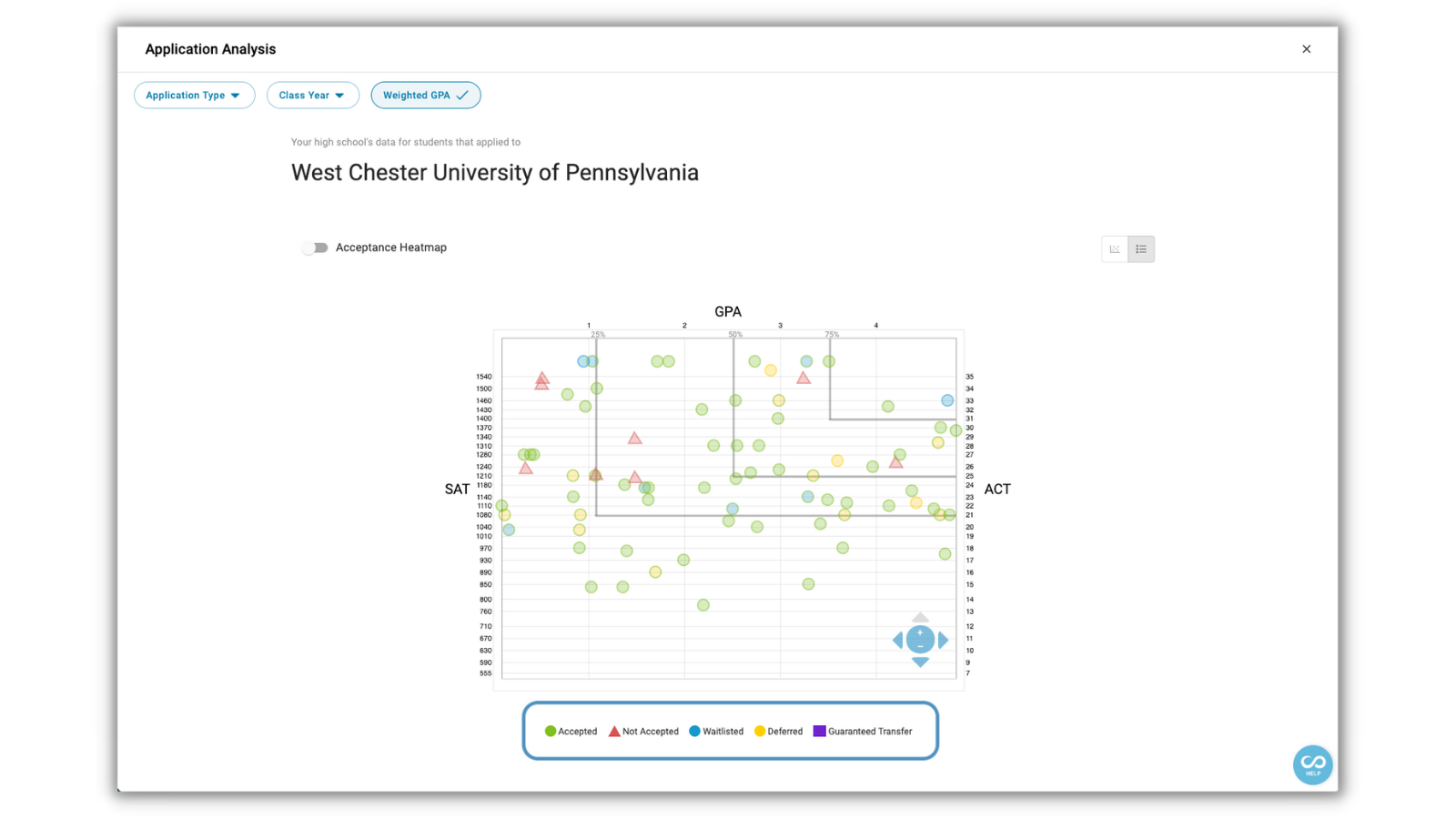 Hover over the plots to see more details about the results of that particular student.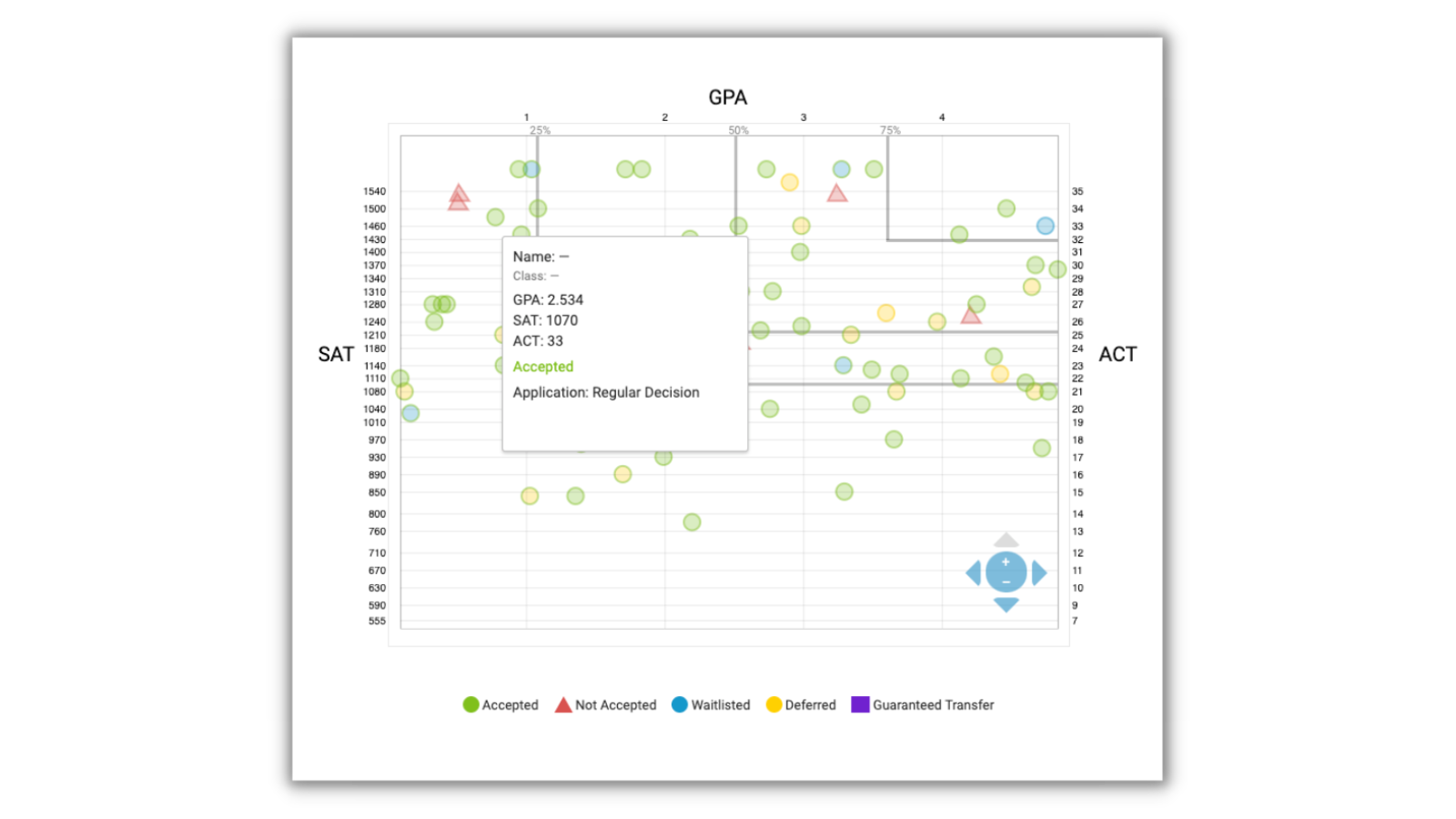 Use the navigation tool in the bottom right corner to zoom in and out, go up and down, and side to side to take a closer look.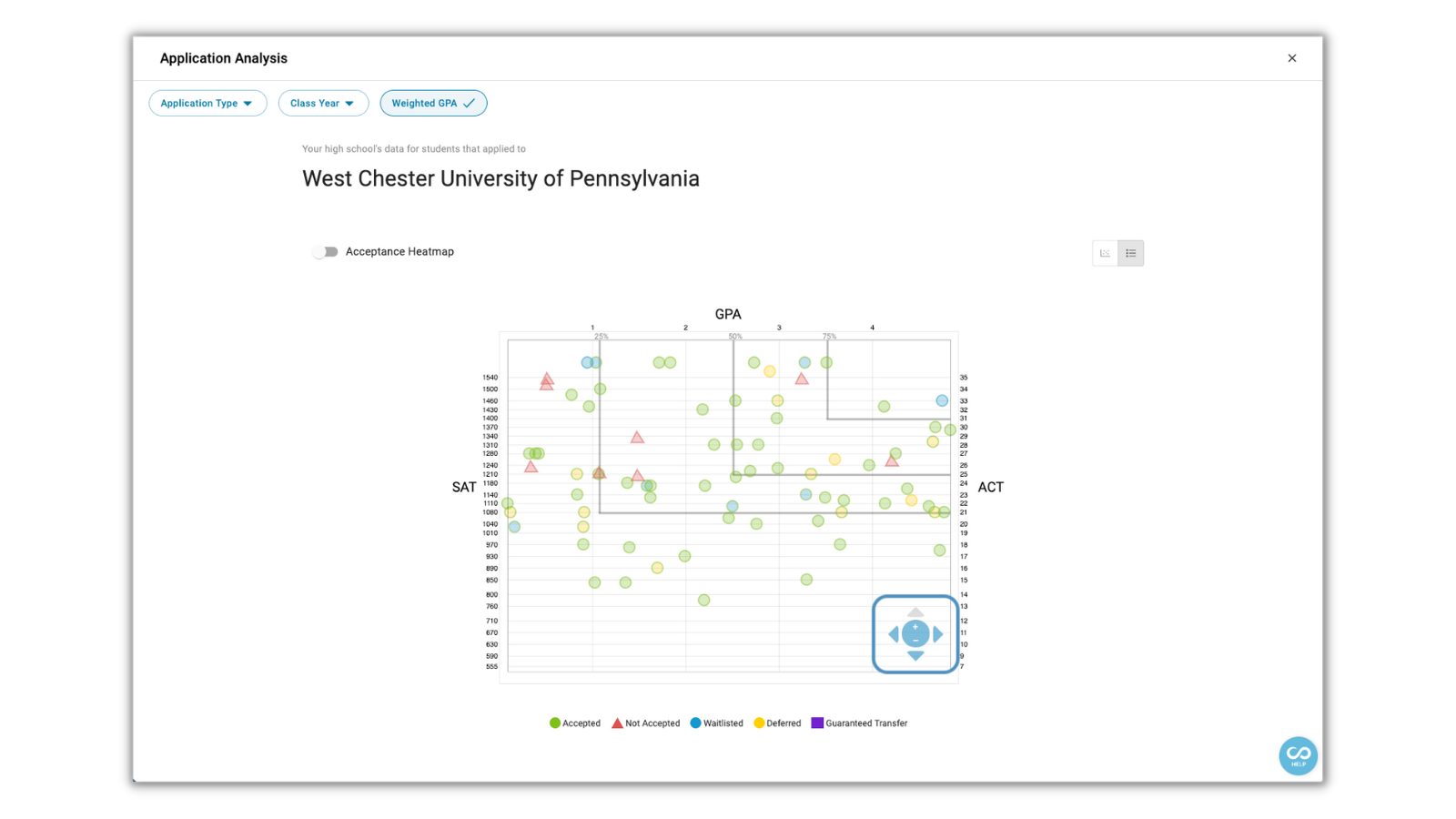 Switch between a plot view and table view by using the icons in the upper right corner to see additional data such as Test Optional.
Below the Scattergram, view the most popular (most applied or most followed in Scoir) colleges at your high school.