For Colleges: Applicant Insights & Management
For Colleges: Applicant Insights & Management
Updated by Customer Support Team
This section is designed to give you further breakdown and information on students who have applied to your college!
Accessible from the Application tab, what appears on the Applicants sub tab is different depending on whether you accept applications from Scoir. 
If your college accepts applications from Scoir: you'll see both Applicant Insights & Applicant Management options in the Applicants tab.
If your college does NOT accept applications from Scoir: you'll only see Applicant Management on the Applicants tab. 
This section does have different limitations according to your user roles on your account in Scoir. Please see below for the breakdown of this. To see further information on roles in Scoir, please see our help document page on College User Roles here.
| | |
| --- | --- |
| Permission | Role Required |
| View all dashboard insights | All Users |
| View and download application documents | Admissions Operations |
Please note: All data contained on this page reflects the current academic year.
Applicant Insights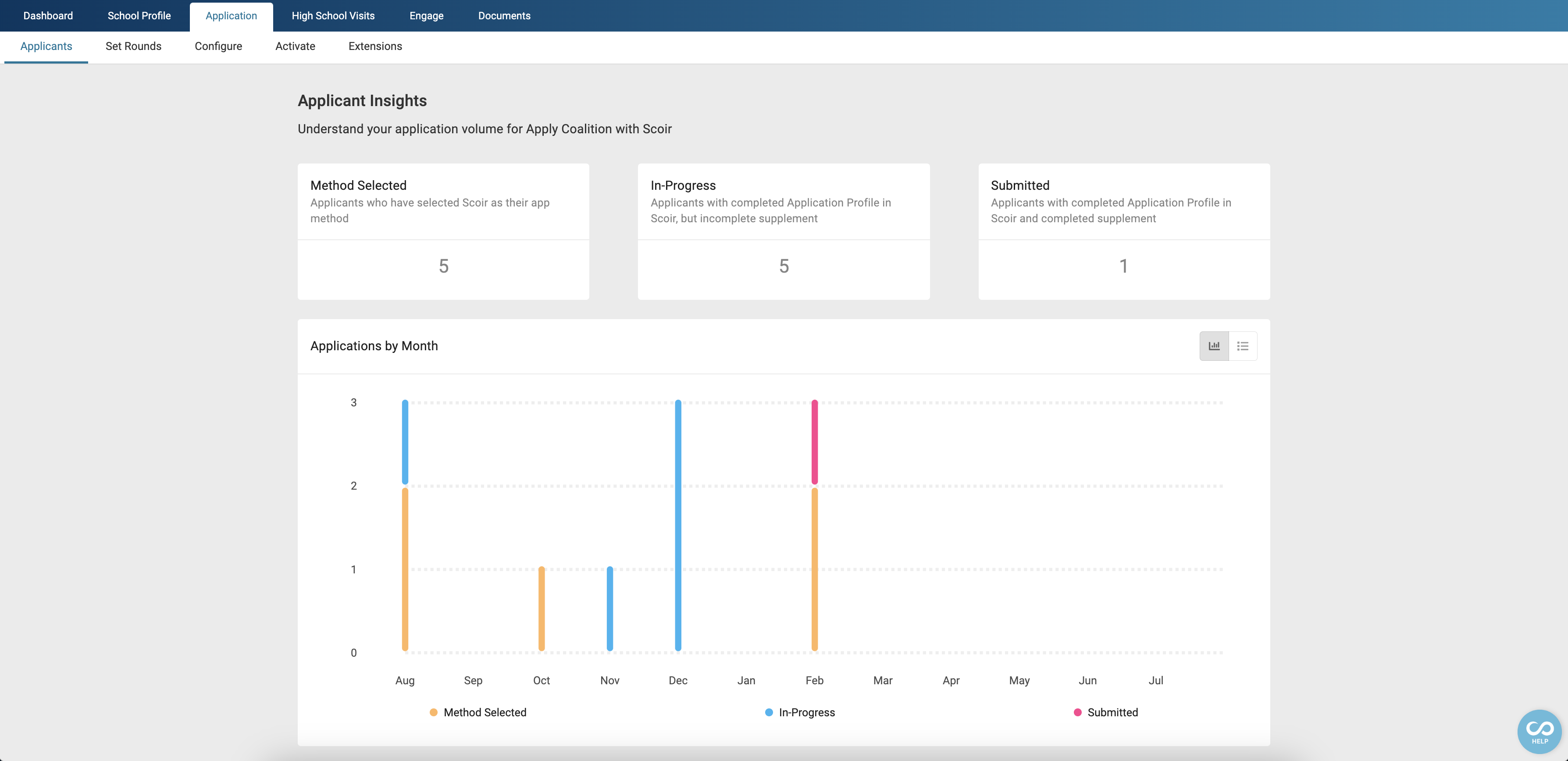 Institutions that accept applications from Scoir can view Application Status and Applications by Month within the Applicant Insights section. Below we will break down the data shown in this section.
Application Status
Method Selected: Applicants who have selected Scoir as their app method.
In-Progress: Applicants with completed Application Profile in Scoir, but incomplete supplement. 
Submitted: Applicants with completed Application Profile in Scoir and completed supplement.
These are point in time metrics, rather than cumulative. In other words, as students begin your supplement, the number you see reflected in Method Selected will go down as the In-Progress number goes up.
Applications by Month
This details number of unique applications in-progress and submitted each month.
Please note: Applications by Month defaults to the graph view.
Hovering over each bar reveals the total number of applications in a given month, with a color coded breakdown of the application status: Method Selected, In-Progress, & Submitted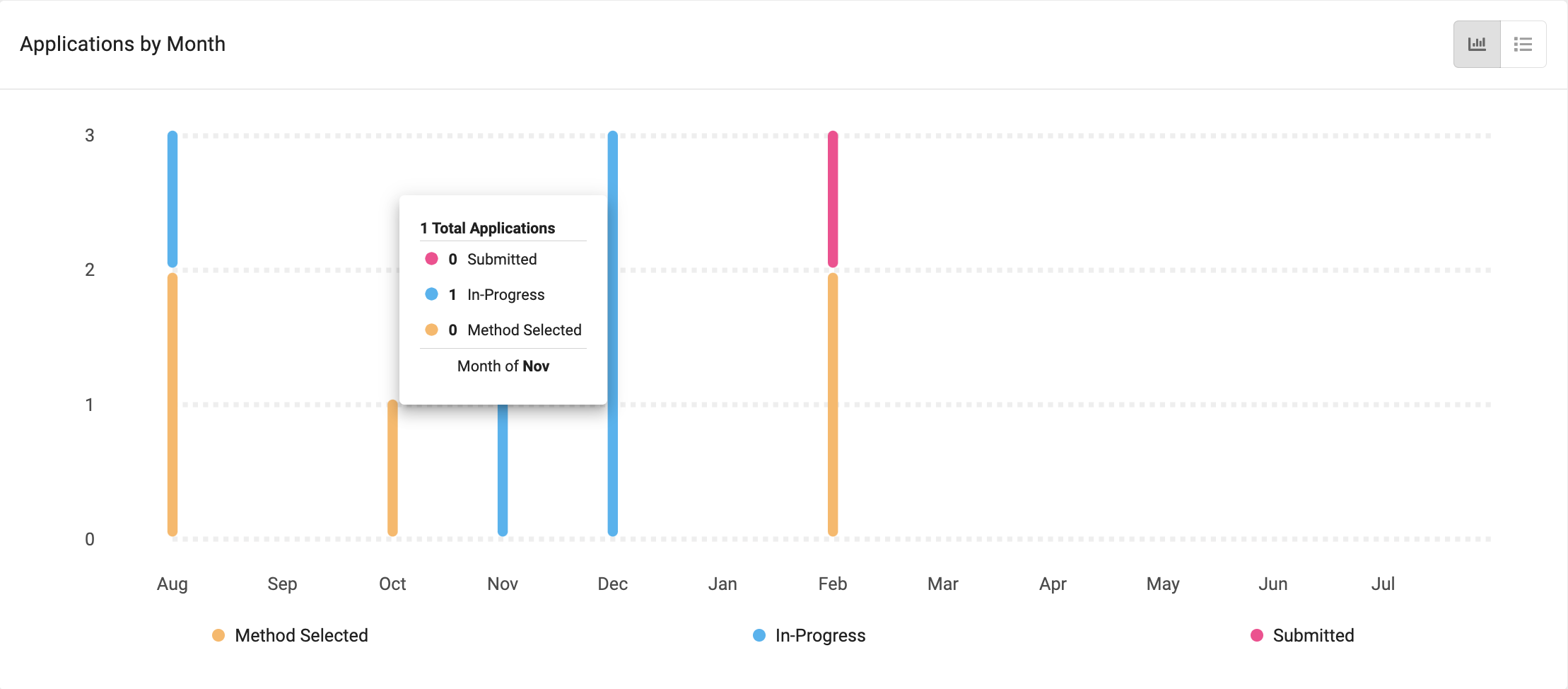 For accessibility, you can also access the same data in a list view using the toggle in the upper right corner. See below screenshot for example: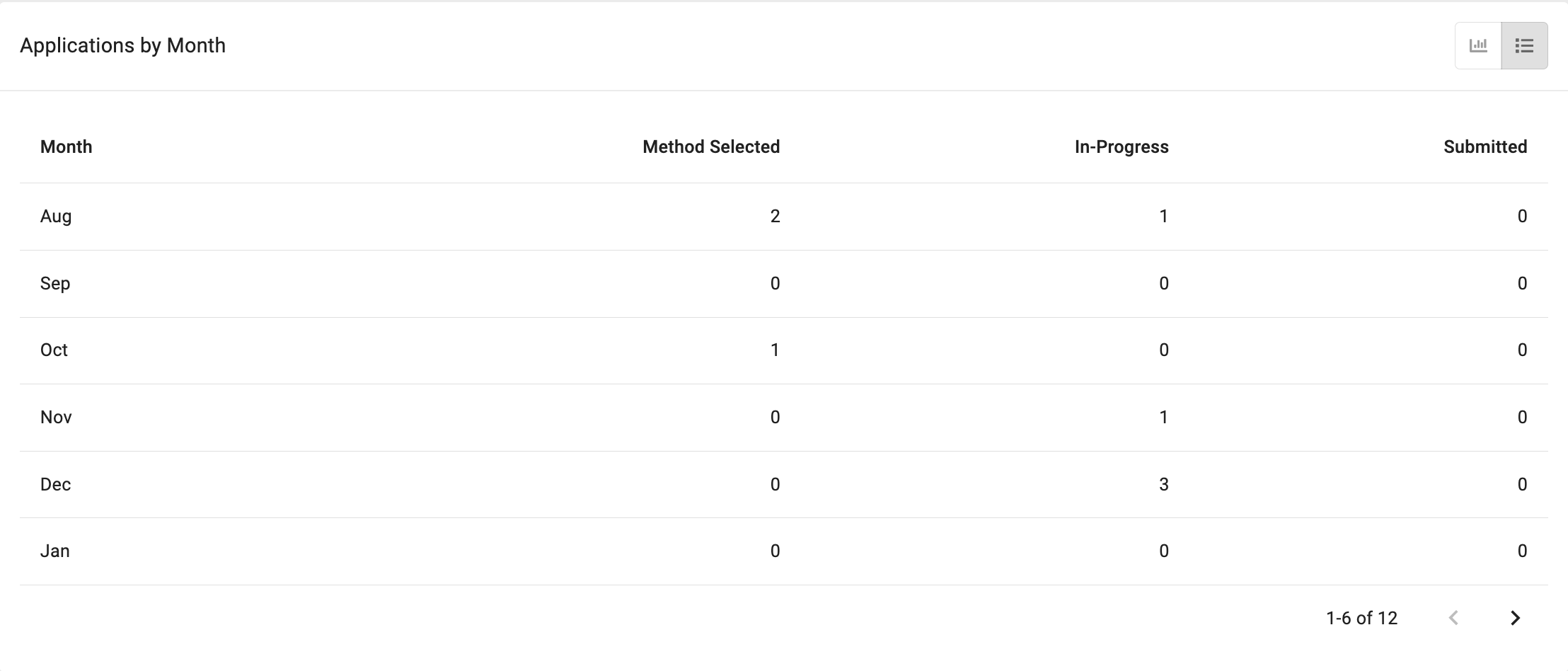 Applicant Management
This section allows you to view and manage applicant details and documents.
In this table, you'll find each unique applicant record available to you in Scoir.
If you also accept applications from Scoir, multiple application methods may be shown here. You can use the toggle at the top to view All Methods or Scoir only.
Please note: The table defaults to show all Application Methods.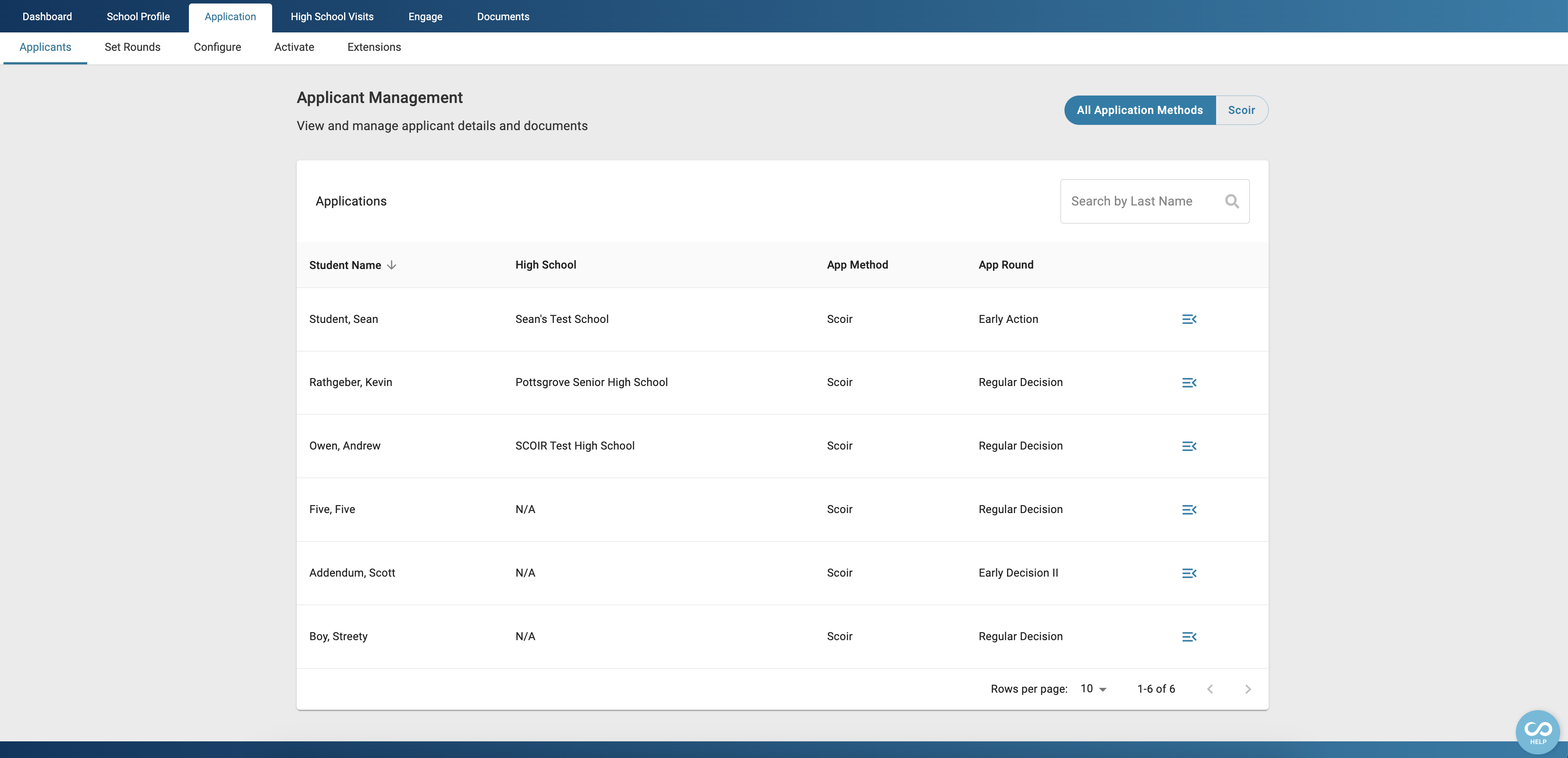 Certain information is available for All Methods, while other information is only available for apps submitted via Scoir. That unique information is highlighted below:
Columns within All Methods include:
Student Name
High School 
App Method
App Round
The App Method column is unique to the All Methods view.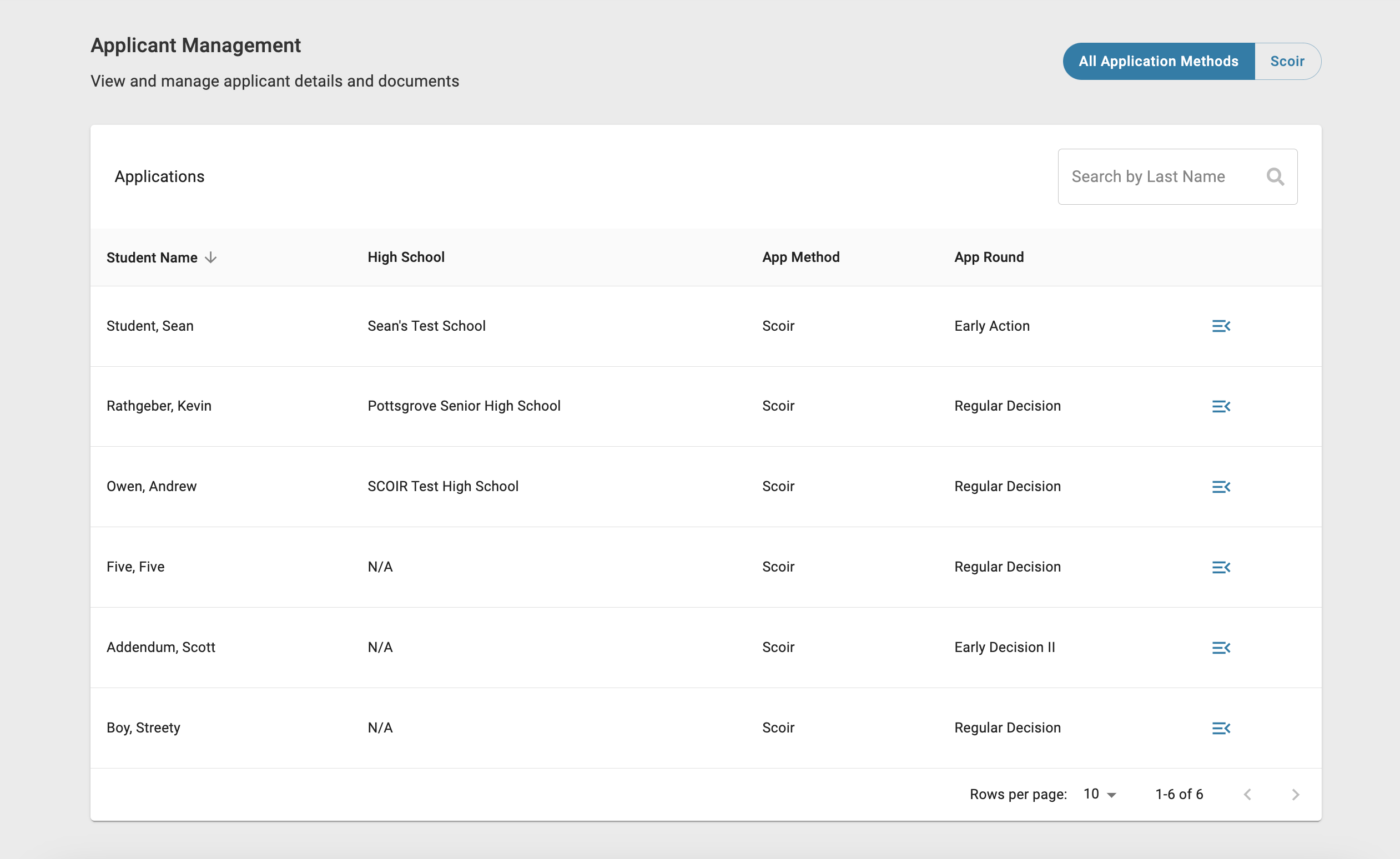 Columns within Apply with (the Scoir filtered view, shown in the below screenshot) include:
Student Name
High School
App Type 
App Round
Status
App Type and Status are unique to the Scoir view.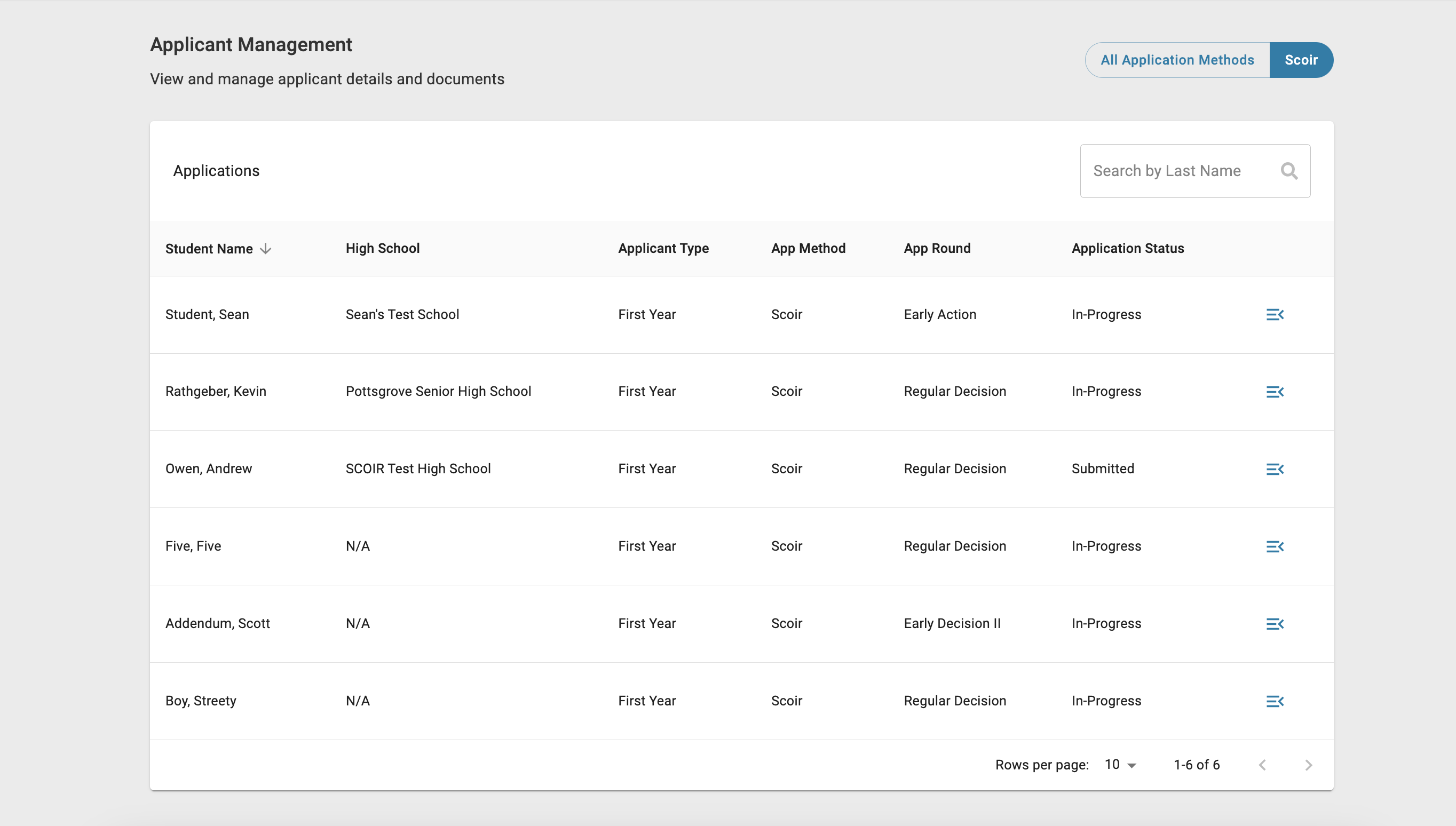 How to view an applicant record
Within the All Methods view, expanding the Applicant will open a drawer with additional application information, including:
Application Method
Applicant Info
Docs
Document Type

Batch Date: When the document was delivered to you at the college
Action: Clicking the eye icon button will present a preview
Expanding an applicant record from the Scoir view reveals the same drawer with slightly different information: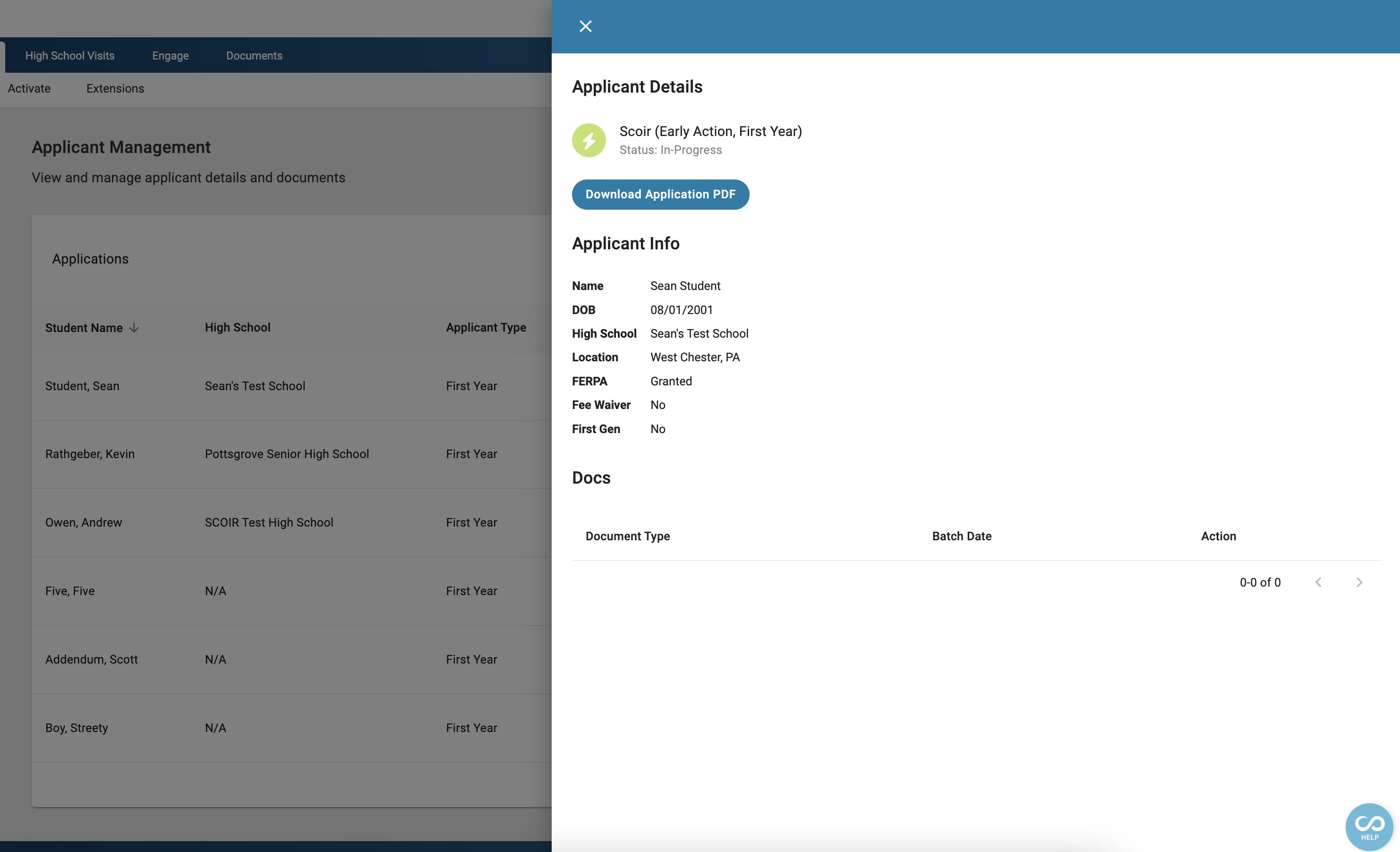 The differences here include:
Under Application Details, App Round and App Type are also indicated, along with App Status
You'll also have the option to download the applicant's Application Profile PDF
Under Applicant Info, Fee Waiver and First Gen are reflected 
Please note: Only individuals with the Admissions Operations role can view and download documents in Scoir.