For Colleges: Application Configuration
For Colleges: Application Configuration
Updated by Customer Support Team
Configuring Your Scoir Application
Please note, only Coalition colleges signed up for Apply with Scoir will be able to utilize this section.
Colleges can configure what information students need to submit on their application profile through Scoir by going to the Configure' page under the Application tab. You can edit the details by clicking the edit button in the upper right hand corner.
Only users with the Application Manager role will be able to edit the application configurations through Scoir.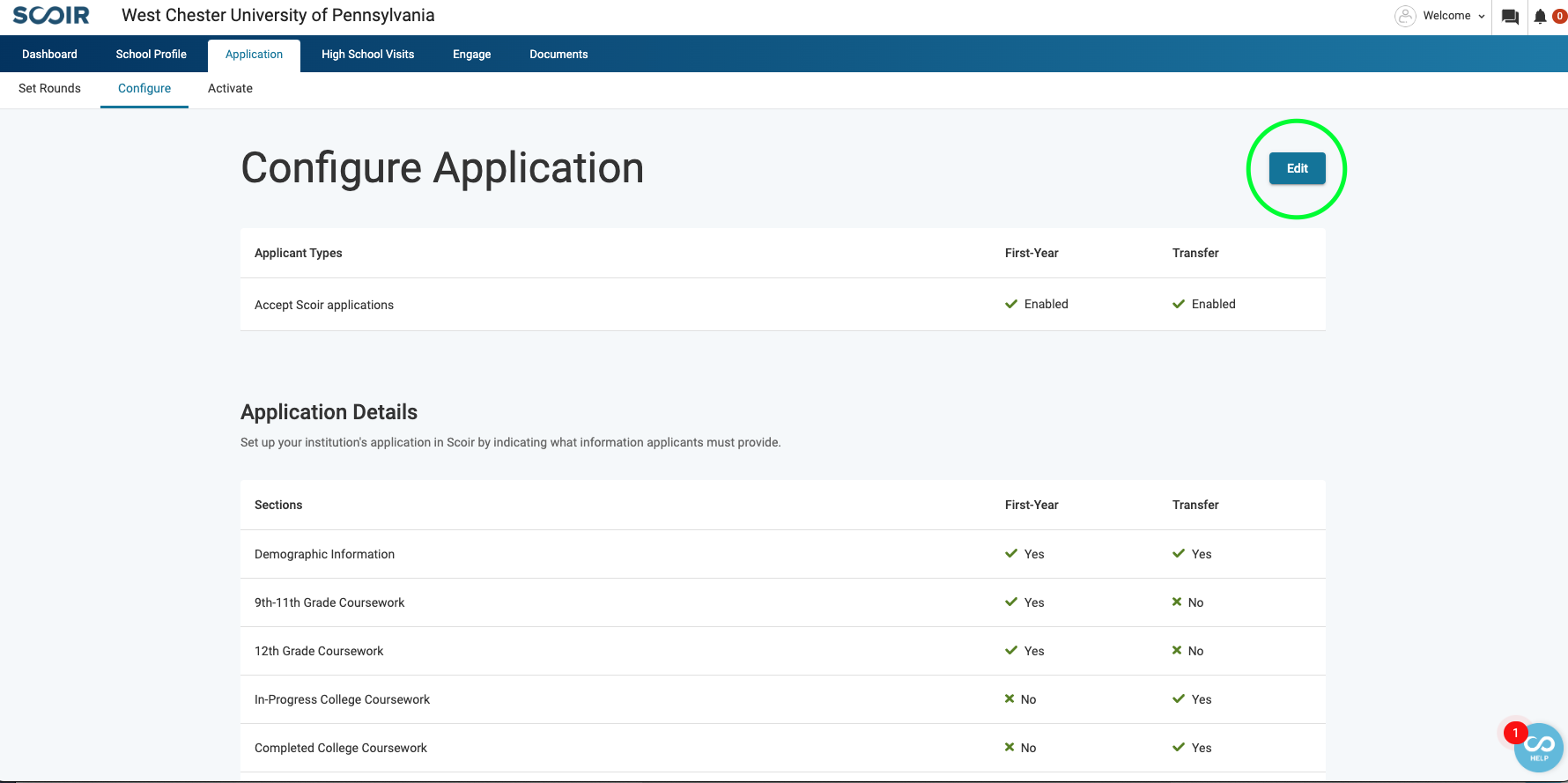 Applicant Types
This first section that can be toggled includes setting which applications your college wishes to accept through Scoir. This can include First Year Students and/or Transfer students. You can enable or disable these by using the toggle. Toggling this off for one of the options (for example, toggling 'Transfer' applicant types off) will remove the remainder of the section to be edited by greying it out.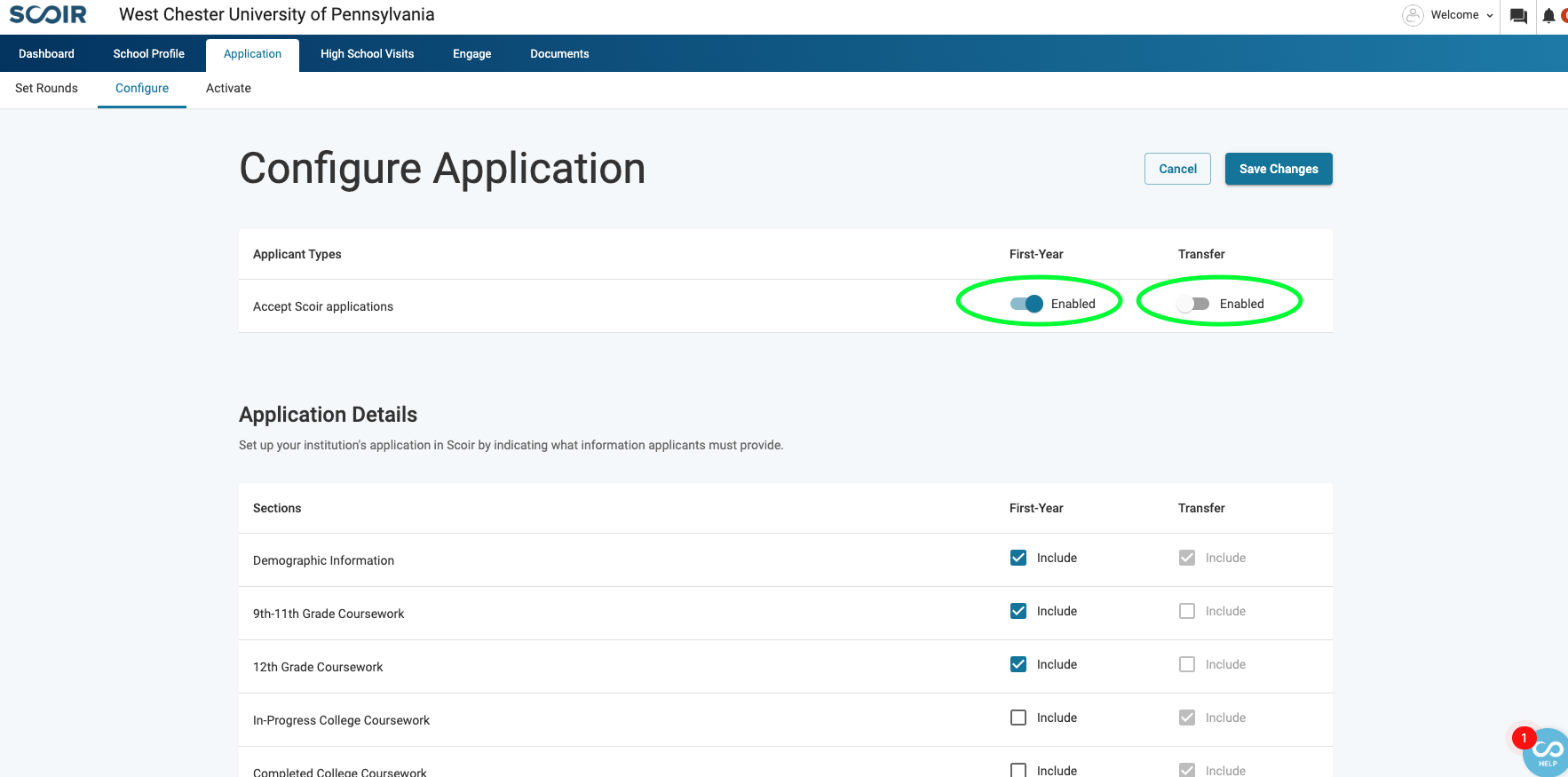 Application Details
This section includes all the general information your college wishes to require about the student applicant through the Scoir application. The editable sections are shown first and can be checked or unchecked depending on if you would like to receive that information on the Scoir application.
These sections include:
Demographic Information
9th-11th Grade Coursework
12th Grade Coursework
In-Progress College Coursework
Completed College Coursework
Additional Exams
English Proficiency Tests
Honors and Distinctions
Activities and Experiences
Coaltion Essay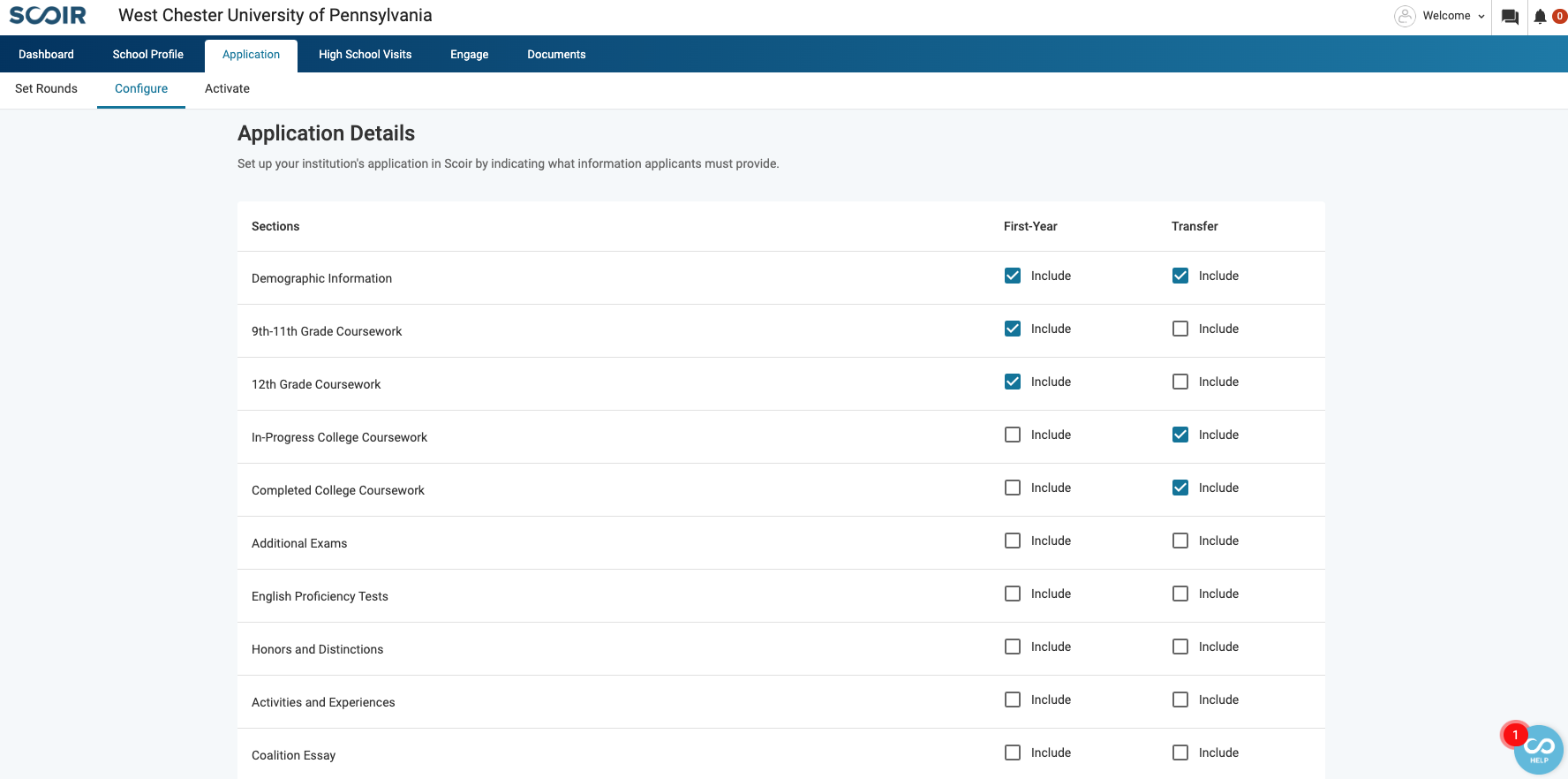 The core sections of the Application Details are all set to required and cannot be edited, as shown below:

For a detailed breakdown about what information is collected in each section of the Application Details, see our
Application Profile Specification Guide here
. This is also linked at the bottom of the Applications 'Configure' page for quick reference.
Standardized Test Scores
In this section, you will set your institution's standardized test policy and indicate whether or not your school allows for or requires self reported test scores. There are three options for the standardized test policy:
Requires Scores
Test Optional
Test Blind
To indicate you are test optional, you must either set your Standardize test policy to 'Requires scores' or 'Test-Optional.' You must then also select the checkbox in order to accept self-reported test scores. Both steps need to be done here to complete this.
Selecting the 'Accept self-reported test scores via Scoir application' checkbox to 'Yes' when you have selected 'Requires Scores' for your Standardized test policy requires that scores be self-reported.
Selecting the 'Accept self-reported test scores via Scoir application' checkbox to 'Yes' when you have selected 'Test-Optional' for your Standardized test policy makes it optional that scores be self-reported. This indicates that you will also accept test scores through other methods than self-reporting, such as through Scoir.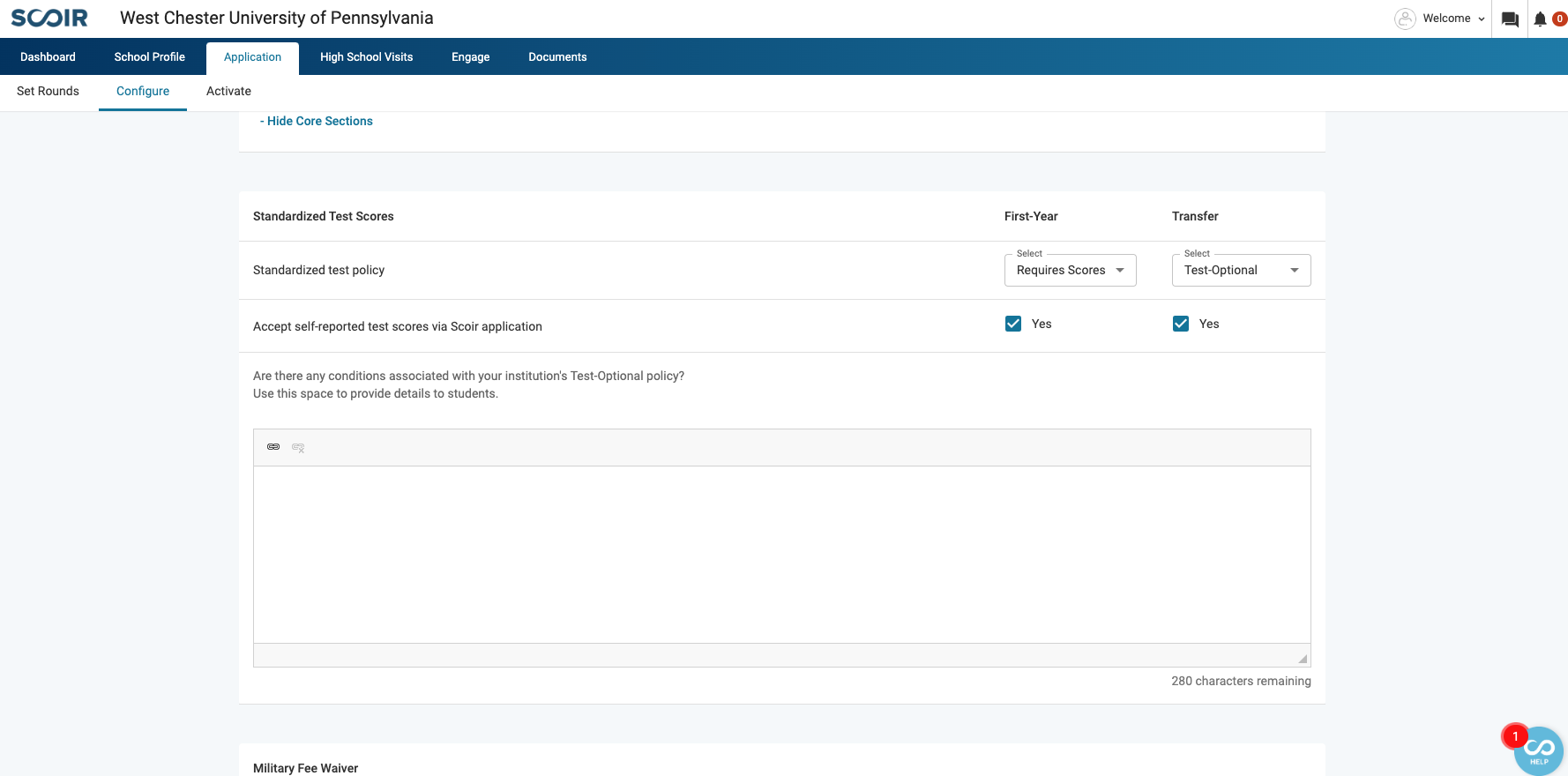 Military Fee Waiver
You can check off this section to allow the ability to waive the application fee to your institution for active and veteran military members.
Transfer Eligibility Threshold
This section indicates the number of college credits in which a student must have in order to be considered a transfer applicant to your institution as opposed to a first-year undergraduate applicant.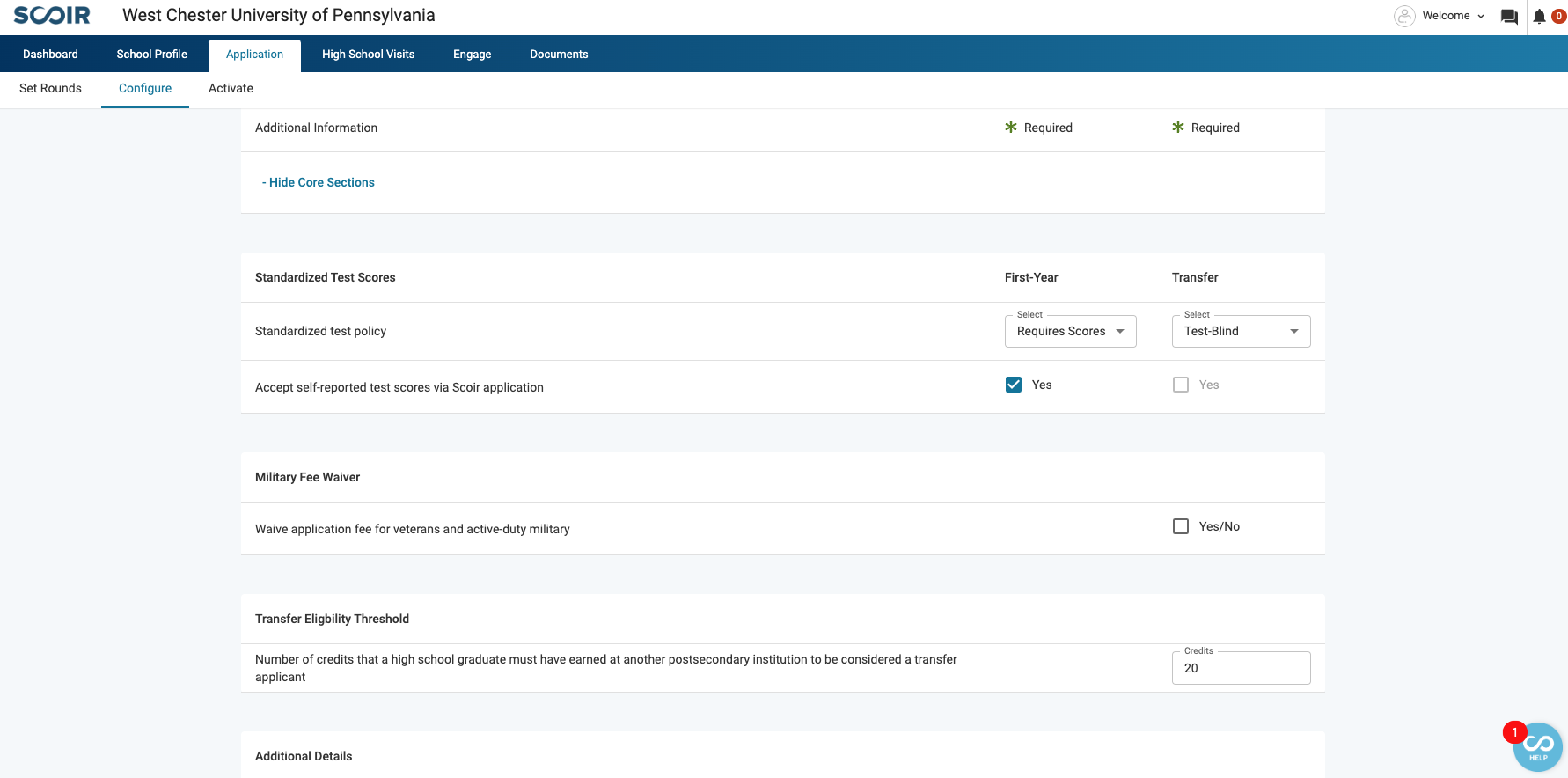 Additional Details
Any notes or further instructions about your institution's application requirements and process can be added here for students to view.
Supplemental Details
You can utilize this section to indicate any required college essays or additional questions that need to be filled out by the applicant in order to complete their application.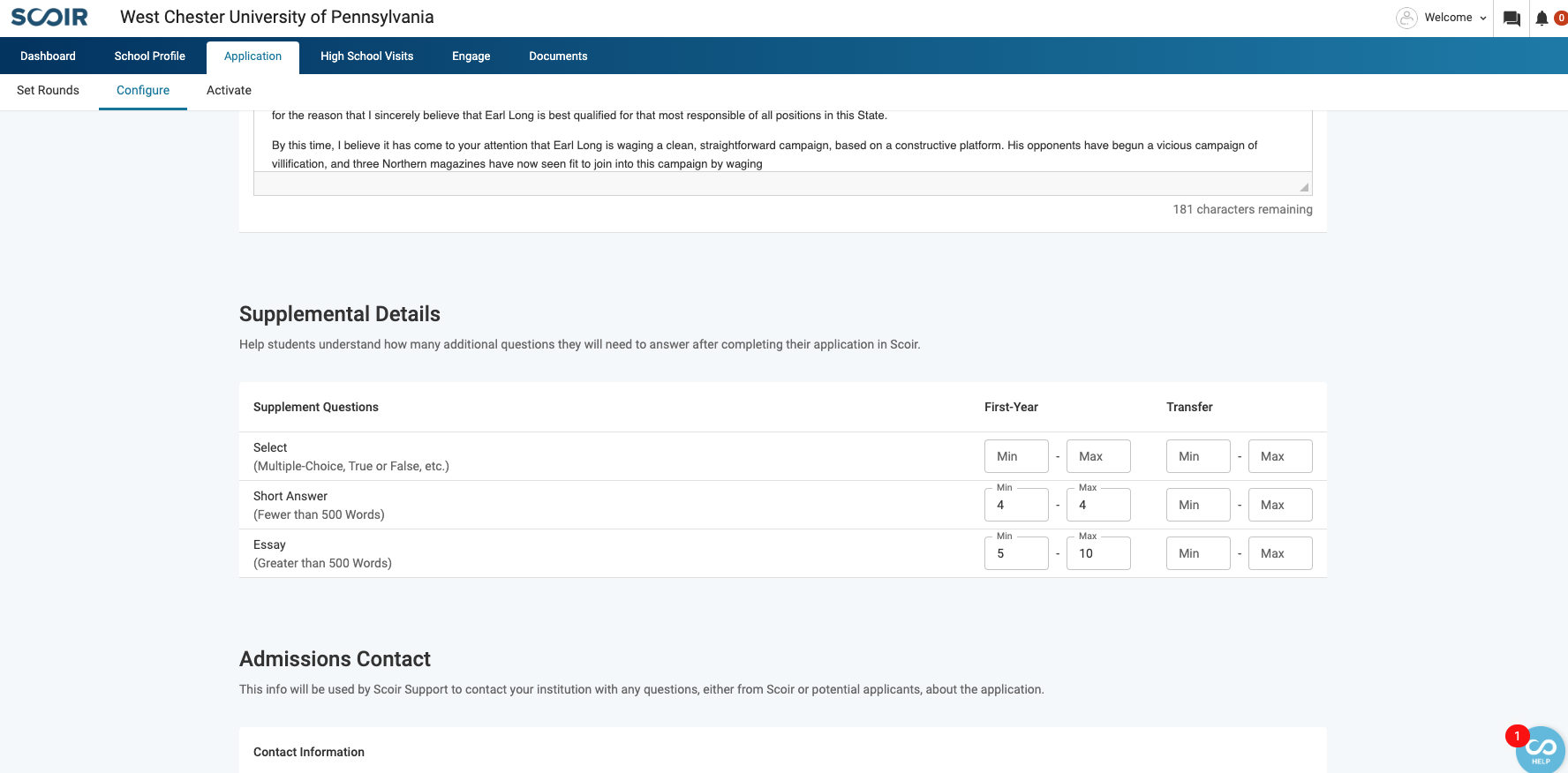 Admissions Contact
This final required section includes where you will input the primary point of contact information for whom Scoir can contact at your college with any inquiries regarding your Scoir application settings. The Application Profile Specification Guide is also linked at the bottom of the page here for quick reference as well.