For Students: Discover Colleges
For Students: Discover Colleges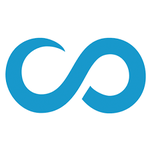 Updated by Client Success Team
Building a tailored college list begins with discovery 🕵️ Here, we breakdown the multiple ways to search and match with colleges in Scoir!
Searching for Colleges
Whether you're doing a quick search or diving into advanced searches, you'll find a lot of functionality!
Basic Search
If you already have a certain college in mind, begin typing the name in the search bar. Once the name appears, click it to go the College Profile.

The search bar will save your recent searches and show you other colleges you may like as well. Save colleges to My Colleges by clicking the icon on the right side of the college name.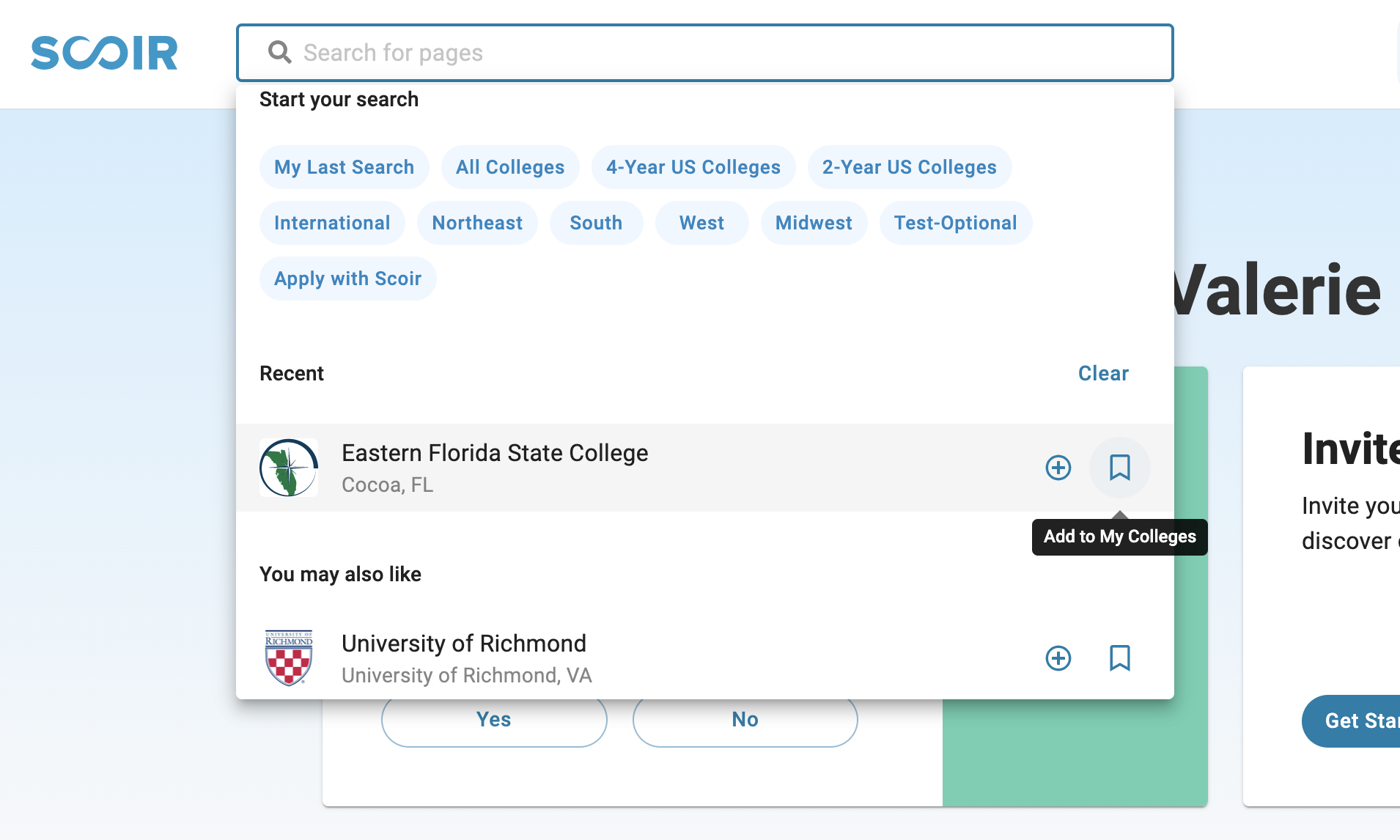 Advanced search and filtering
Narrow down your search and get a list of colleges that meet specific criteria by using filters. Access filters by navigating to Discover or using the search bar. Choose a pre-populated filter to get started.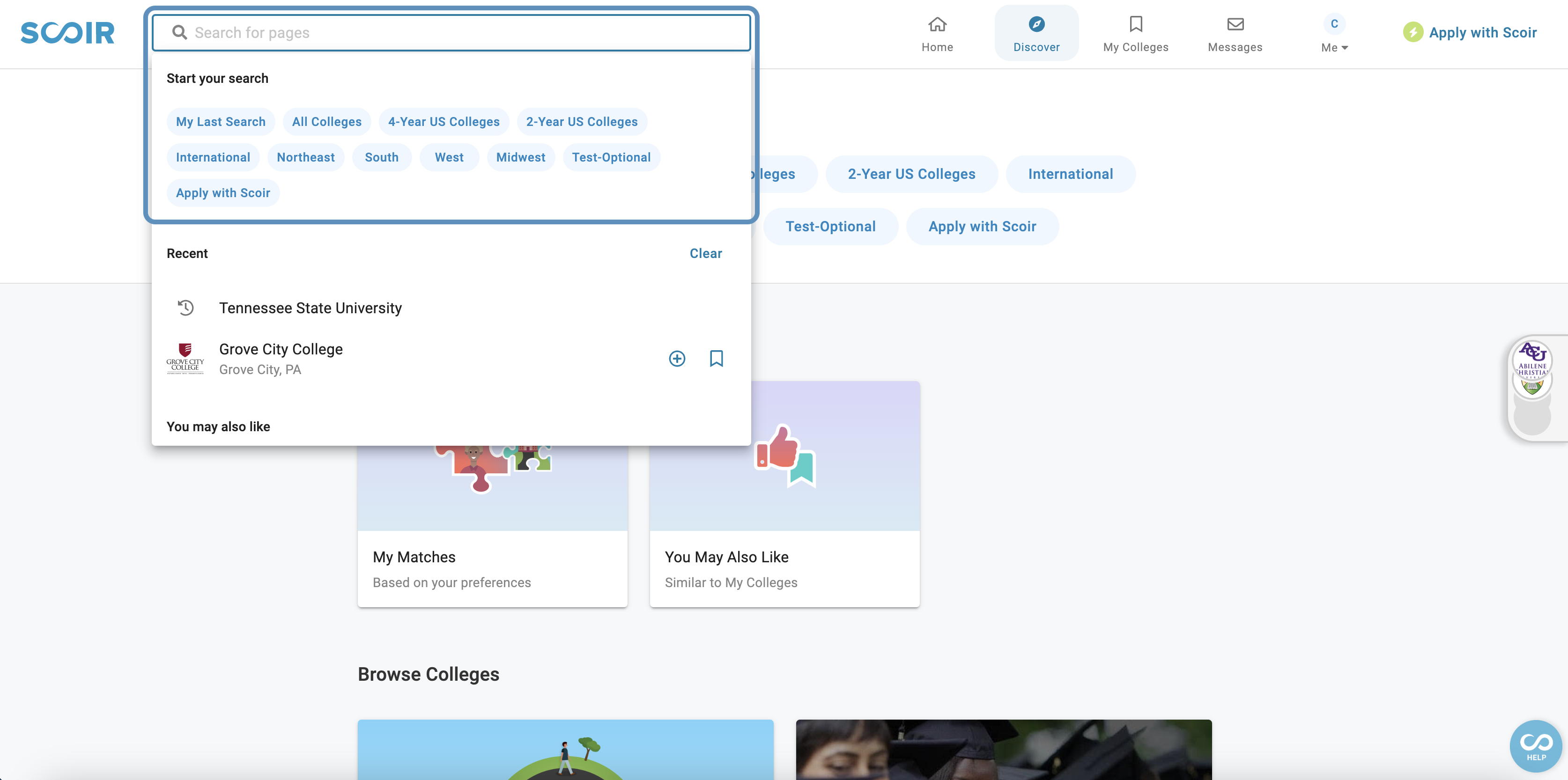 From here, you'll see the 5 most popular filters in the top left navigation. Click the filters you want to set based on your preferences, and a drop down will appear with your options.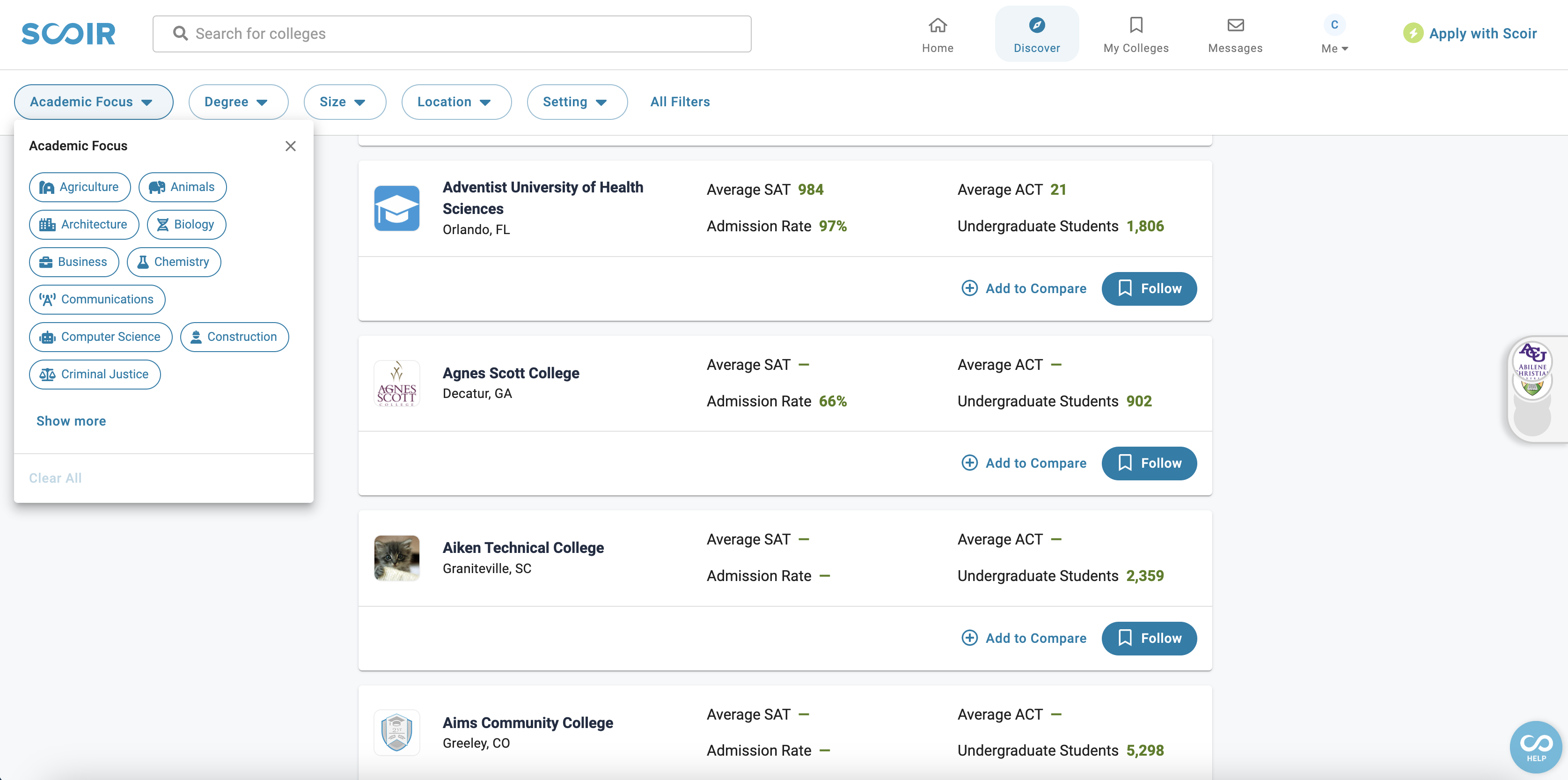 Select "All Filters" to see additional options like Personal Interests & Activities, ROTC Programs, Test Scores & Admission Rates, Athletics, Application Method, and more.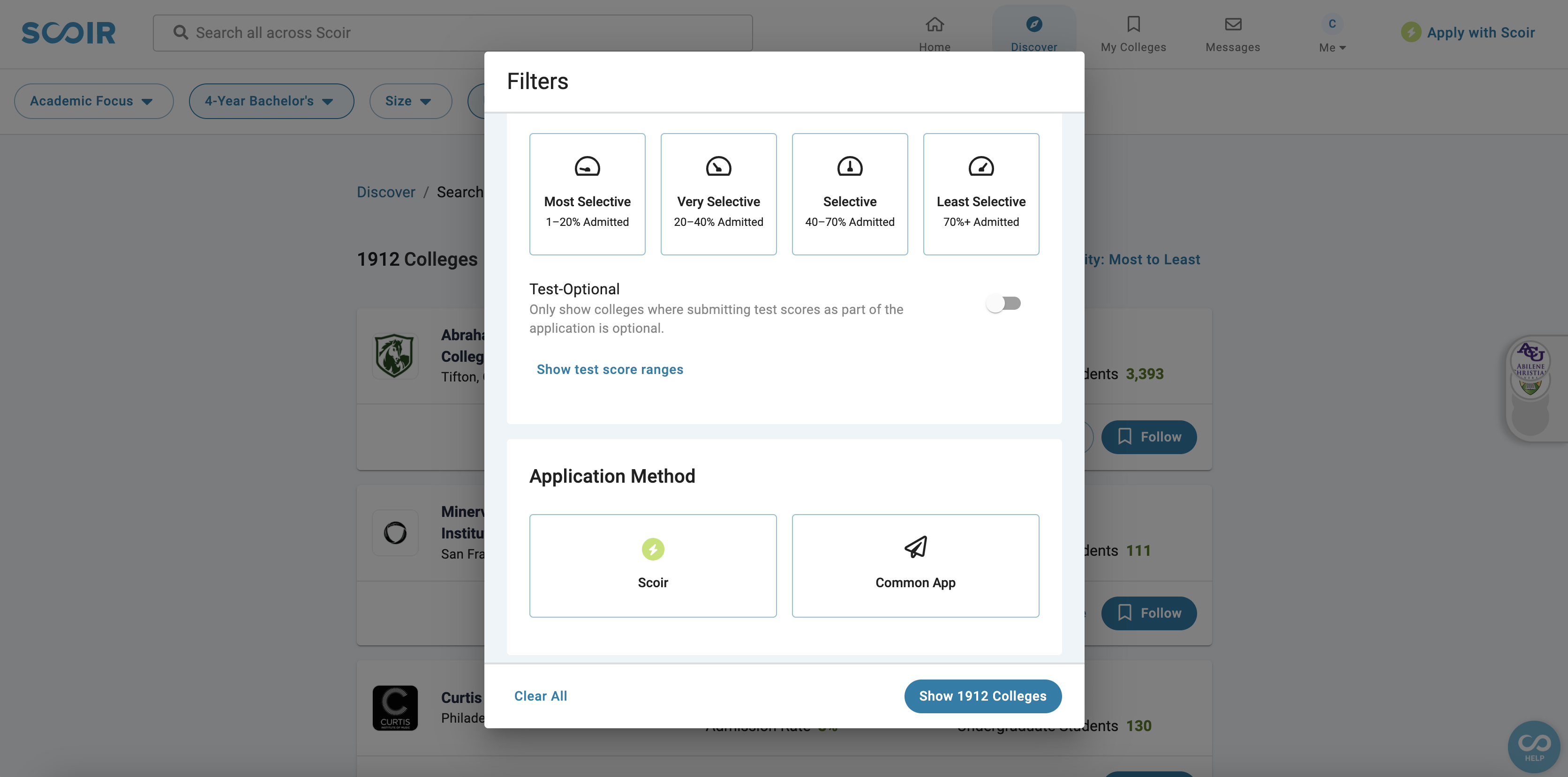 Once you've chosen your filters, the resulting list of colleges will default to sort by relevance. You can easily change the sort by selectivity (admissions rate) or by size.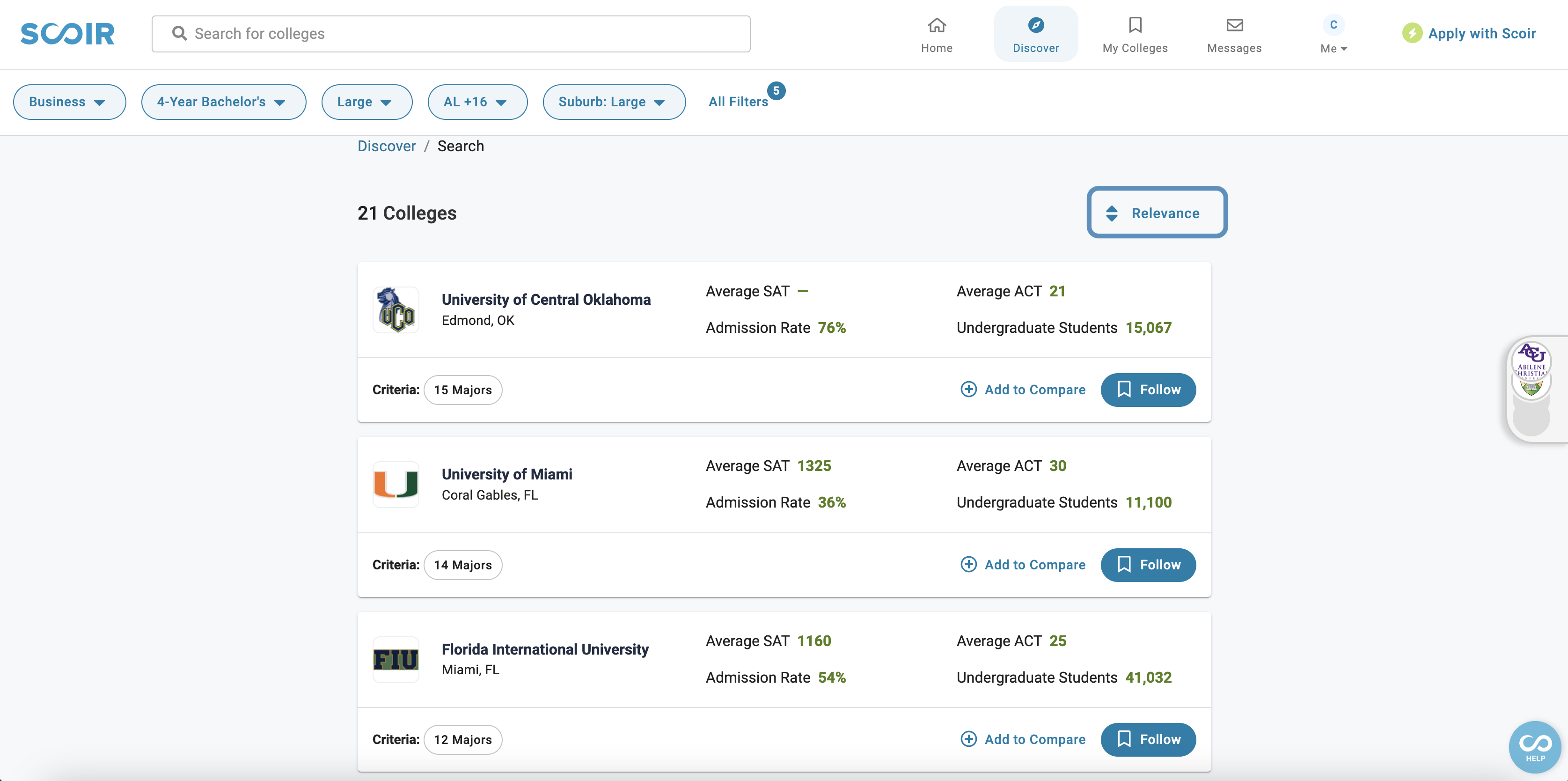 Add the colleges you're interested in to your list by clicking "Follow." You can also choose to compare up to 4 colleges at a time and see a side by side view of what they have to offer. Colleges with the option to Apply directly through Scoir will allow you to get started from here as well.

Browse Colleges
View a list of Coalition or Apply with Scoir colleges in Discover.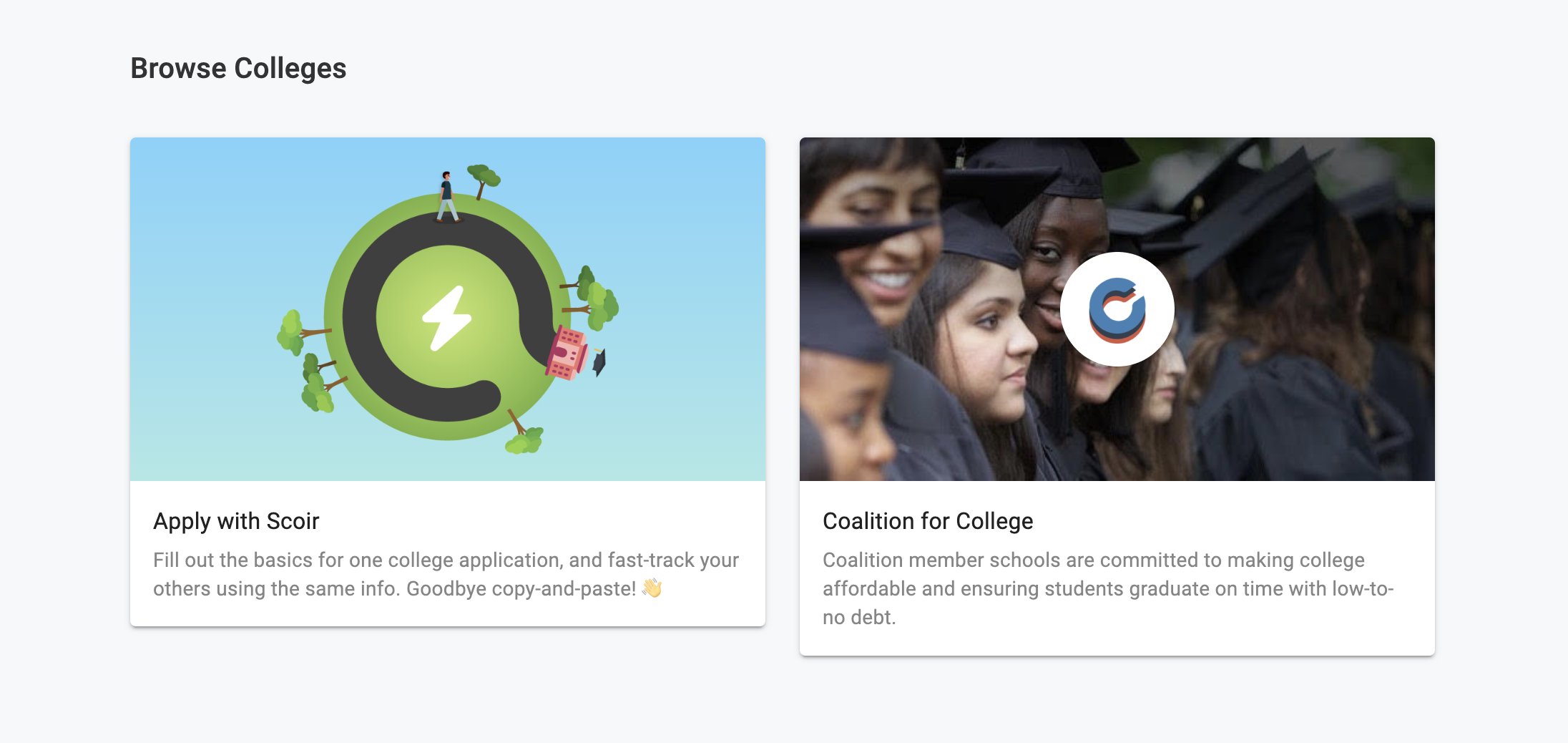 Matching with Colleges
Go beyond filtering and sorting colleges to discover others that might be a good match for you.
My Matches
My Matches is a list of colleges based on your preferences that you can view in Discover.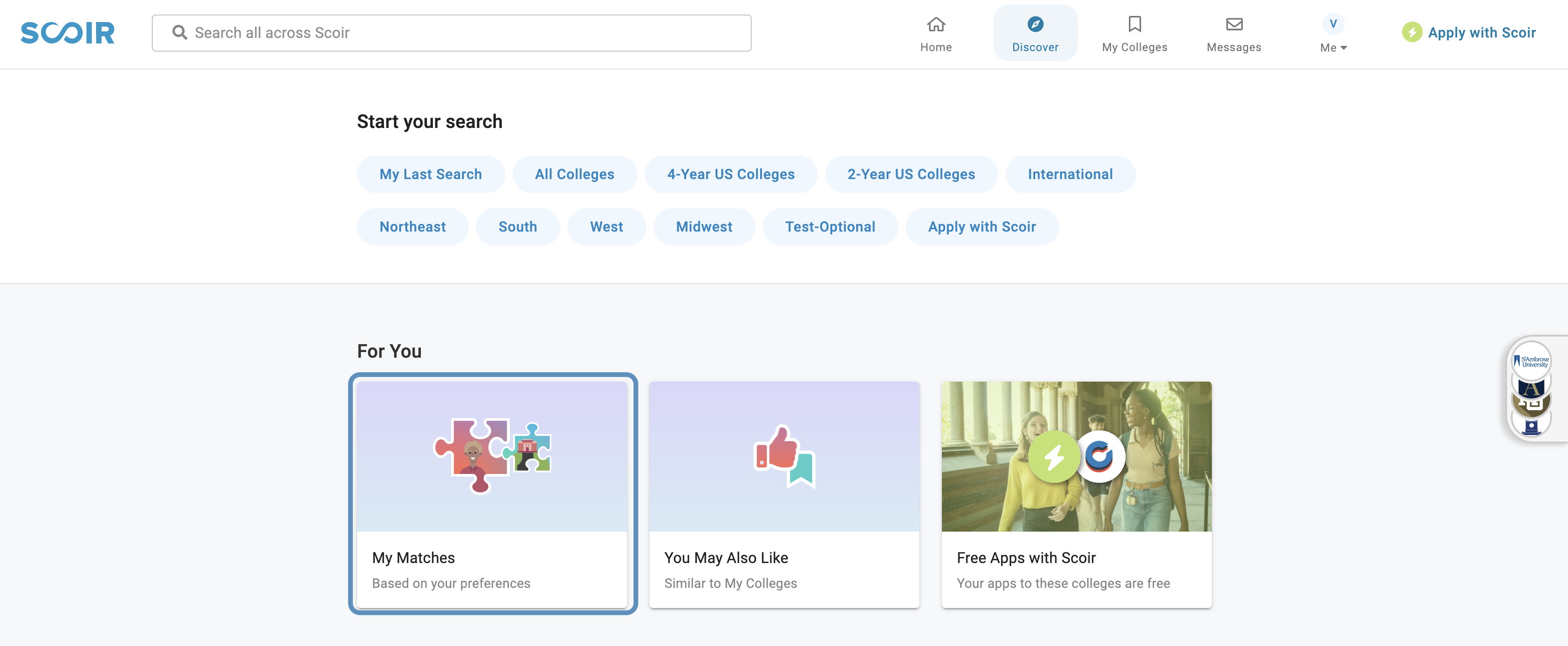 If you haven't added any preferences yet, you will be asked to add preferences to get matched with colleges and receive smarter recommendations. You can also Set College Preferences from your student profile.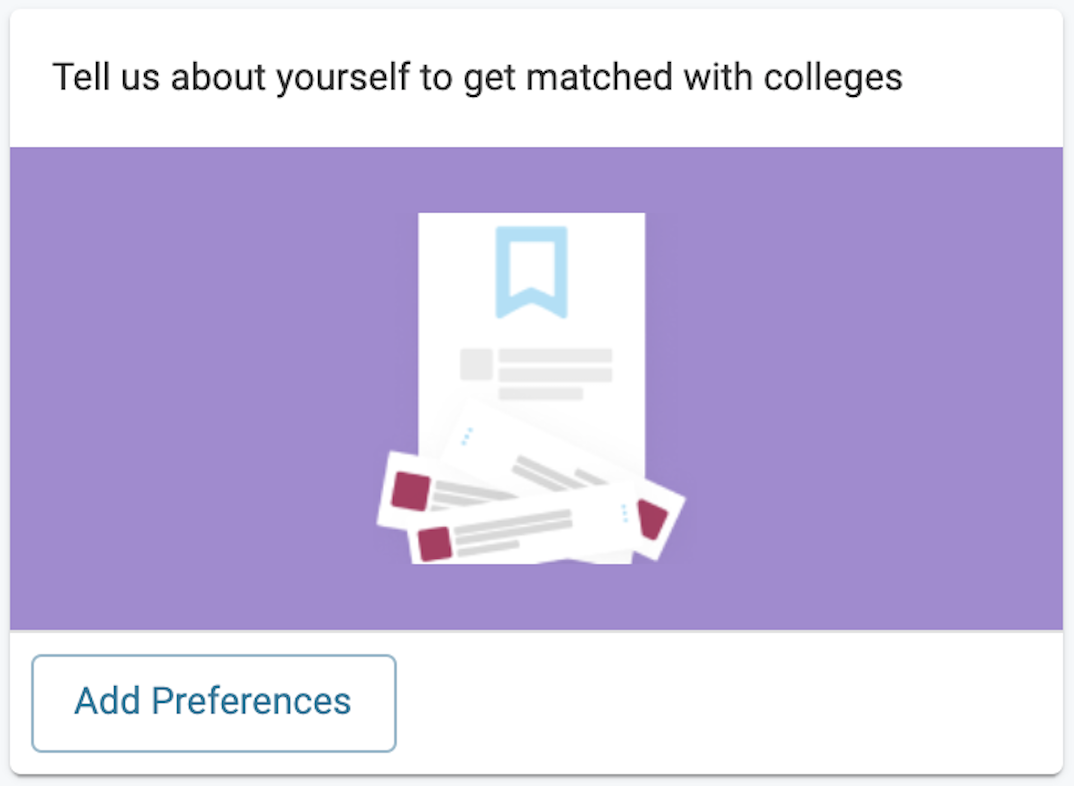 Find Your College Match Quiz
Take a quiz that consists of questions designed to match you with colleges based on what you'd like to study, where you'd like to live, and more. It's a fun way to set your preferences and helps build a robust discovery experience.
Initially, you'll find the quiz located on your student dashboard.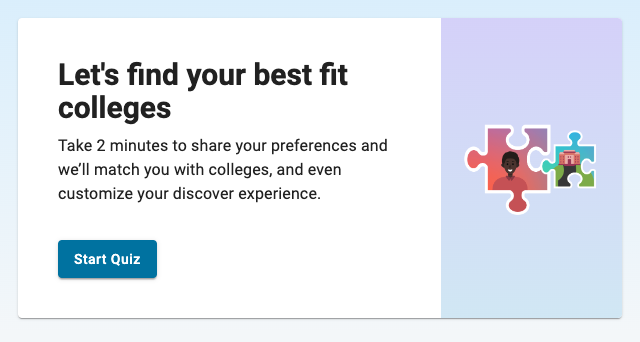 After you complete the quiz the first time, you can retake it as many times as you'd like from My Matches.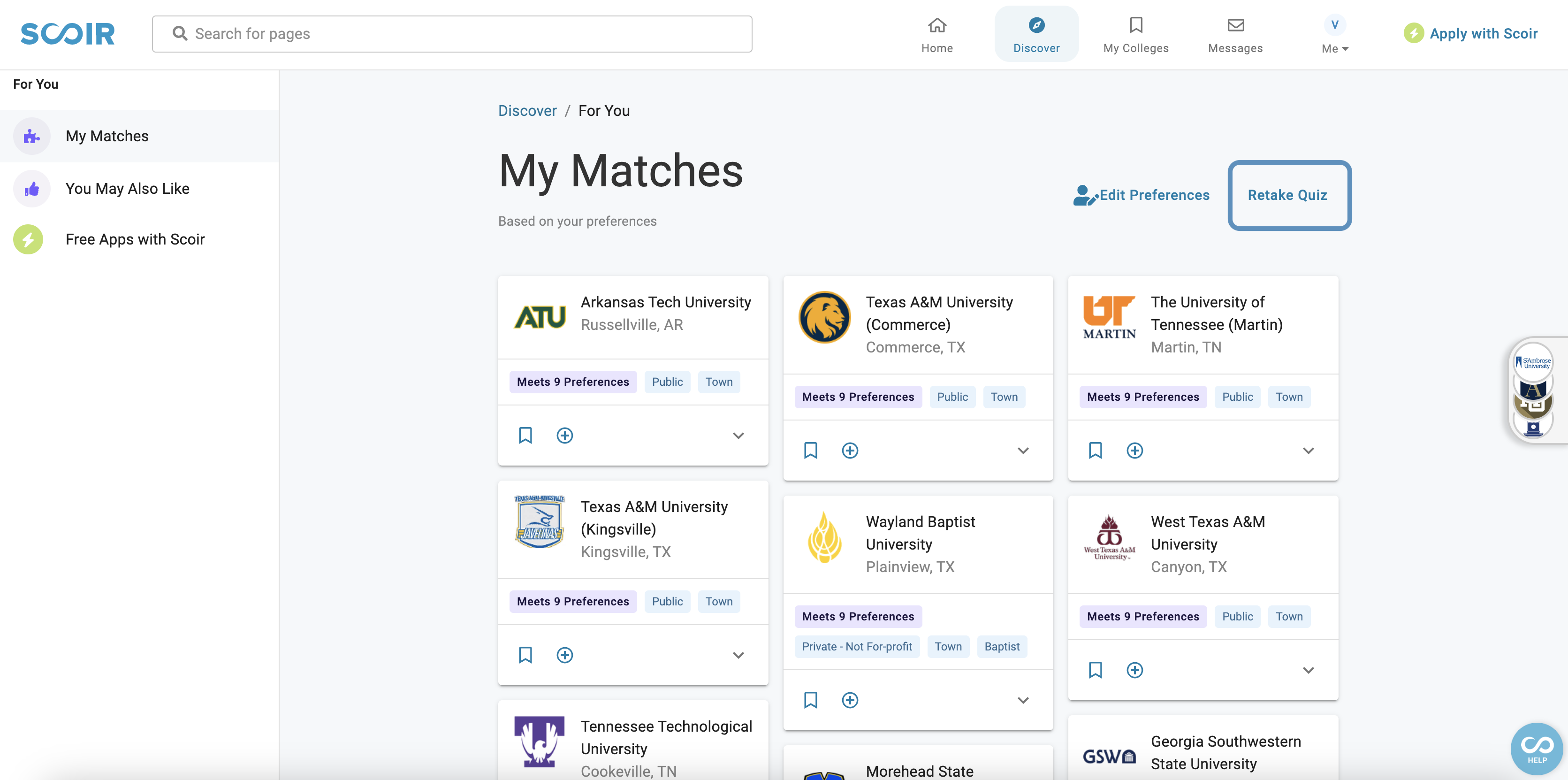 You May Also Like
You May Also Like is a list of colleges similar to My Colleges.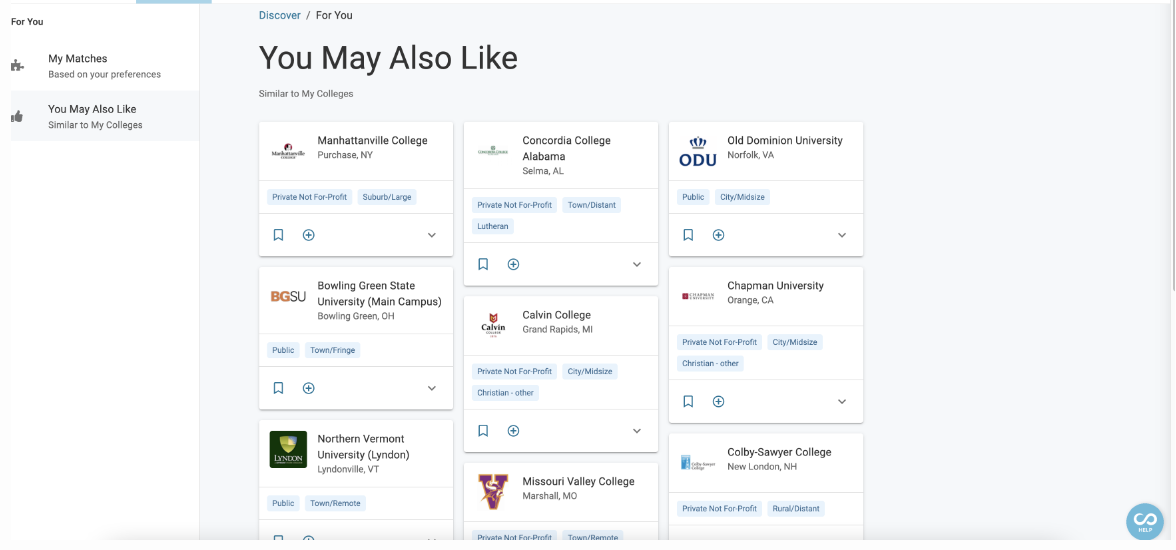 If you haven't added any colleges to My Colleges yet, you'll be asked to follow a college to personalize your recommendations on Scoir.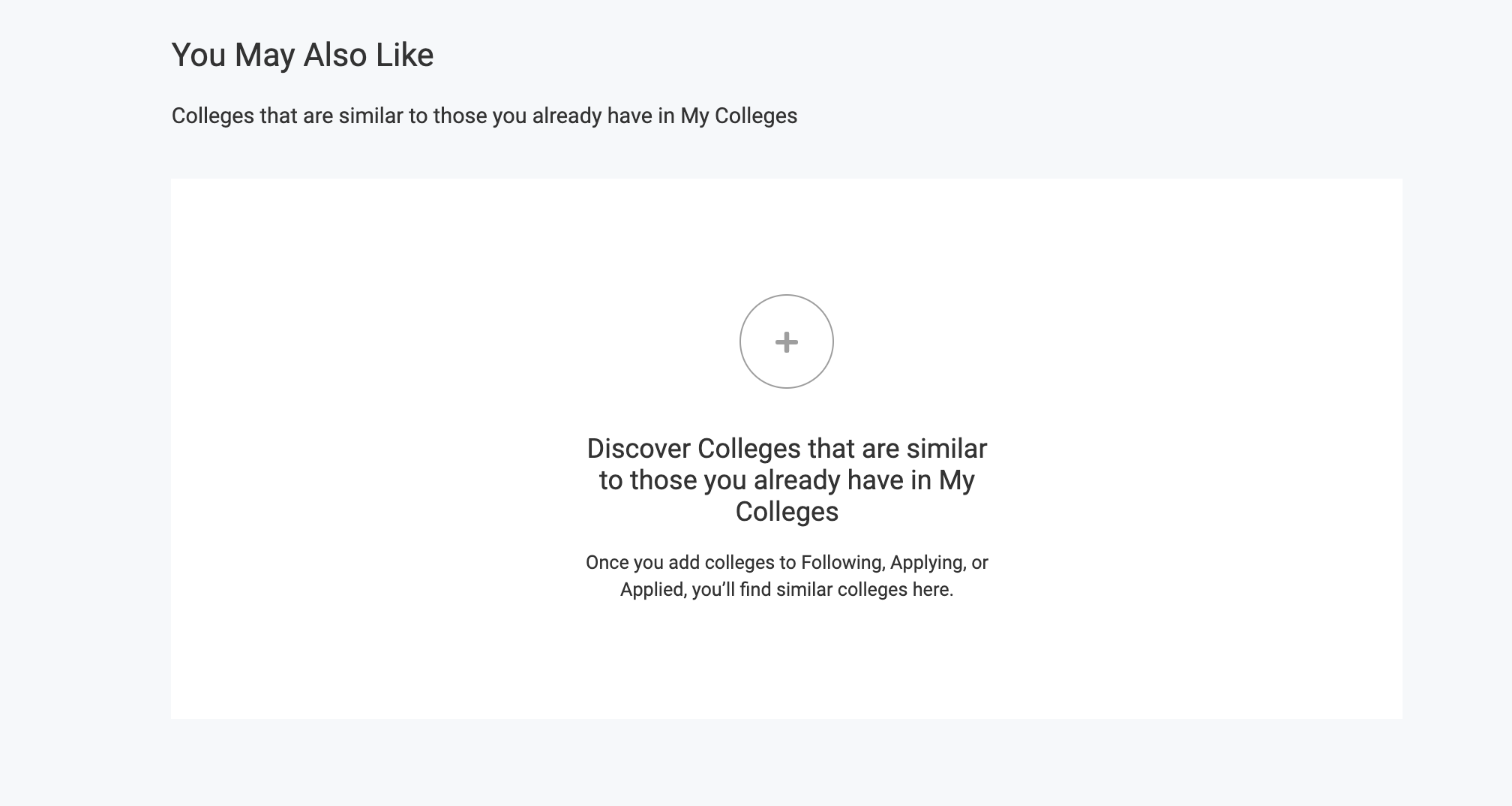 Learn more about colleges For You with overview stats. Select the college name to see the full College Details, and use the drop down for the College Overview.