For School Officials: How to Send Application Documents for Transfer, International, & Unlinked Students
For School Officials: How to Send Application Documents for Transfer, International, & Unlinked Students
Updated by Customer Support Team
A student whose high school isn't connected to Scoir can request a School Official to send application materials on their behalf through Scoir.
If your high school is connected, but doesn't send documents through Scoir, you'll also follow this process. However, we recommend reaching out to your Customer Success Manager to set up the ability to send application documents through your counselor dashboard in Scoir.
Receiving a School Official Request
A student can add a School Official to Scoir throughout the application process. When they do, you'll be sent an email sharing information such as where they're applying and whether they require application materials to be sent on their behalf.
Within the email, you'll see a Sign In button that takes you to your dashboard in Scoir. From there, you'll be able to manage all students that add you as a School Official.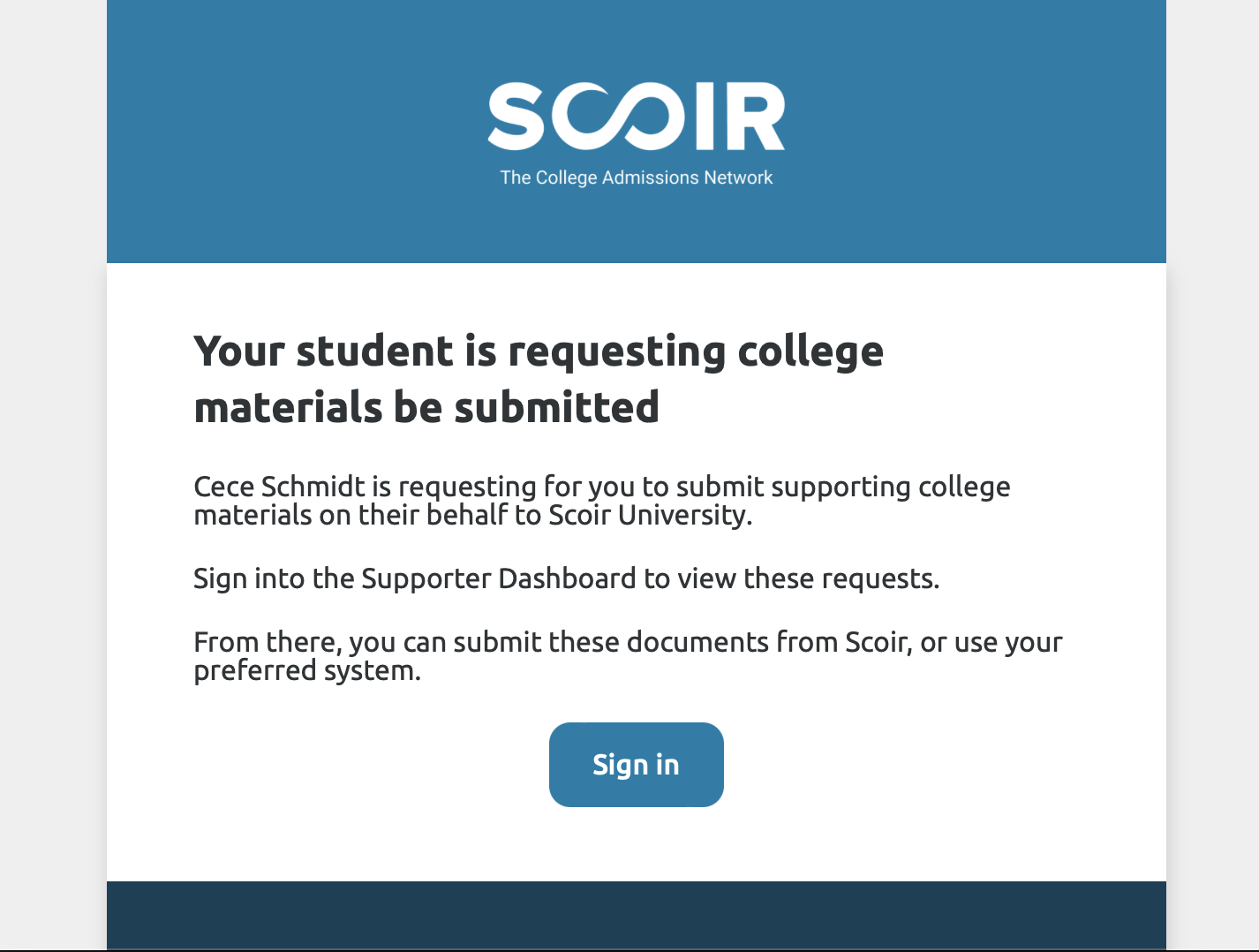 Sending Application Materials
Once you receive the email that a student requires application materials on their behalf, you'll sign into Scoir to view the student details and upload their documents.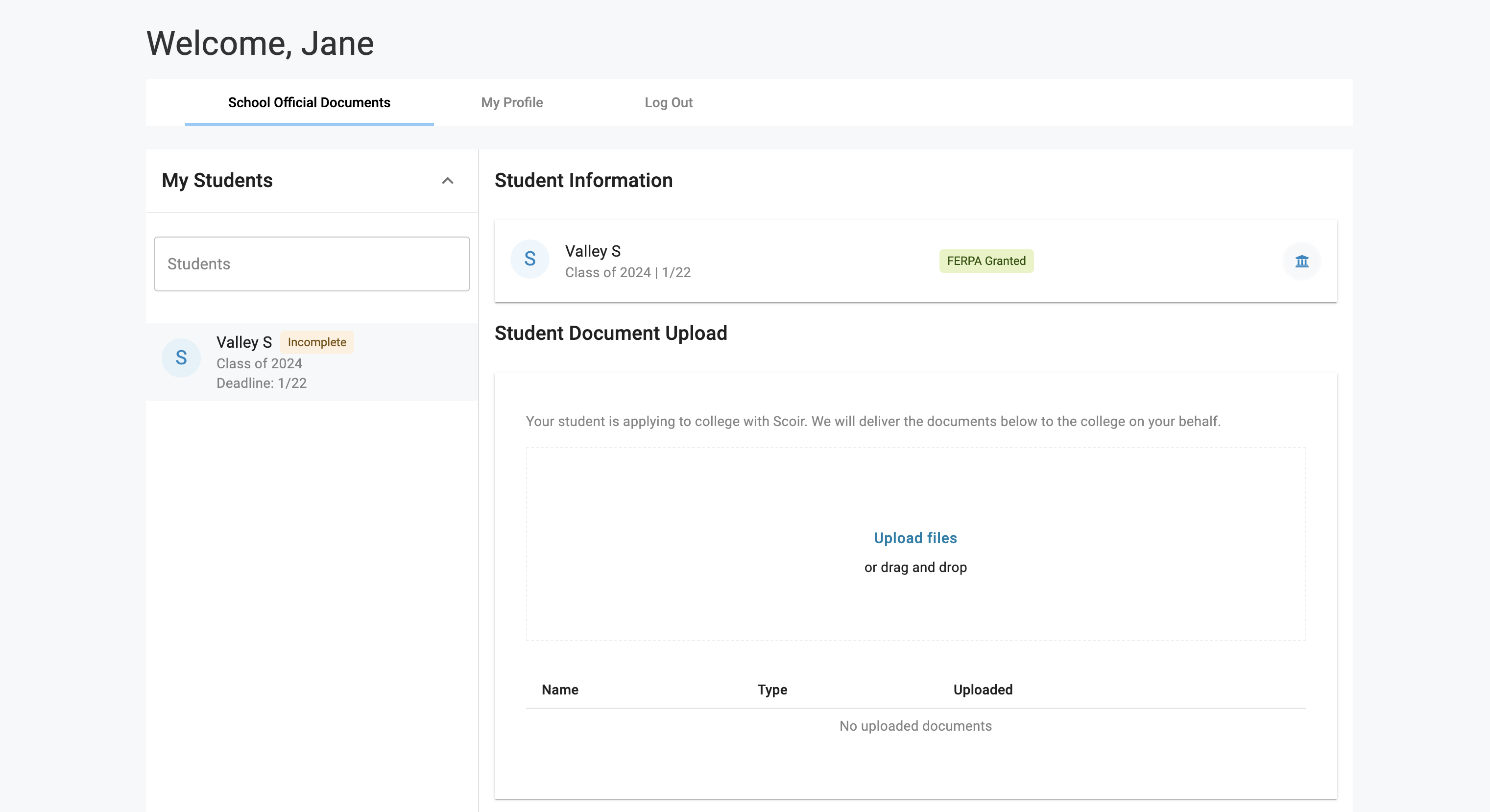 Below Student Document Upload is the Colleges section where the application documents that need to be sent are listed. You'll also see the deadline to send these materials.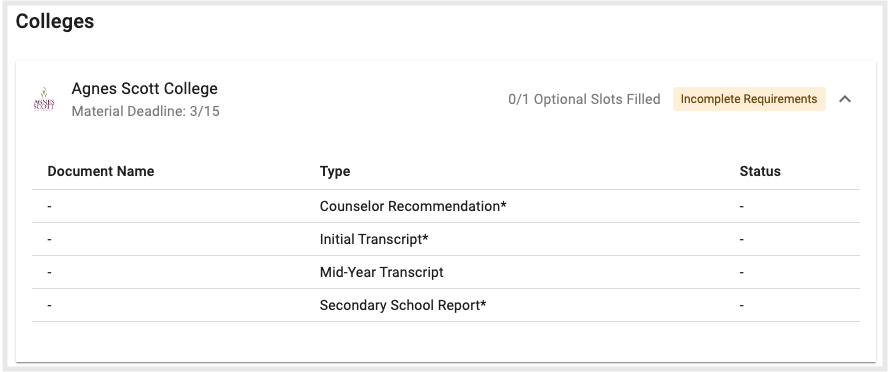 To send documents, drag and drop or upload them in the Student Document Upload section.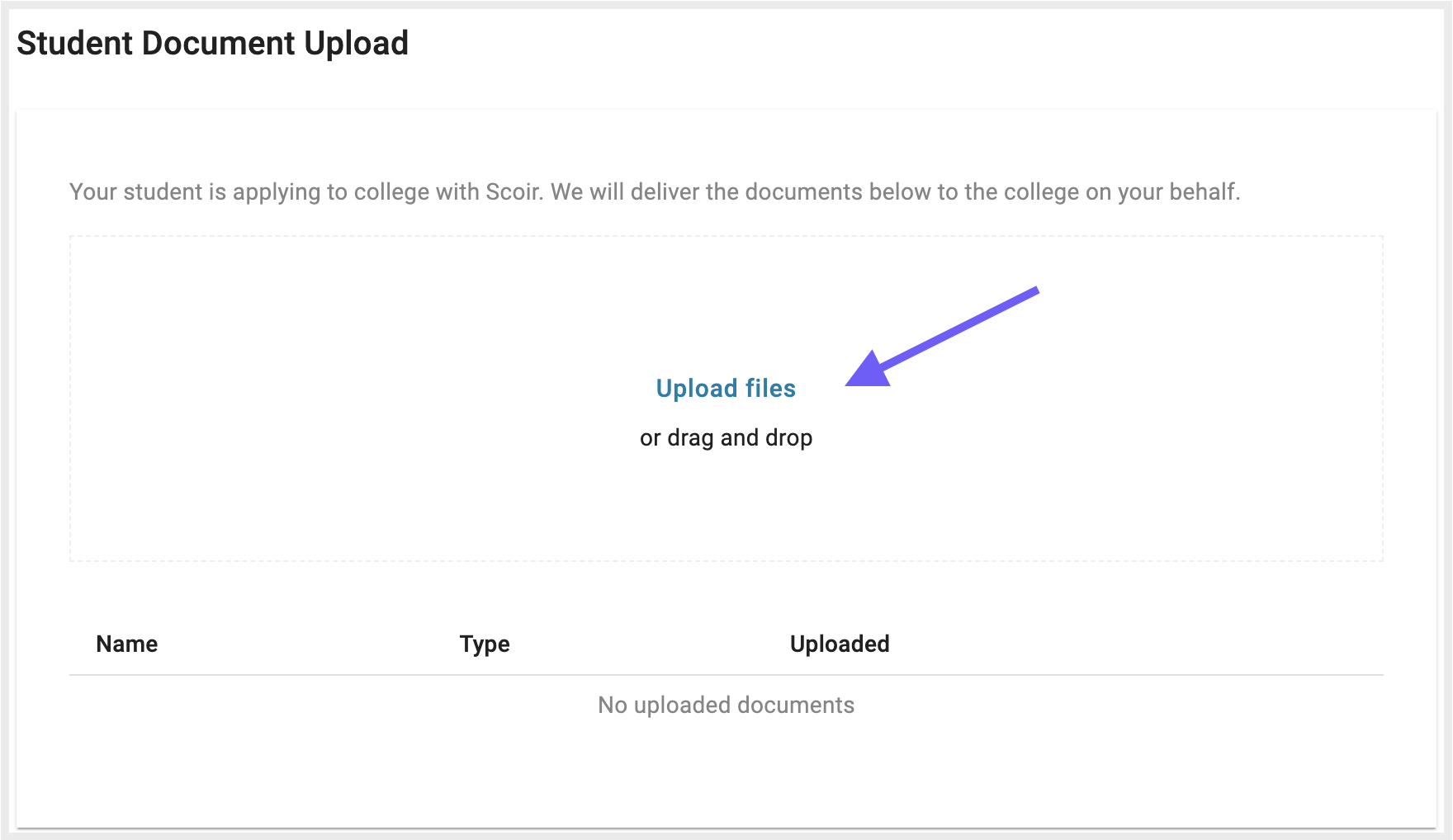 Choose the Type of document your uploading.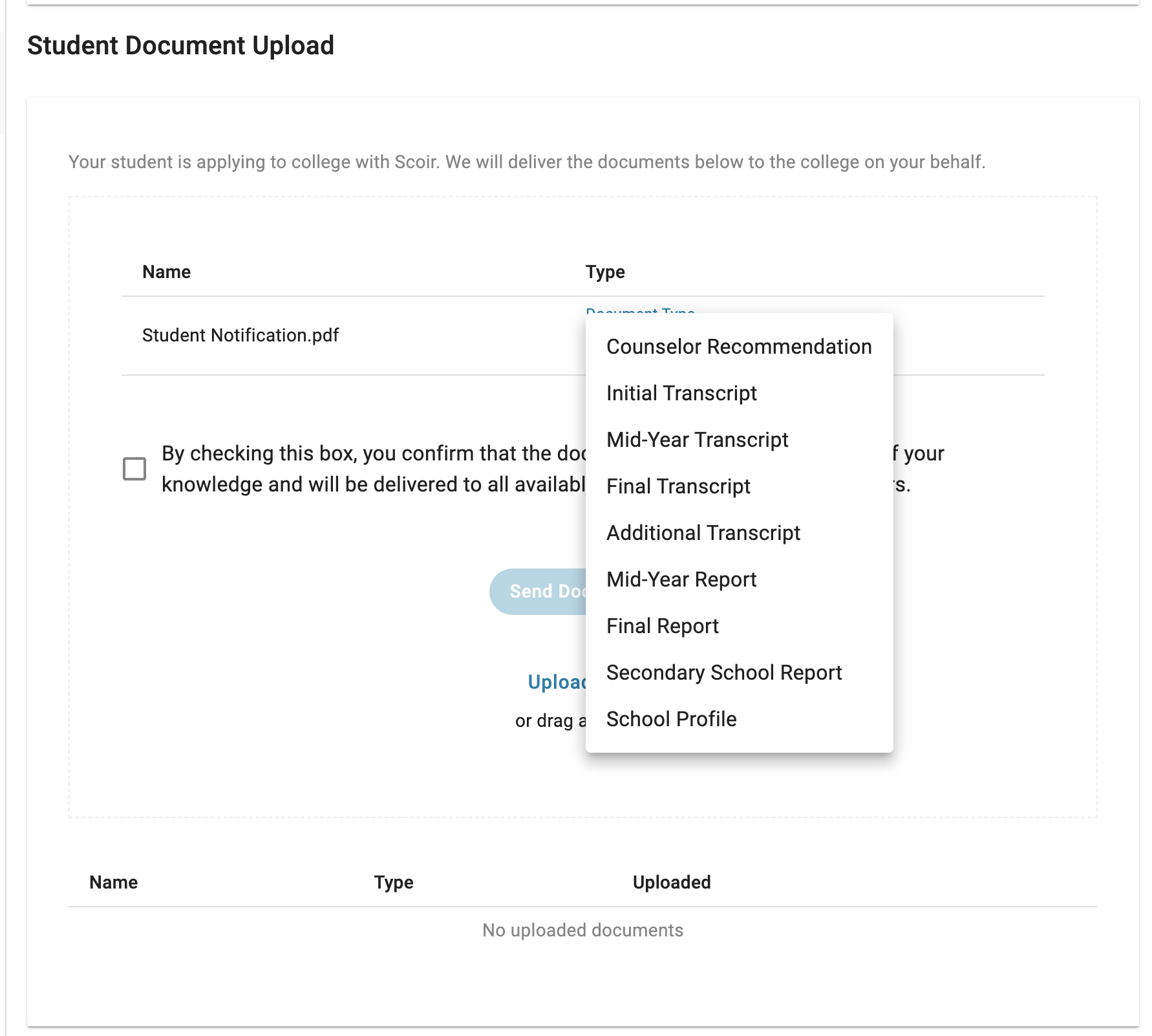 Once you've added all the documents you'd like to send, check the box acknowledging these are accurate to the best of your knowledge, and select Send Documents.
If you would like to remove a document before sending, click the 3 dot icon to the left of the document and choose discard.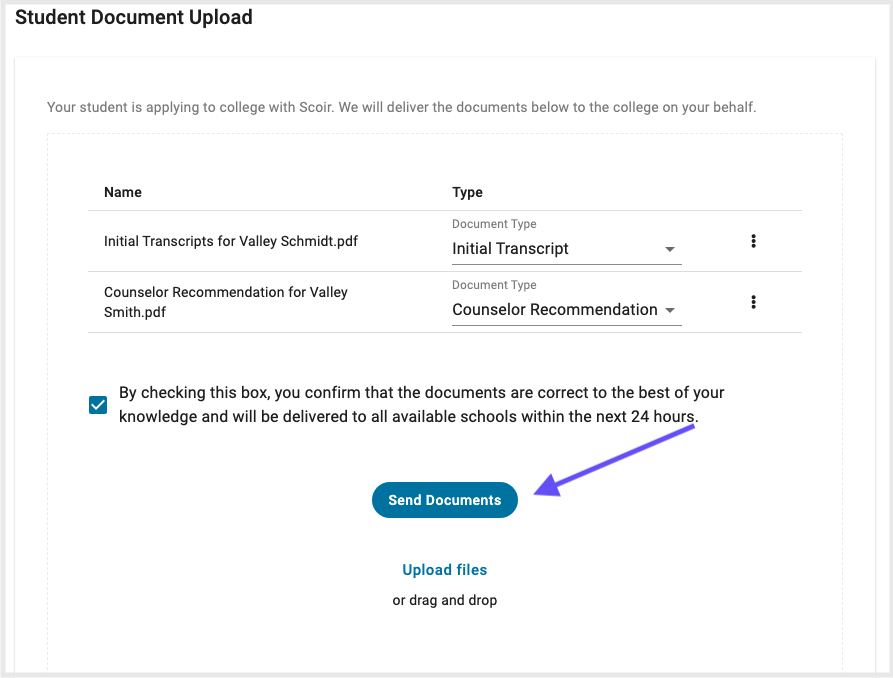 From there, you'll see the documents that have been sent, which ones are queued to be sent, and which ones still need to be uploaded.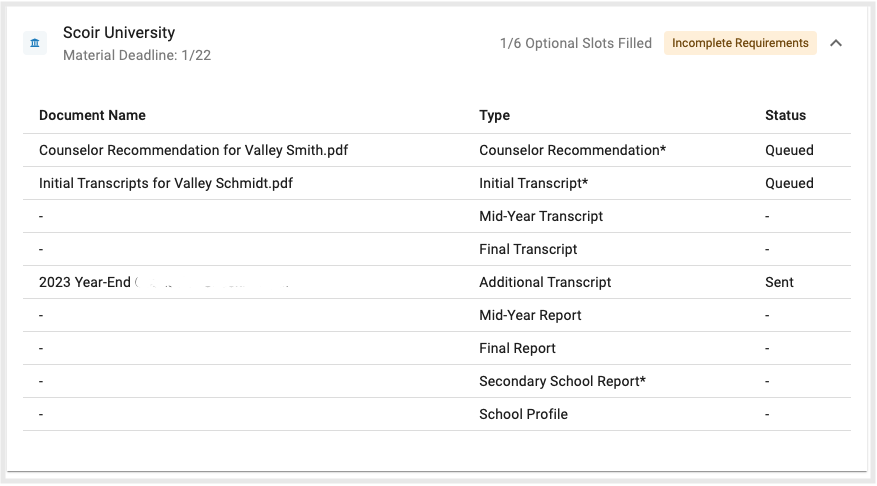 Secondary School Reports
For Secondary School Reports and School Profiles please reference the examples on NACAC's website here
If your school does
not
have a pre-made Secondary School Report, please use this template
here
Please note: Not all colleges require Secondary School Reports for international students. Please be sure to double check the college's application requirements on their website!
Returning to Scoir
If you require a new email to sign into Scoir, you can go to app.scoir.com/app/supporter and add your email. You can also follow the link in the original email which will prompt you to have another link resent to take you to this:
This is also an option if you did not receive the initial email to upload documents for your student to Scoir!
Please be sure your student added your email address correctly when adding you as their School Official to Scoir before using this link.