For Counselors: Scoir Library & Email Subscription Management
For Counselors: Scoir Library & Email Subscription Management

Updated by Elliot
Email Subscriptions
As an addition to the email center, Scoir also includes pre-loaded emails. These pre-loaded emails are optional and can be activated via subscription.
The Scoir Library
The Scoir Library can be accessed in the Email Center by clicking the Scoir Library tab next to All Emails.

The Scoir Library contains pre-loaded emails designated by categories relevant to college and career counseling. Categories currently include:
Financing College
Self-Discovery
College Discovery
Courses & Academics
Admissions & Application Insight
Standardized Test Reminders
Managing Subscriptions
In order to activate and use the emails available in the library, the corresponding category must be subscribed to individually. Once subscribed, you will have the ability to manage and edit the timing and audience for individual emails that are included in each subscription.
To subscribe to any particular group of emails, choose Manage Subscriptions within the Scoir Library, check the box next to the respective category, and choose Save Settings.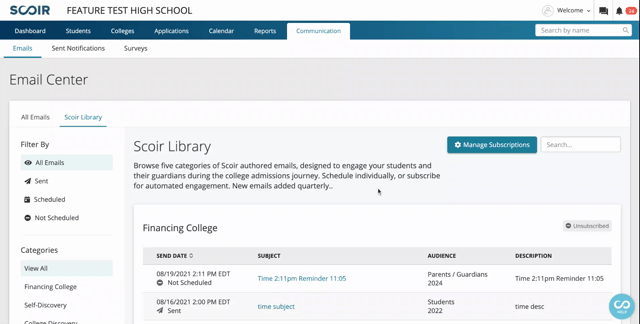 Managing Emails
Once subscribed to a category, the emails associated with that respective category will become available to send or schedule. If an email is not scheduled, it will not be sent automatically.
Emails in the Scoir Library can be filtered by category or all can be made available to view.

Clicking on an email subject will open a detailed view of the email. Timing and Audience information can be edited for each individual email, however, because these are pre-loaded messages, the content of the email cannot be altered.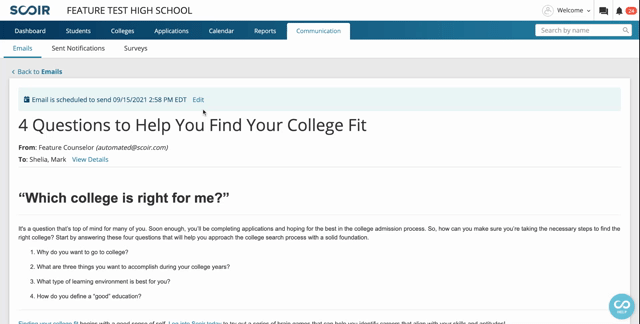 Reminders
New emails are added to Scoir Library each quarter. If you are subscribed to a category where a new email is added, it will be automatically scheduled and sent. 
Because of this, all scheduled or subscribed emails in the Library include a reminder, emailed to you approximately 24 hours before the messages are sent. An example of a reminder email can be found below.