For Counselors: Creating and Publishing a Survey
For Counselors: Creating and Publishing a Survey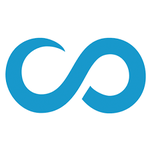 Updated by Client Success Team
(Step-by-step video can be found at the bottom of this page)
We have the answer you are looking for to provide surveys to students, parents and even make these accessible to teachers! Let's get started creating a survey.
Navigate to the Communications tab in Scoir. You will automatically land on Surveys. You can initiate your creation of a survey by clicking on Create New to the right side of your screen.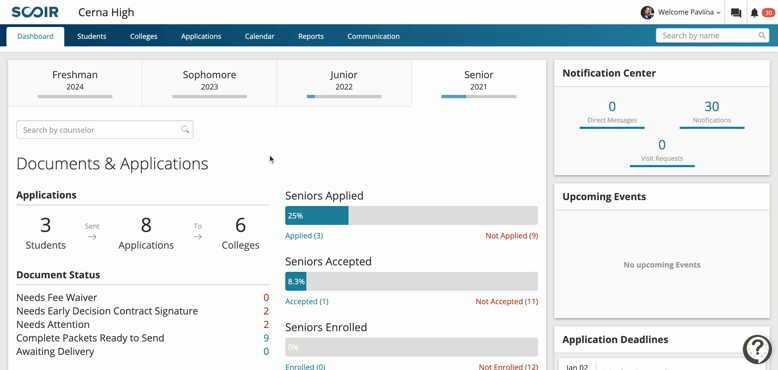 First, select your audience. The initial survey is designed to be sent to students in specific class years and/or by counselor assignment. 
Select the student class year or years that you's like the survey to be sent to

Add student, parents or both

T

arget survey to a student group that was previously created

Would you like the survey to be visible to teachers who have been asked to complete recommendations? 

Finally if you'd like to add a date that your survey will close and no other responses can be submitted, enter a date.
If a counselor's name is entered, this survey will only be sent to registered students assigned to that counselors.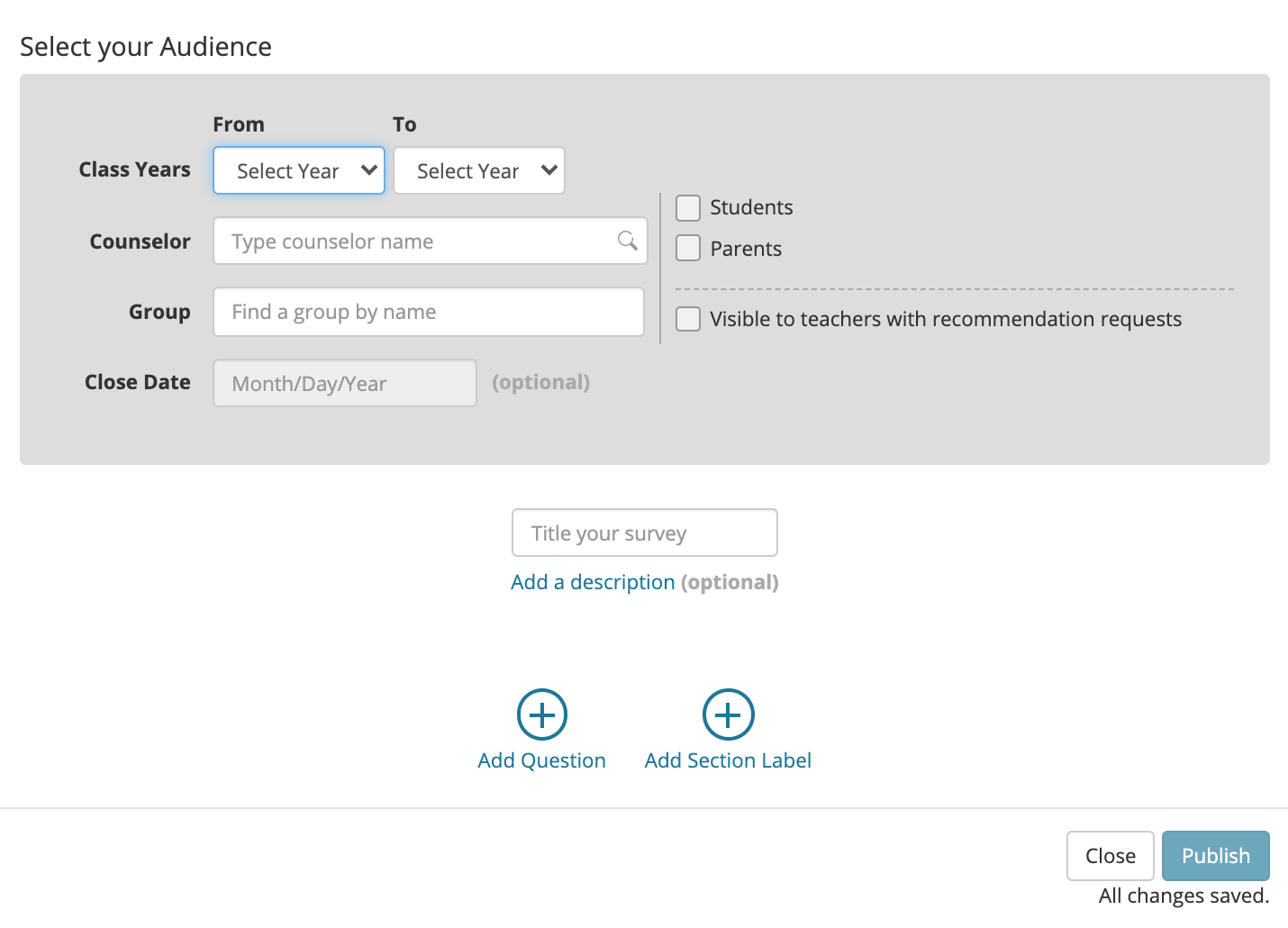 Title the survey and optionally add a description if you'd like. Section labels can also be added to keep the different areas of your survey separate.
Free Form — where answer can be whatever the surveyor would like to say
Multi-Select — the surveyor can select more than one response from the choices provided
Single-Select — the surveyor can select only one response from the choices provided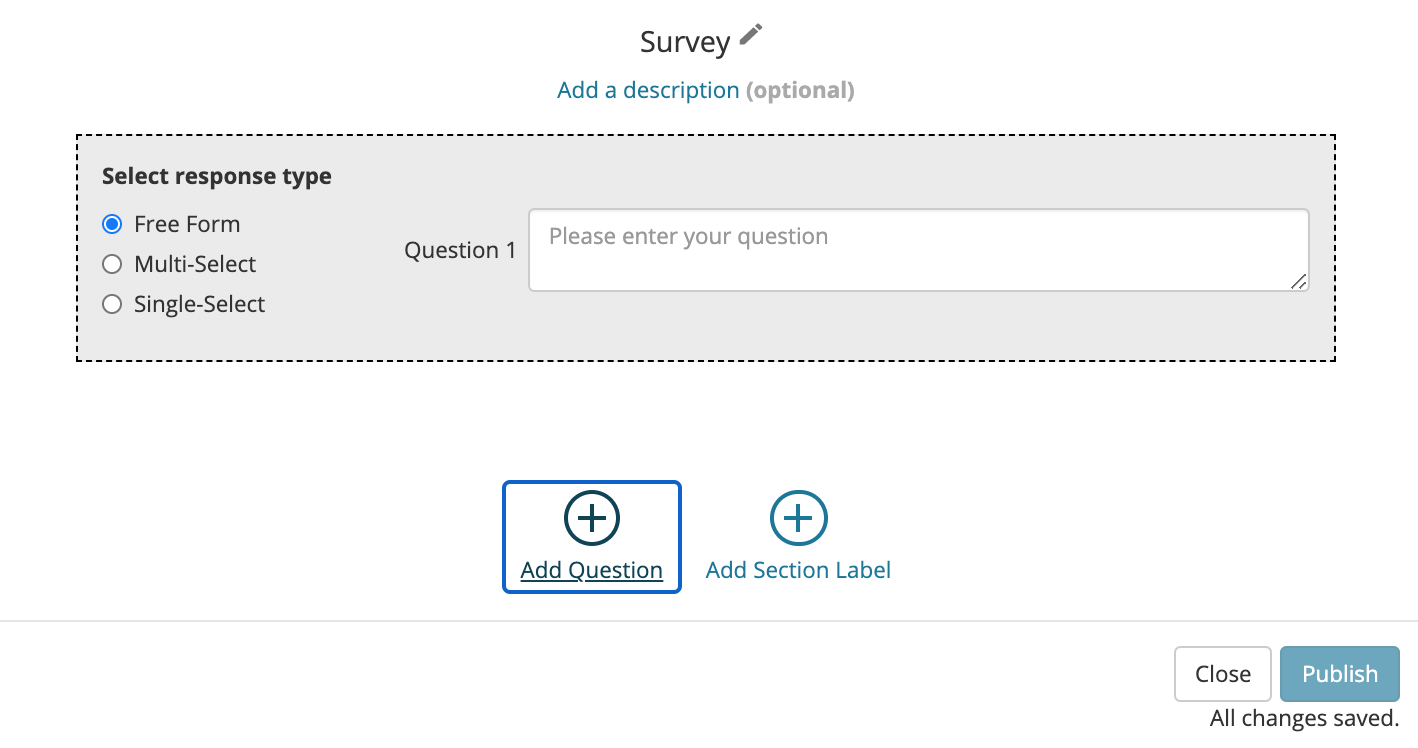 Add as many questions as you wish.
We recommend clicking
Close
at this point and do nut publish until you have reviewed all details to ensure this is exactly what you want before publishing.
Your surveys will be stored in Scoir. Once you have reviewed the survey and it is exactly correct, publish this to students and/or parents by putting a check in the box in front of your survey, and from the I would like to bar, click Publish.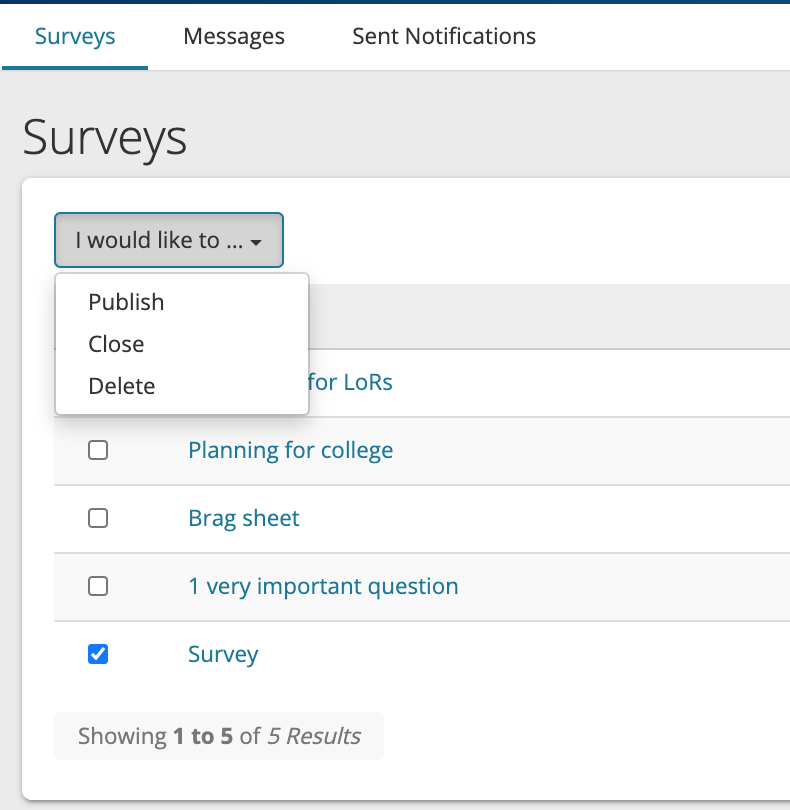 Published surveys in Scoir are live and cannot be changed. These are sent to registered students and parent only.
Once surveys are published, you will see both the status as well as be able to click on the Recipients and know which students completed your survey.

How-To Video