Updated by Elliot
Content Management is a feature within Scoir that allows you to create and manage campaigns as they relate to student's interests and your institution.
This guide describes how to create, manage, and publish content for students
Tabs
There are five content management tabs: School Overview, Admissions, Cost and Financial Aid, Student Life, and Academics. Each tab coincides with a section of your school's profile on the Scoir platform. By clicking on a tab you will access content management for that particular section of your school's profile on Scoir.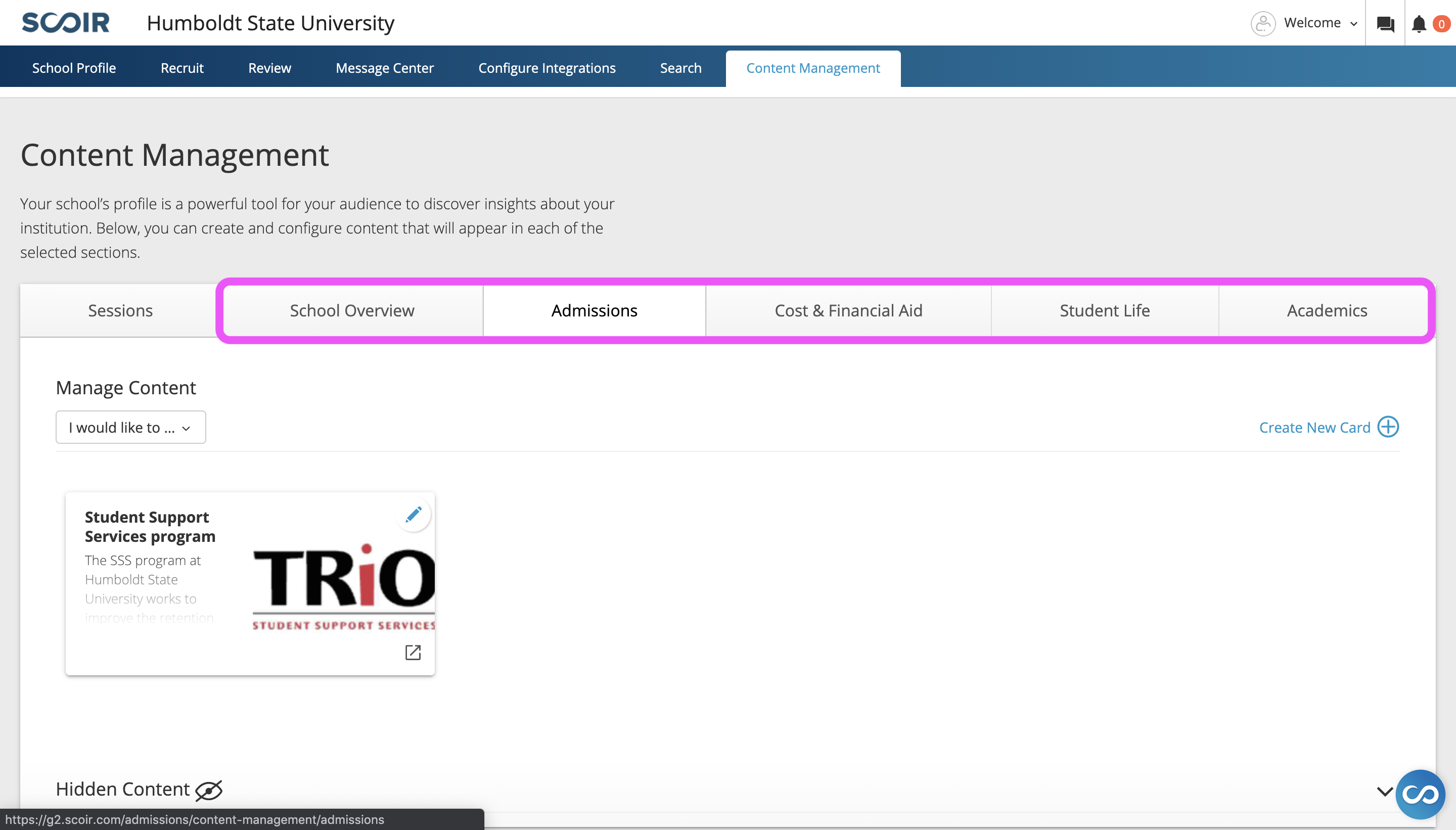 Targeting
One of the most powerful aspects of content management is the ability for you to create content that is targeted to students based on their interests and academic focus. As students complete their profile information within Scoir, this information coincides with interest tags and academic focus tags that can also be linked with any piece of custom content that you create.
e.g. if a student indicates they are interested in pursuing Mathematics, a content card with a Mathematics tag will be prioritized when they view the school's profile.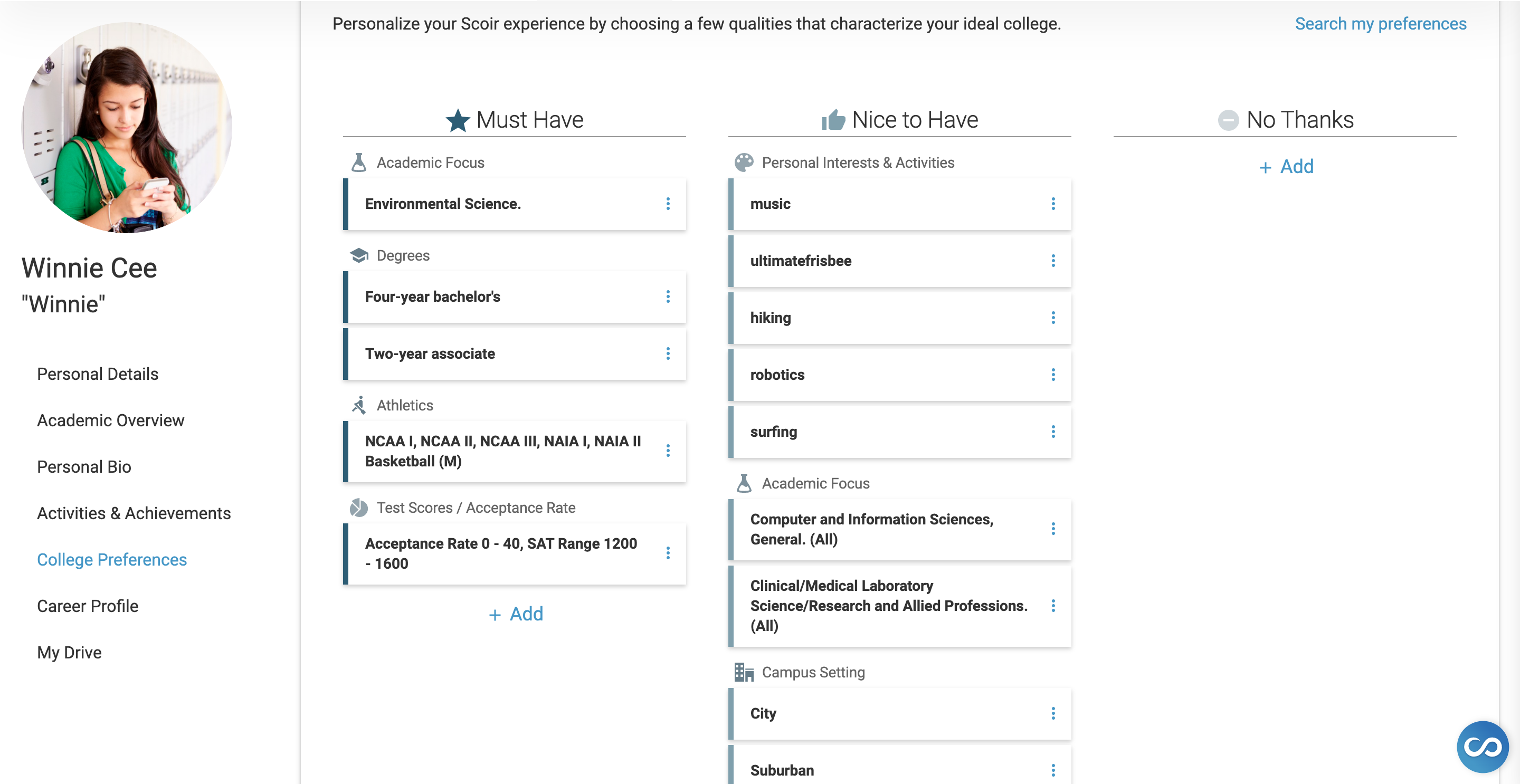 Creating Content Cards
When it comes time to create and manage content. This can be done by first clicking on one of the content management tabs and choosing + Create New Card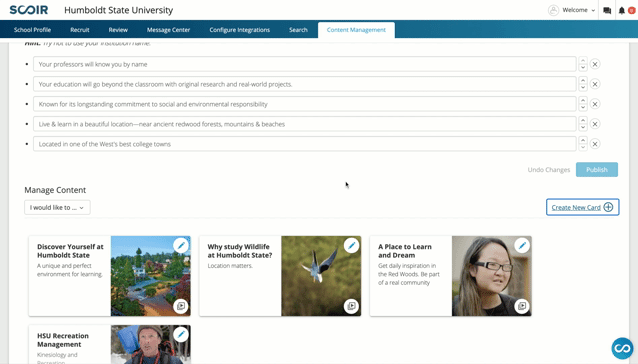 Managing Content
Photos can be added to the card to help grab attention of the users and visually display content
The Description of the card allows for rich text including hyperlinks to your schools website
The Link Field can also be used to draw attention to the most important calls to action. If your link is to a video, e.g YouTube and Vimeo, we will detect that and embed the video directly into the card.
Interest and Academic Focus Tags can be used to better focus and match content to students who have indicated specific interests in their profile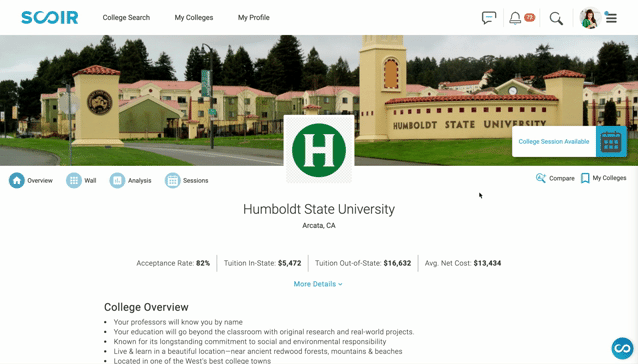 Publishing Content
Content cards may be published immediately or hidden to be published at a later date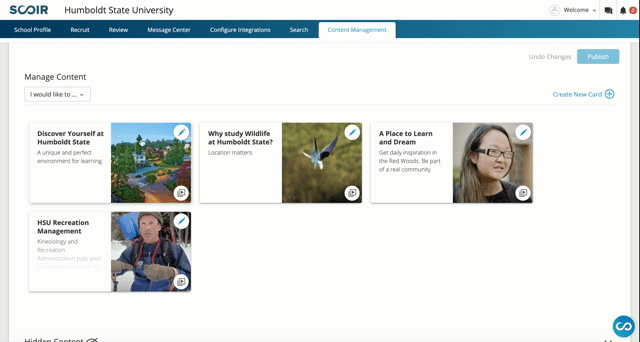 Content will br prioritized based on a student's indicated interests. If no interests match, the content will display in the order it is published. Content cards can also be dragged and dropped into a custom order if preferred