For Counselors: Custom Properties and Property Groups
For Counselors: Custom Properties and Property Groups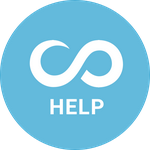 Updated by Customer Support
Custom Properties are fields that you create allowing you to store, view, filter, and export unique information about your students and school in Scoir. That way, if Scoir doesn't have an existing field for what you want to capture, like summer programs, military branch, or number of honor courses taken, you can simply create one yourself 🎉
Once created, you can group these properties for easier organization, filter by them, and much more! 
Account Admins and those assigned the Custom Property Manager role can create and edit custom properties. 
Assigning Custom Property Manager Roles
Only Account Admins can assign the role of Custom Property Manager. 
From the dashboard, go to More > Users 
Select Roles next to the name your assigning the role 
Toggle on Custom Property Manager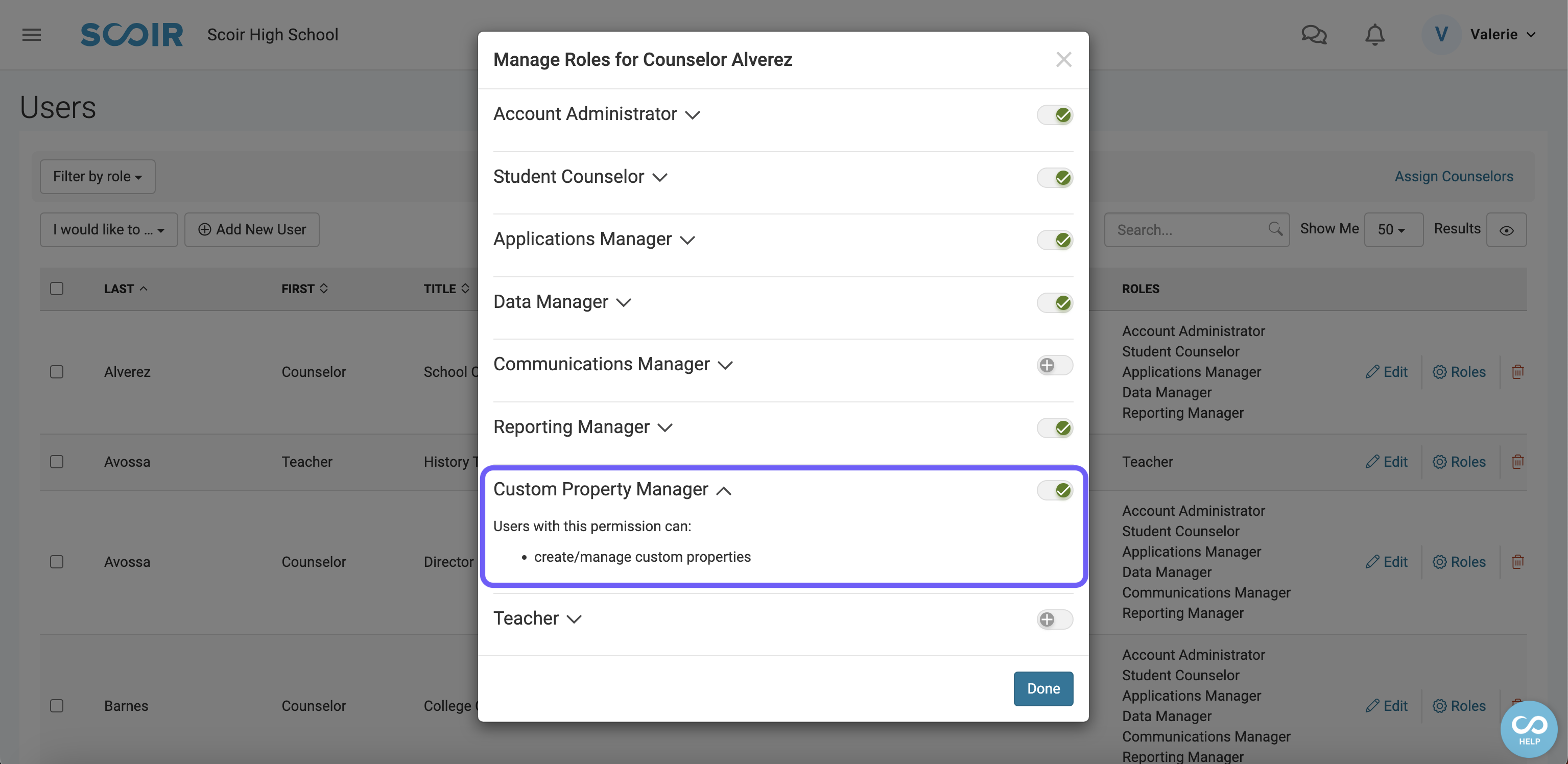 Creating Custom Properties & Property Groups
Go to More > Account Settings 
Click Custom Properties in the left sidebar
Select Create Custom Property in the top right corner
Name the custom field
If you'd like, add a description and create a new group or assign to an existing one
Next, choose type of field you'd like to create:
Single Checkbox: Great for for Yes/No questions like whether a student has completed their FAFSA or is taking duel enrollment courses
Single Select : Ideal for tracking areas that have a single response, but more than one option to choose from, such as the Military Branch a student is entering
Multiple Select: Use these to capture more than one option for students such as clubs they're involved in and sports they play
Date: Good for keeping up with students' test dates and Specific timelines for completion
Number: Capture how many honors courses a student has take and specific scholarship amounts awarded
Single-line Text: Choose this field when you need more context, or options are limitless or unique to a particular student, like which summer programs a student is involved in
Managing Custom Properties in the Student Roster
Head over to the Students tab to filter custom properties, add them to your column, save them in your views, and export them. 
Filtering Custom Properties
Select Filters
From the filter slide-out, scroll down to see your Custom Properties and Groups
Adding Custom Properties to Roster Views
Go to Columns
Scroll down to Custom Properties 
Select Add to the properties you'd like to include in your roster rows
From there, Save as a New View or Save Changes to a current view
Viewing Custom Properties in a Student's Profile
Select a student from the roster or search bar
Once on their profile, scroll down to Custom Properties on the left side
From there, view Custom Properties and Groups, as well as edit based on the particular student
Importing Custom Properties
Learn how to bulk import Custom Properties in the article For Counselors: Importing Custom Properties.