For Colleges: Scheduling & Managing Visits
For Colleges: Scheduling & Managing Visits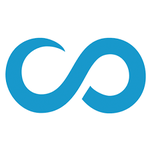 Updated by Client Success Team
Actions described in this guide require the Admissions Representative role.
Scoir's Admissions application allows you to schedule and manage visits with high schools that are using Scoir.
Scheduling Visits
To schedule a visit with a high school on Scoir, navigate to the Map page of the Recruit tab.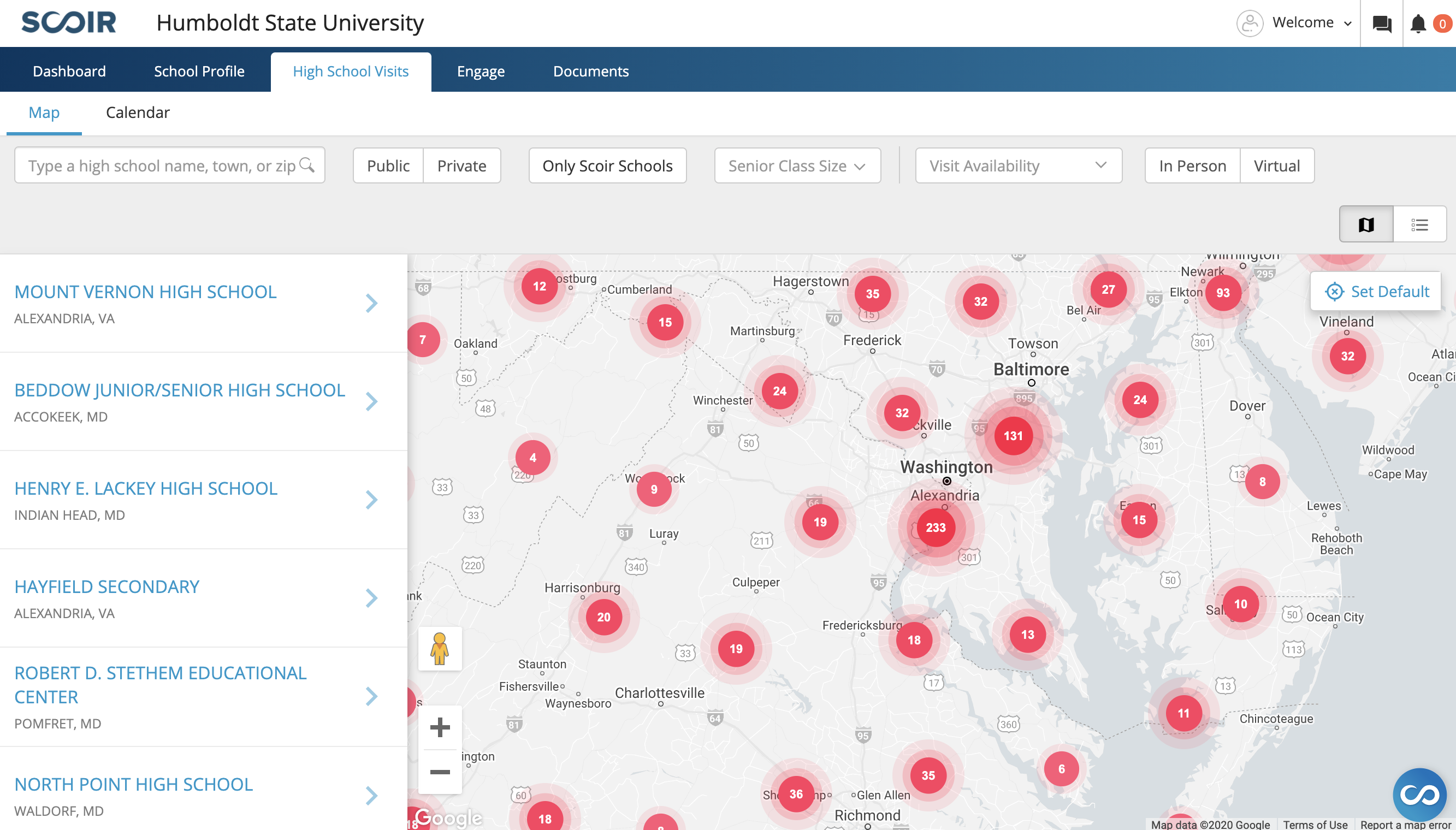 Here you can browse schools via the map or list views. Your results set will populate based on the schools displayed within the map. You can also directly search for a school, town, or zip code via the search bar.
Filtering tools are available to help you further refine your results:
The school type toggle allows you to only display either public or private schools

The

Only Scoir Schools

button allows you to only display schools that are linked to Scoir

The senior class size dropdown lets you select a minimum and maximum senior class

The visit availability dropdown allows you to select preset time-periods or define a custom availability date-range
To control the map, click and drag the map with your mouse. You can zoom in and out by clicking the +/- buttons in the bottom right-hand corner of the map view.
To set a default location, first make sure your map view is displaying exactly the region you'd like to set, then click the Set as Default button in the top right-hand corner of the map view. You can go to your default map view at any time by clicking the Go to Default button, or update your default setting by navigating to the new region you'd like to set, clicking the dropdown next to Go to Default, then clicking Set New Default.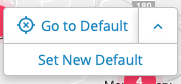 To view more information about a high school, click their dot on the map, or click their facet in the sidebar. You'll be presented with information on school type, location, educational focus, senior class size, and grades offered, as well as a percentage of students receiving reduced lunch.
To view a high school's availability, click the View Availability button. This will only be active if there is open availability for that school.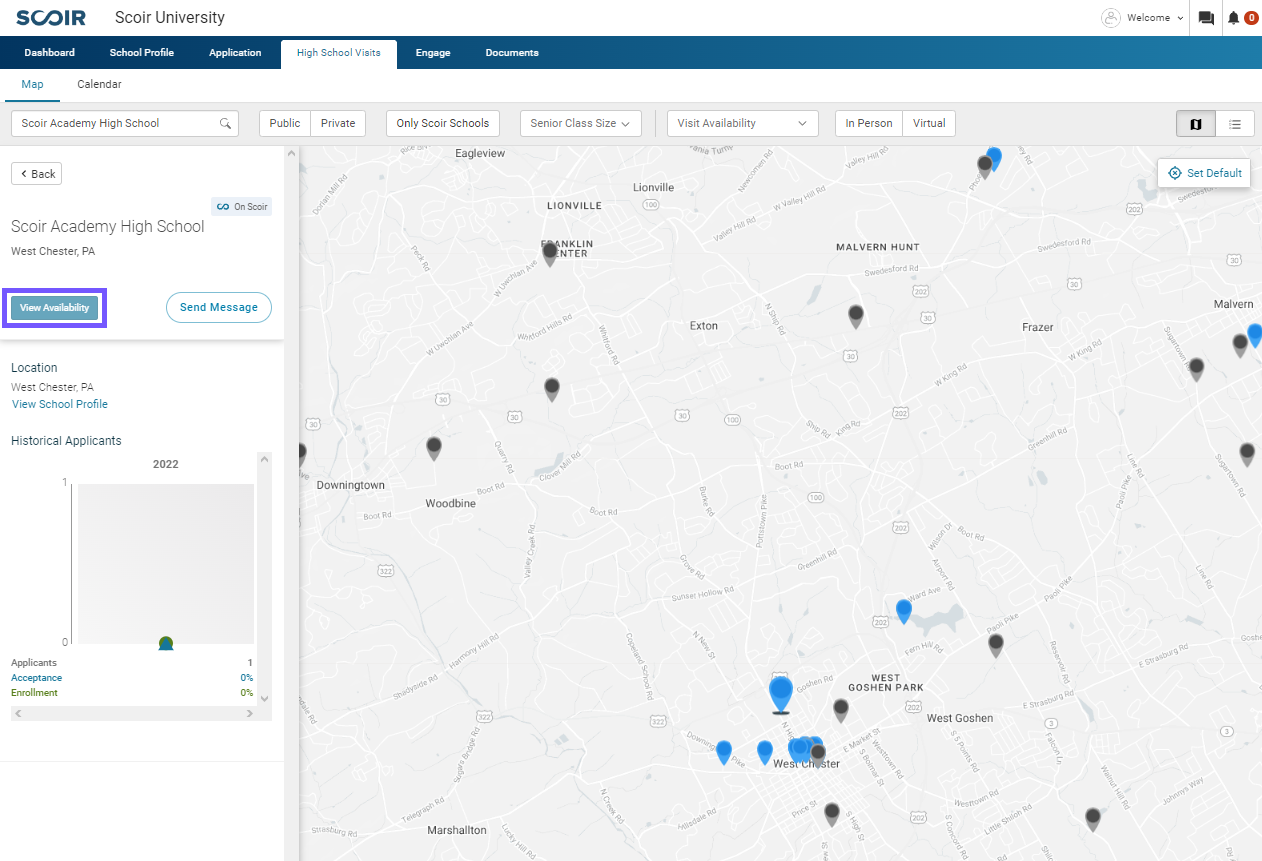 NOTE:  Calendars will be shown in the Rep's timezone, which is noted by the big splash screen which is presented when navigating to the calendar view.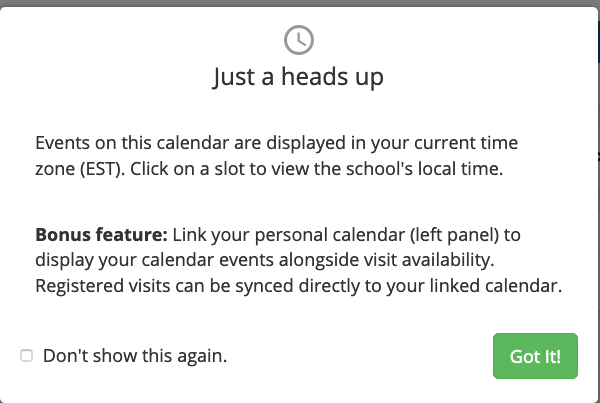 You'll be presented with a calendar view of that school's open visit availability. Virtual Visits will be designated as such in their name and through a camera icon.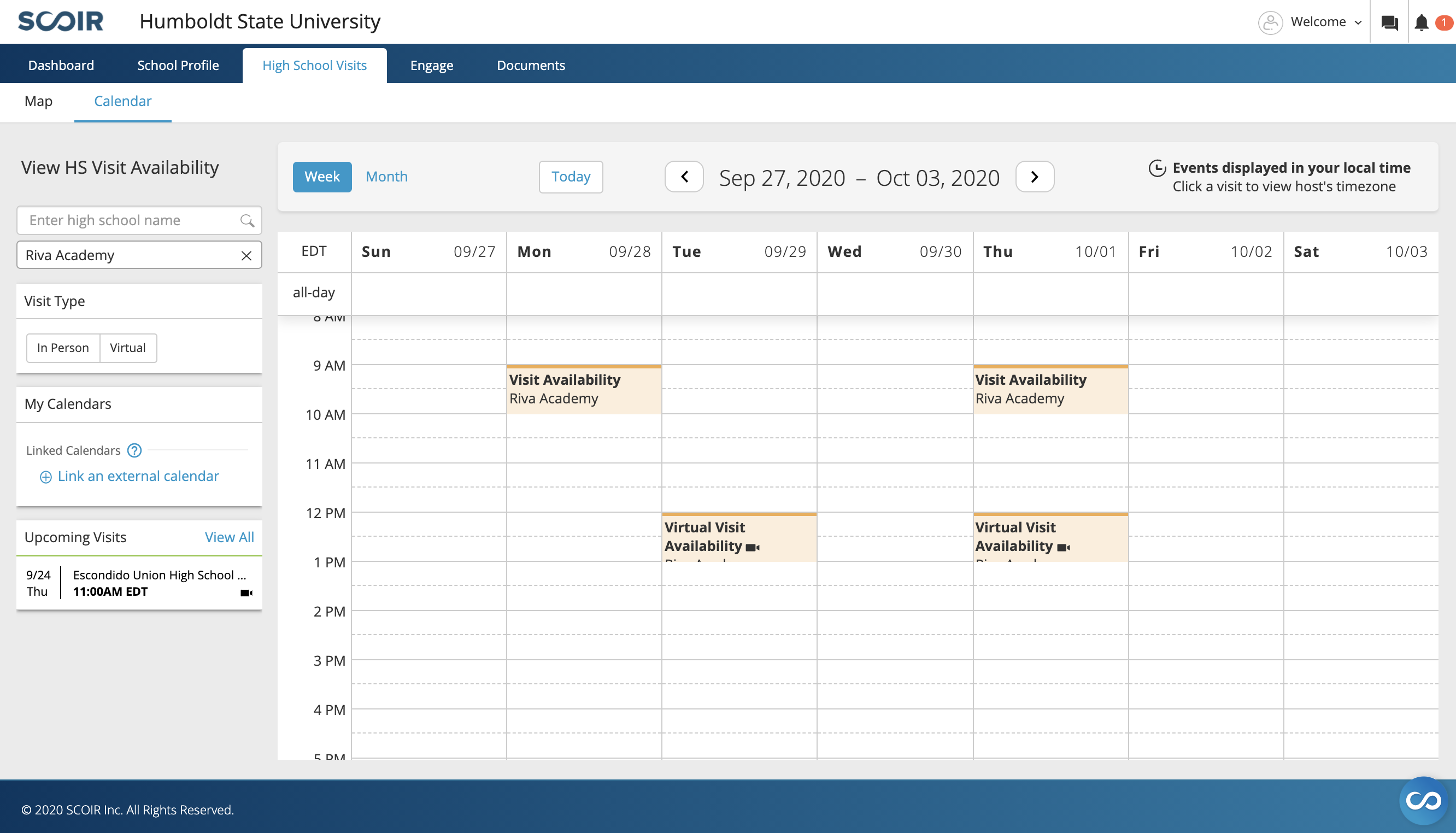 You can register for an open slot by clicking the opening, then clicking Send Registration Request.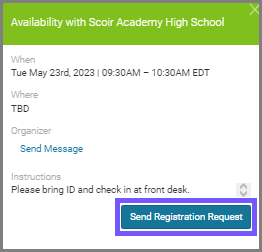 If the selected high school has enabled external links. You will be presented with the ability to add your own meeting link to the request.
You only have one chance to add in your meeting link, as shown below. Once you confirm, it cannot be added later.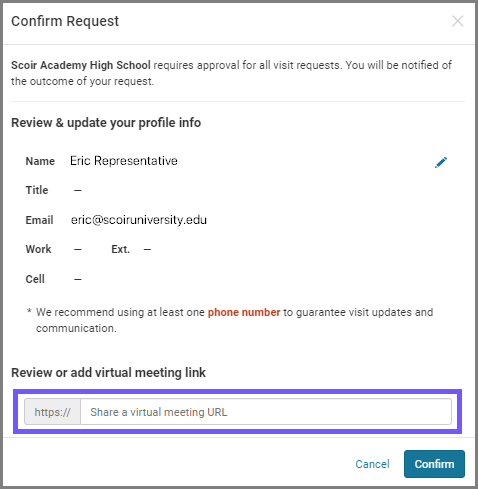 You can message a school's counseling team by clicking the Send Message button from the school's tile in the map view or from their visit listing in the calendar.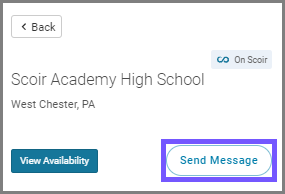 Managing Upcoming Visits
Once you have registered for visits, you can manage your upcoming visits list from the Calendar page of the Recruit tab.
Your scheduled visits will be listed in the Upcoming Visits tile to the left of the calendar view. Click View All to see a comprehensive list.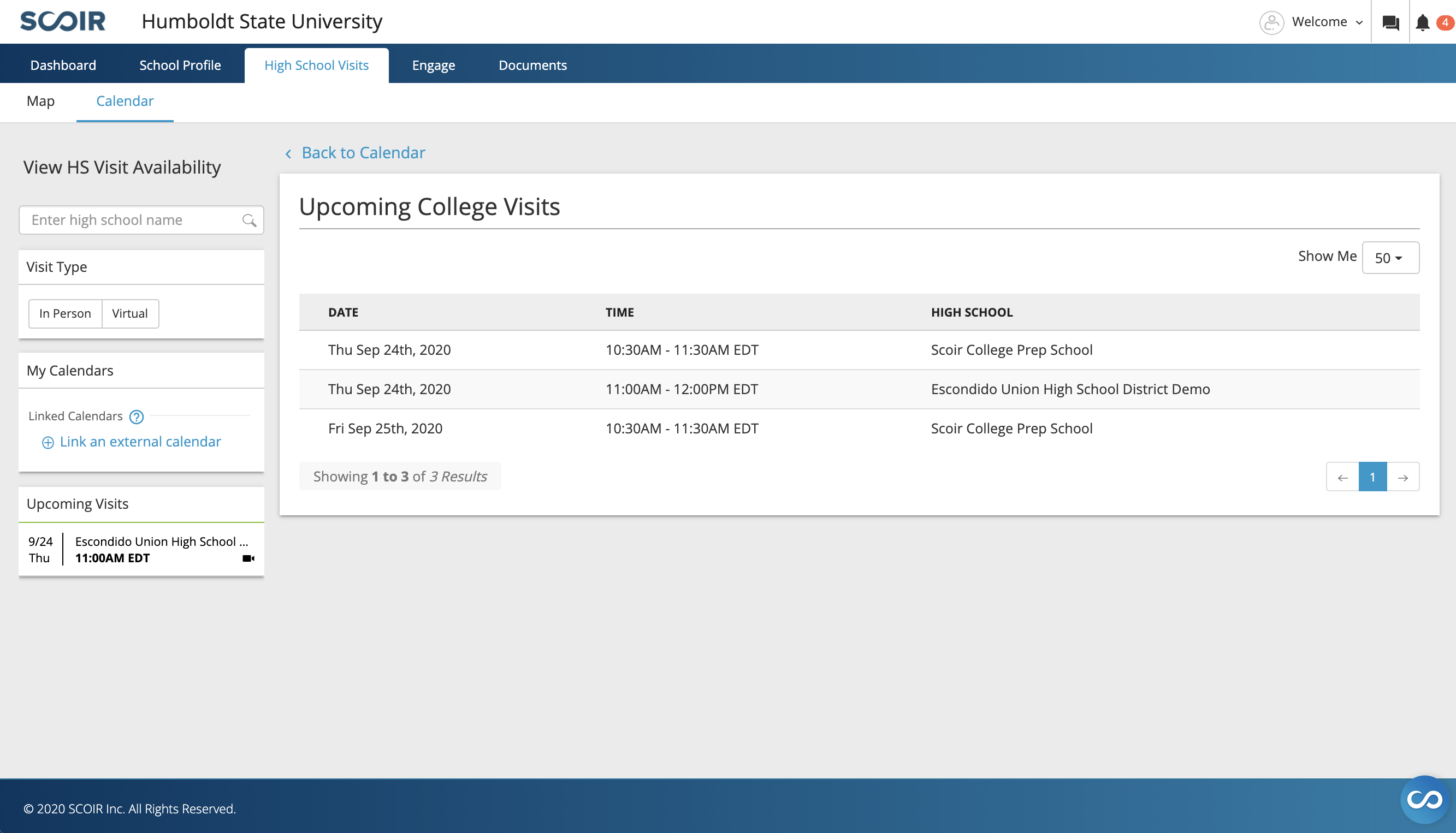 Visits listed in this view will be displayed by date descending. You can filter your registered visit list via the high school name search bar.
You can unregister for a scheduled visit by clicking that visit's listing on the calendar to view its details, then clicking Unregister.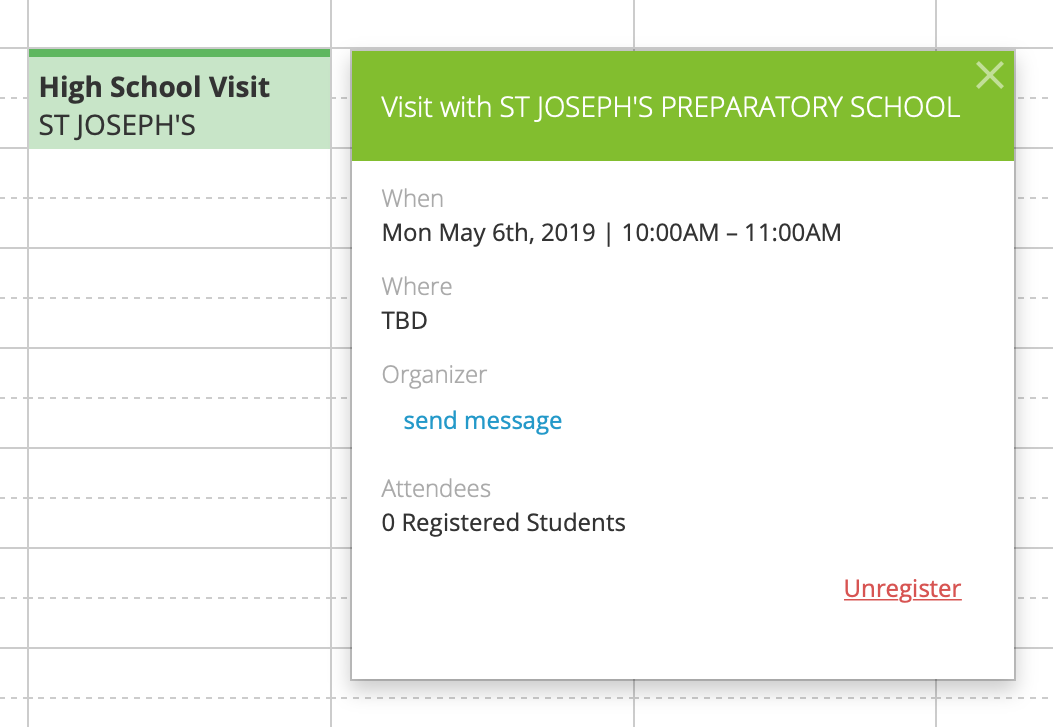 Planning & Scheduling High School Visits [Video Overview]