For Colleges: Admissions Officer Roles and Permissions
For Colleges: Admissions Officer Roles and Permissions
What are user roles?
User roles are the way admissions officer permissions are granted in Scoir. Admissions officers can only perform specific actions granted by the user roles they have been assigned.
The various roles and their permissions are outlined in the table below.
User Role

Permissions Granted

Account Administrator

add/remove users

modify users' permissions

control SCOIR account settings

Admissions Operations

download supporting documents

configure integrations

modify delivery preferences

Application Manager

Create/edit application deadlines and requirements
Configure Application Profile
View Scoir college profile

Admissions Representative

explore high schools

schedule visits

Student Outreach

m

anage college outreach messaging

Content Manager
Who can assign user roles to my team ?
Only users assigned the Account Administrator role have permission to change user roles. If you are the Account Administrator your role must be updated by another member of your team with the Account Administrator role at your college or by Scoir support.
How do I assign user roles to my team ?
To begin assigning roles, click Users from your Welcome dropdown menu.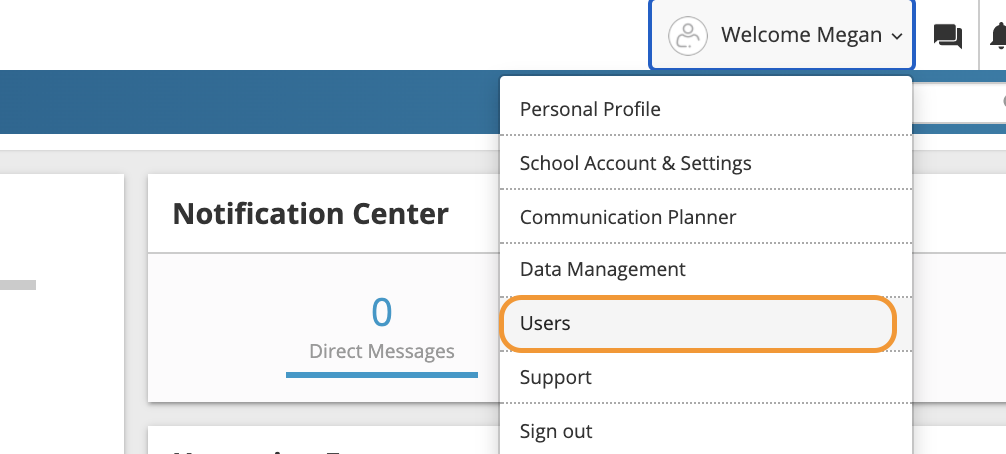 Click Roles adjacent to the user who you would like to add roles for. From the Add User Roles panel, choose any and all roles you would like to add for this user, then click Done to save your changes.