For Students: Discover Careers
For Students: Discover Careers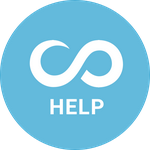 Updated by Customer Support
Discovering careers is a breeze! Let's take a look 👇
Accessing Careers
Careers are accessed through the search bar or navigating to Careers in Discover. When taking the PrinciplesYou Character Assessment or the Career Interest Assessment, you'll also be sent to Careers to view your matches.
Accessing Careers from Discover
From any page, navigate to the Discover tab in the top navigation.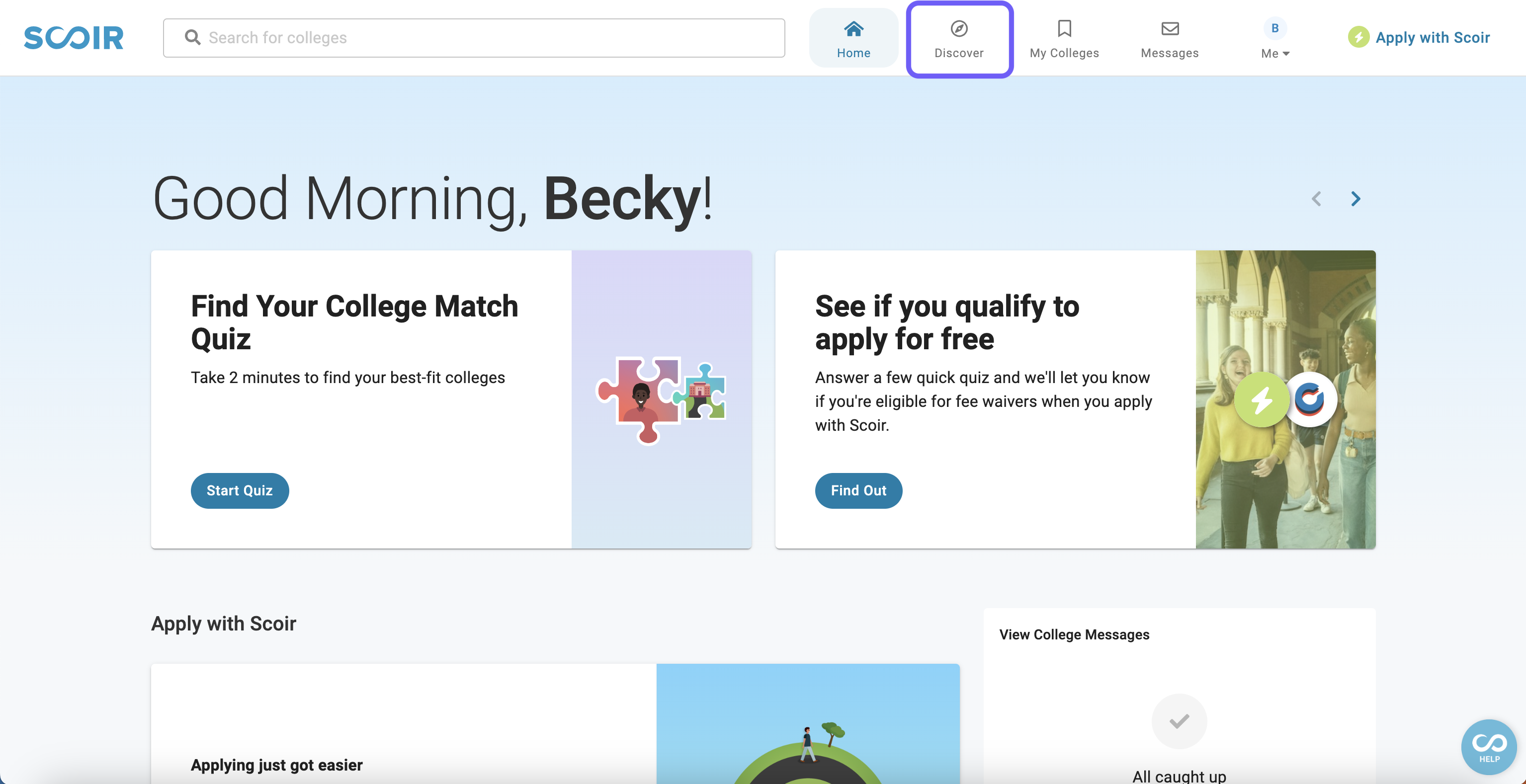 Once on Discover, students will land on the For You shown here. Click on the Careers tab at the top of the page to access the full list of careers.

If you've already taken a career assessment, you can also scroll down to "Careers for you" click into the Career Matches card.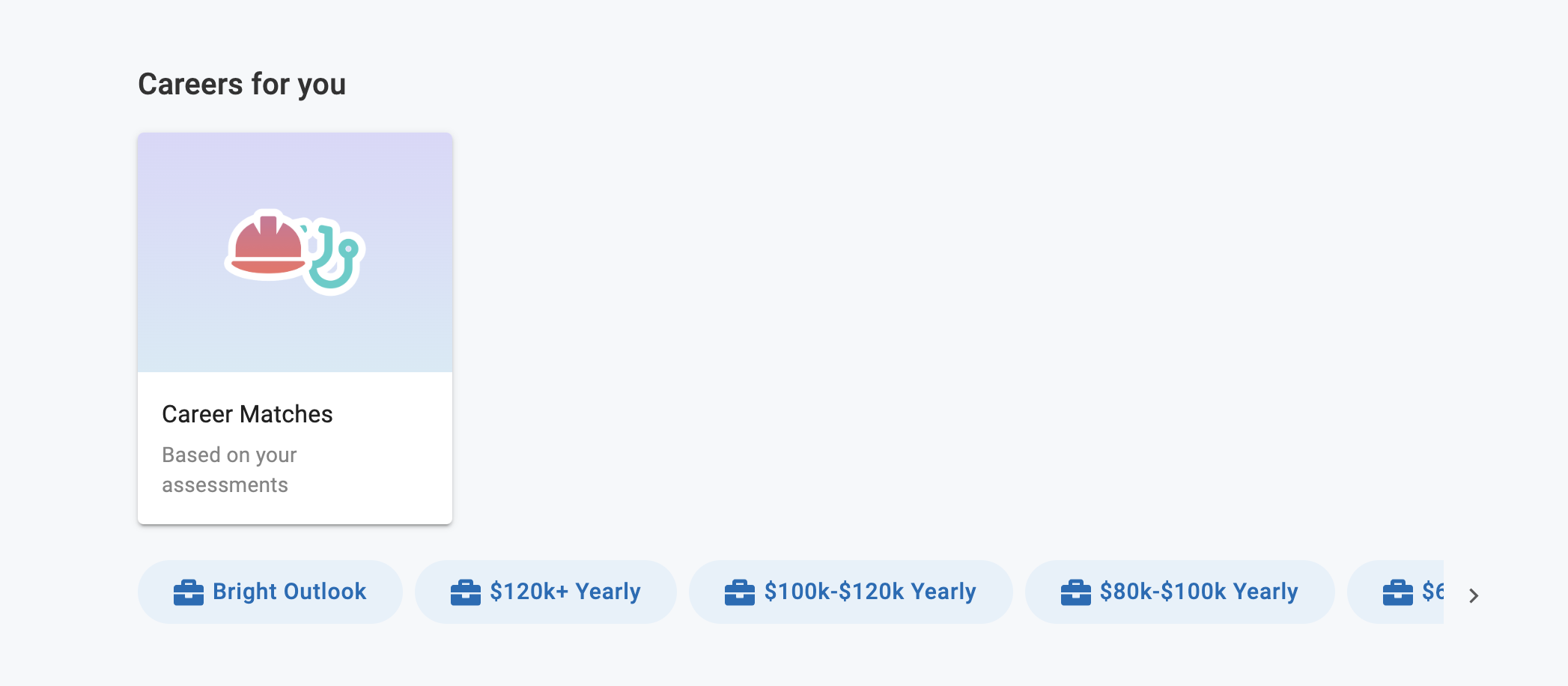 This will bring you to the Careers page where you can begin to discover different careers!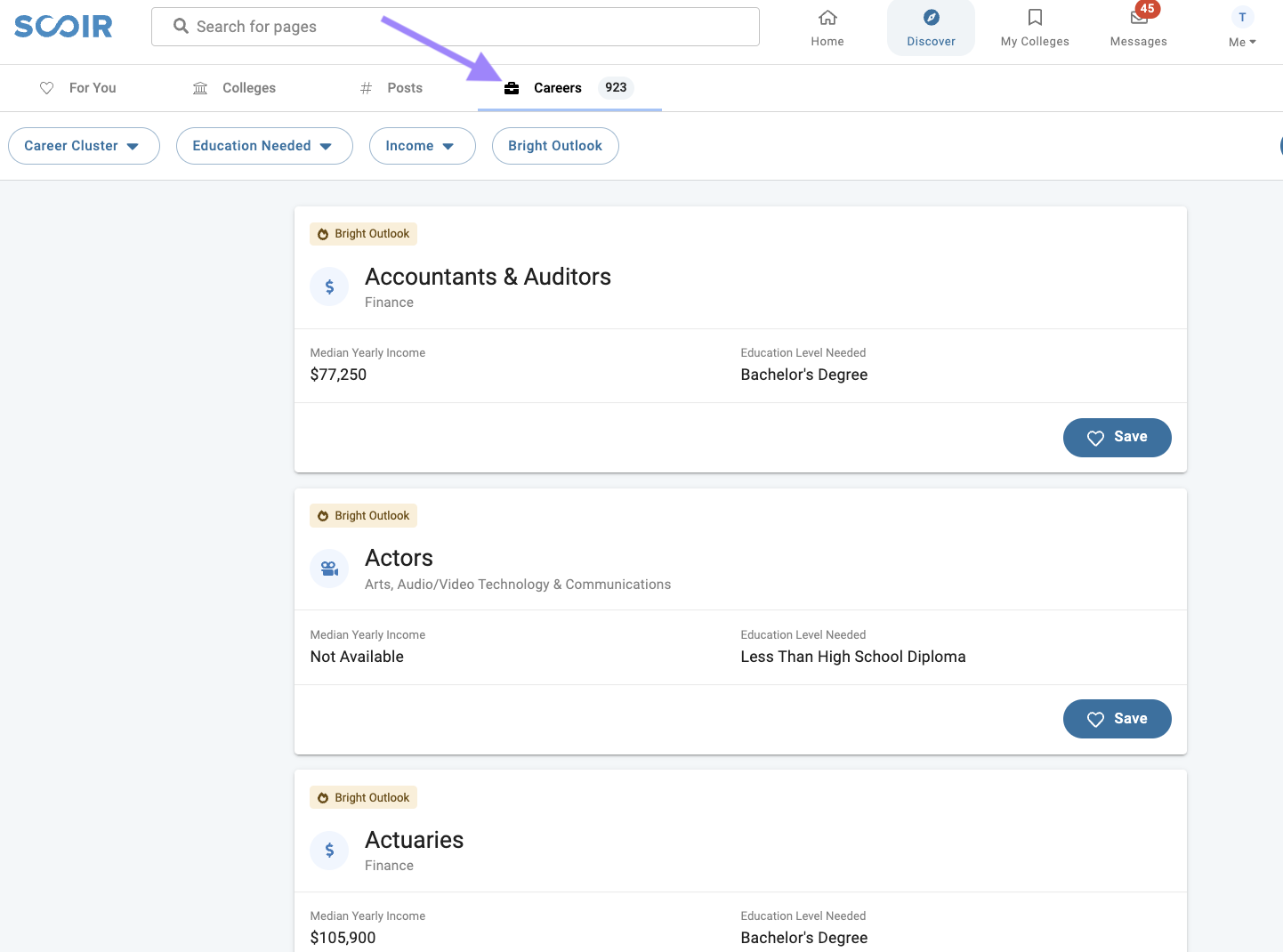 Access Careers Using the Search Bar
Click on the search bar and choose All Careers. You'll be taken directly to the Careers tab in Discover.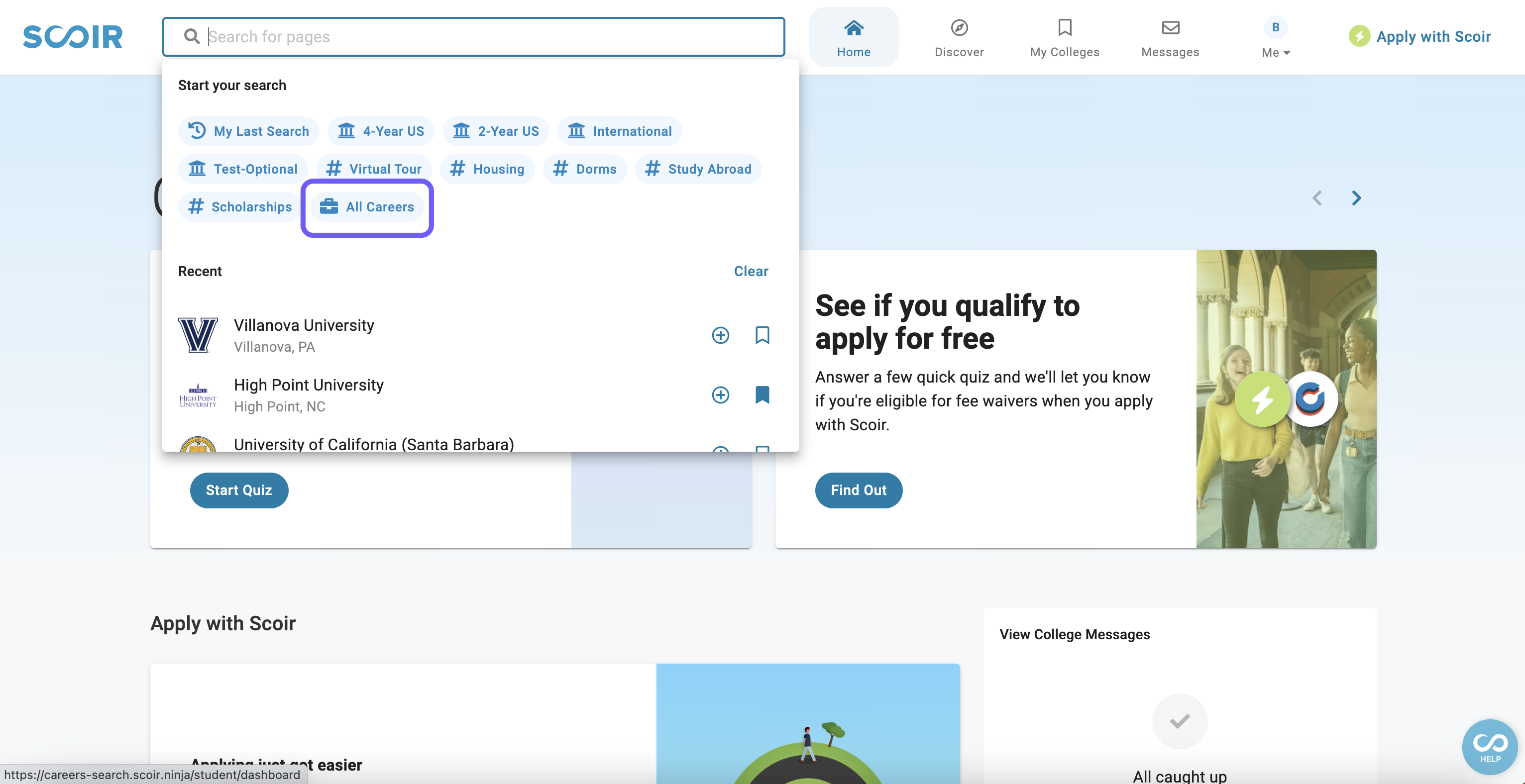 If you have a specific career in mind, you can type it into the search bar to save the career.
There are over 900 careers to search! If the career you're searching for does not show, please pick something related to that career.

When clicking on the title of the career, you'll be taken to that career's details page to explore further.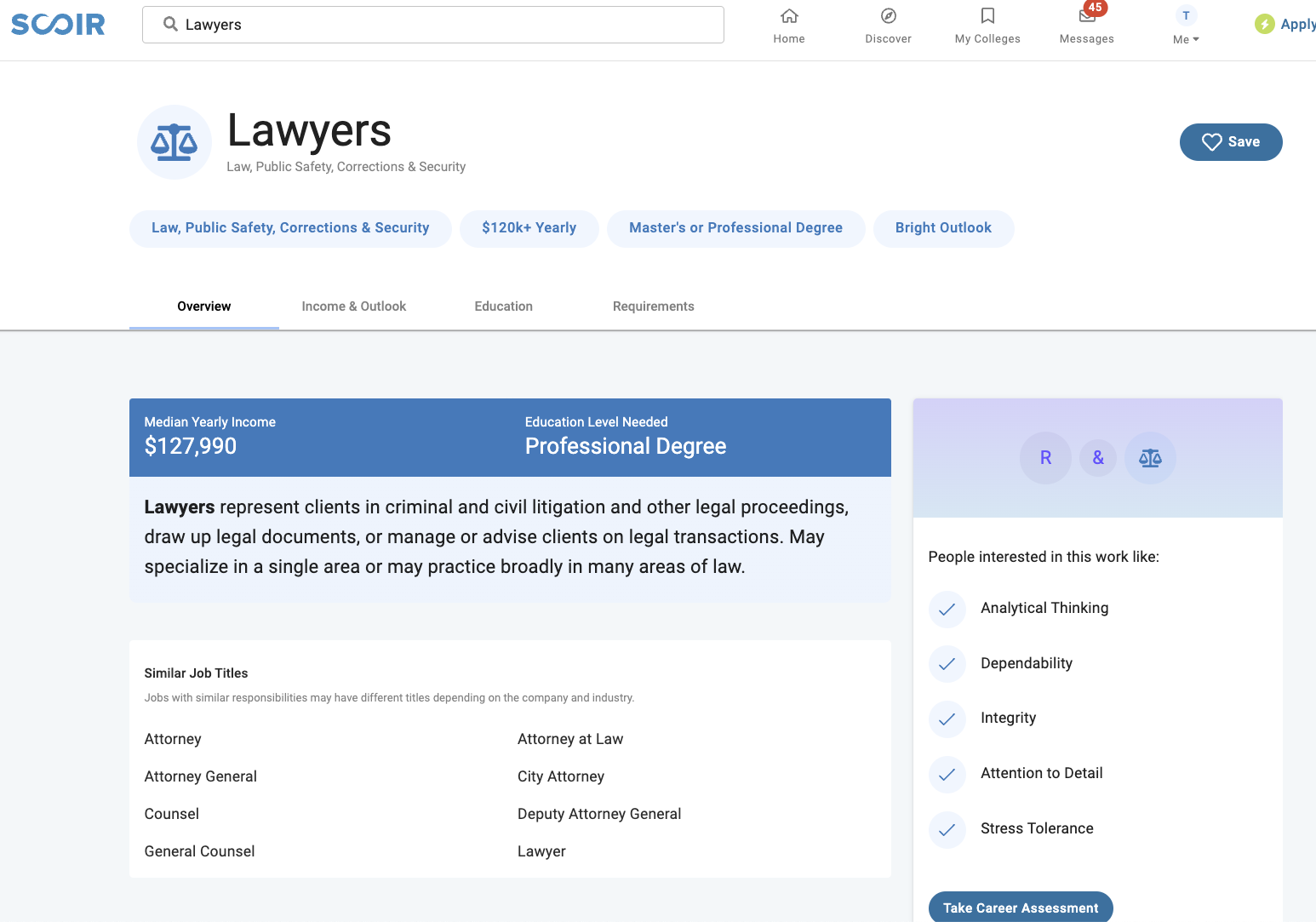 Filtering Careers
Once you've clicked into the Careers tab, you'll see your filters in the top left.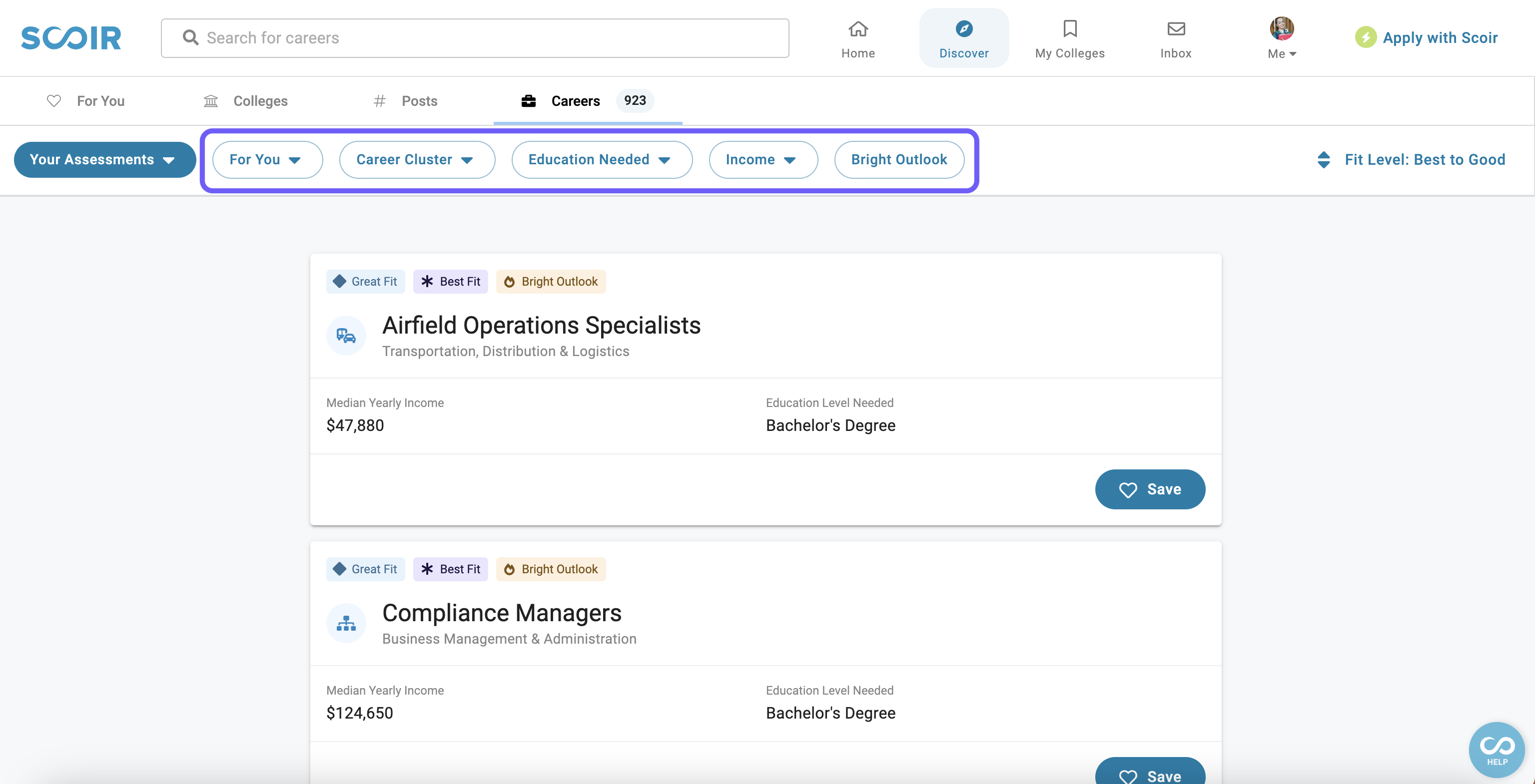 For You allows you to filter your PrinciplesYou Character Assessment matches (if your school has this assessment enabled) and your Career Interest Assessment Matches. This filter will only show for those who have completed an assessment
Career Clusters provides 16 clusters to help narrow down your search based on specific fields like health, engineering, and more
Education Needed allows you to filter by 6 categories from High School diploma to Doctoral Degree
Income let's you break down careers based on yearly income
Bright Outlook shows only careers with a Bright Outlook and removes careers that Average or Below Average Outlook*
*Careers shown here are obtained from O'Net's Bright Outlook
Sorting Careers
In the top right corner, click the arrow icons to sort careers alphabetically, by income level, or fit level.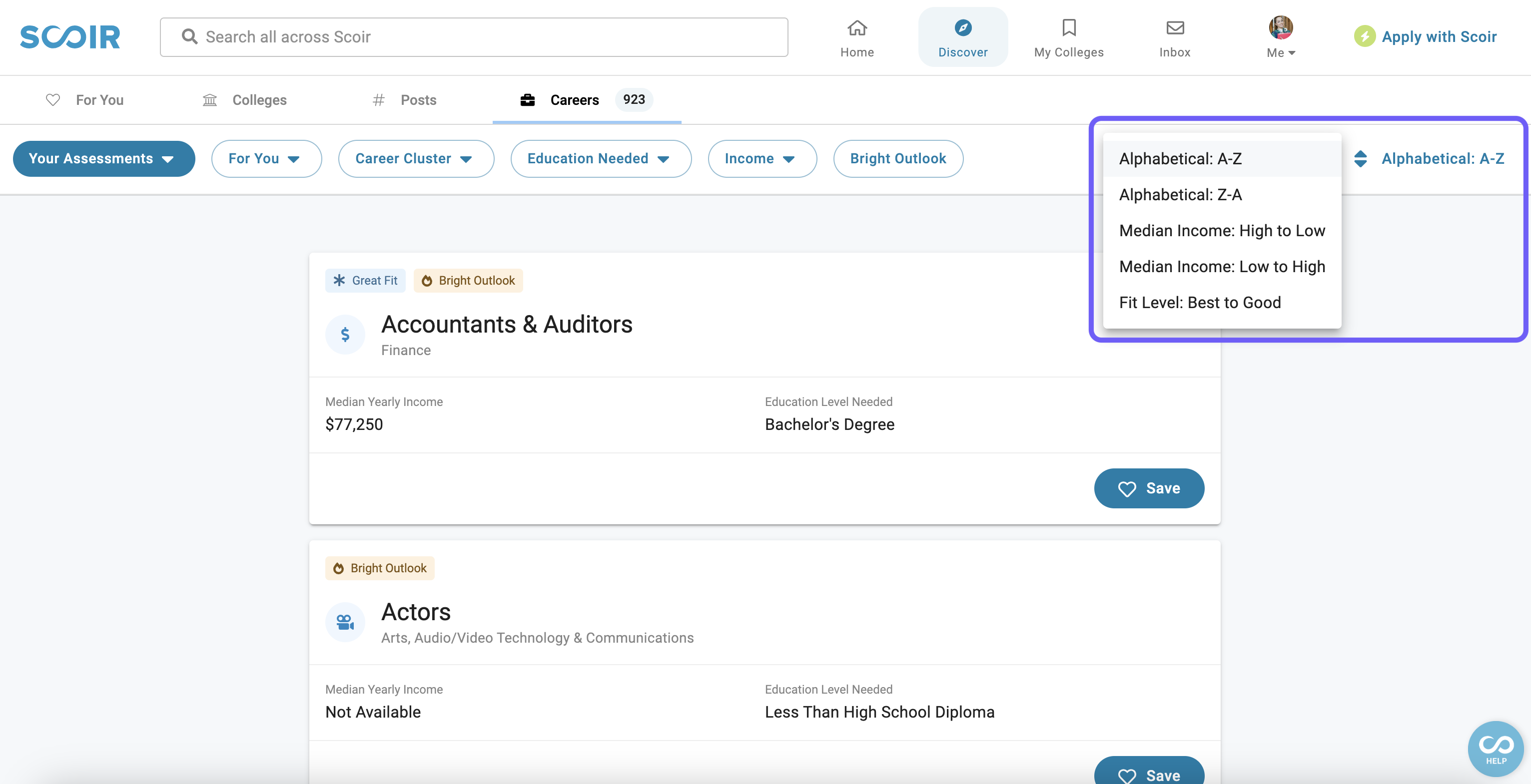 Exploring Careers
Now that your filters are in place, begin exploring the list of careers that meet your criteria!
View your career list
On the main Careers page, careers are listed so you can quickly view income and education level and save the career to your profile. You'll also see tags on the career tiles showing Fit and Outlook.
Best Fit shows the fit level based on your career assessment results
Outlook speaks to whether the future of that career path is Bright, Average, or Below average

Explore Career Details
Take a deeper dive into each career by clicking on the career title.
At the top of each page, you'll see filters you can click into that lead you to similar careers in that category.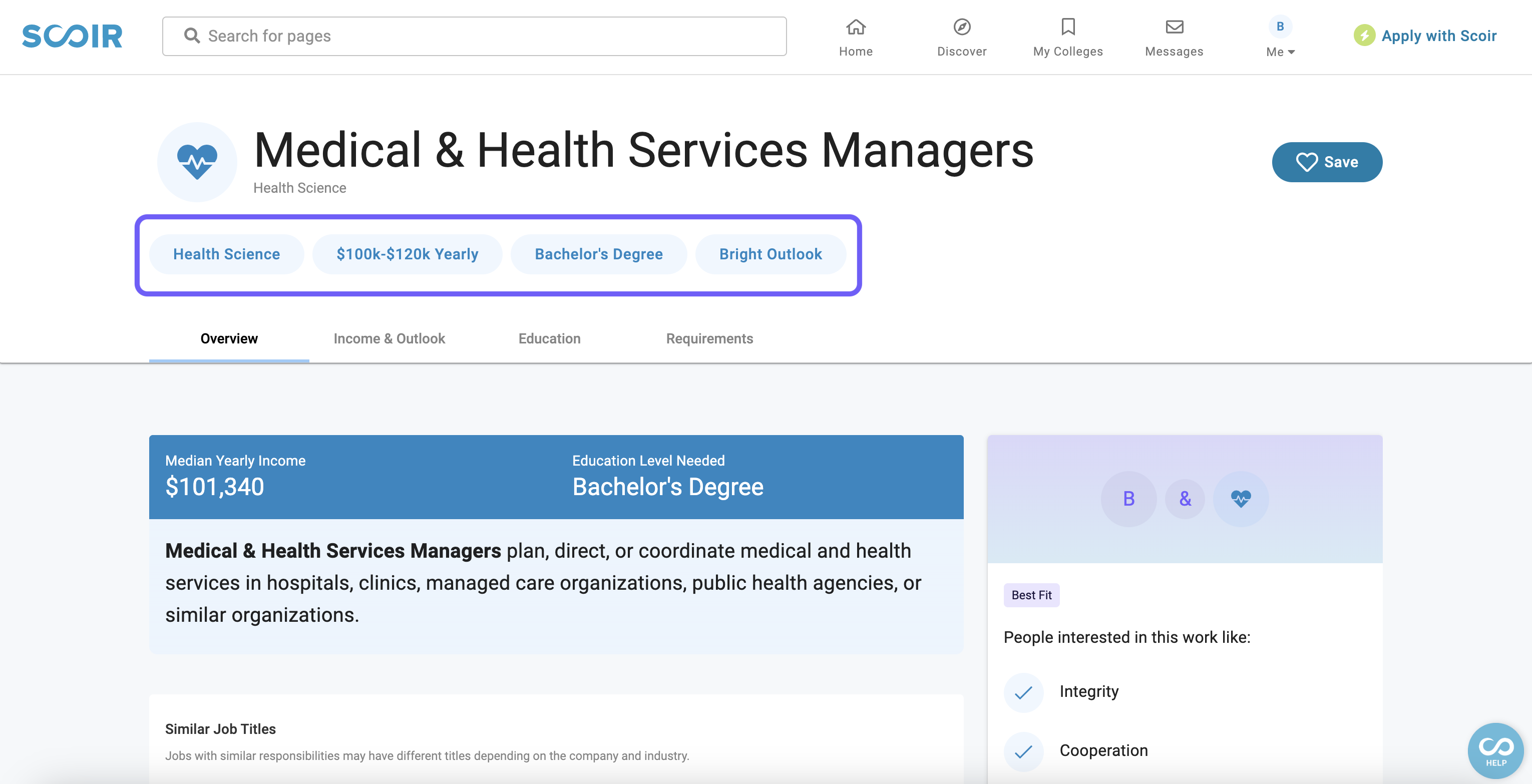 In the Overview, you'll see a brief description of the career as well as similar jobs and careers, and interests of those in the job.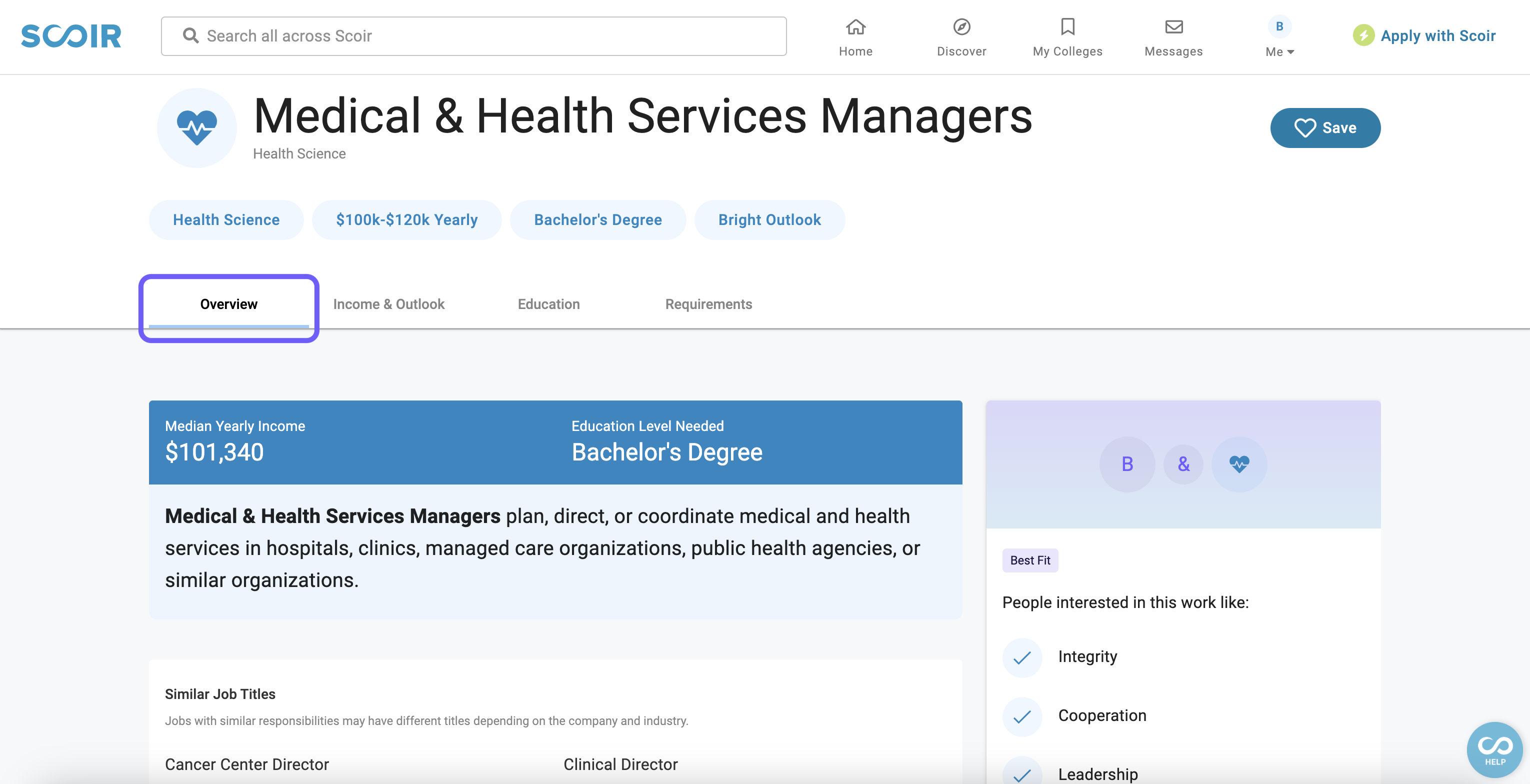 Select Income & Outlook to take a deeper dive into the annual income and career outlook. 
Education provides the education level needed for the career, as well as General Majors and Specific Majors.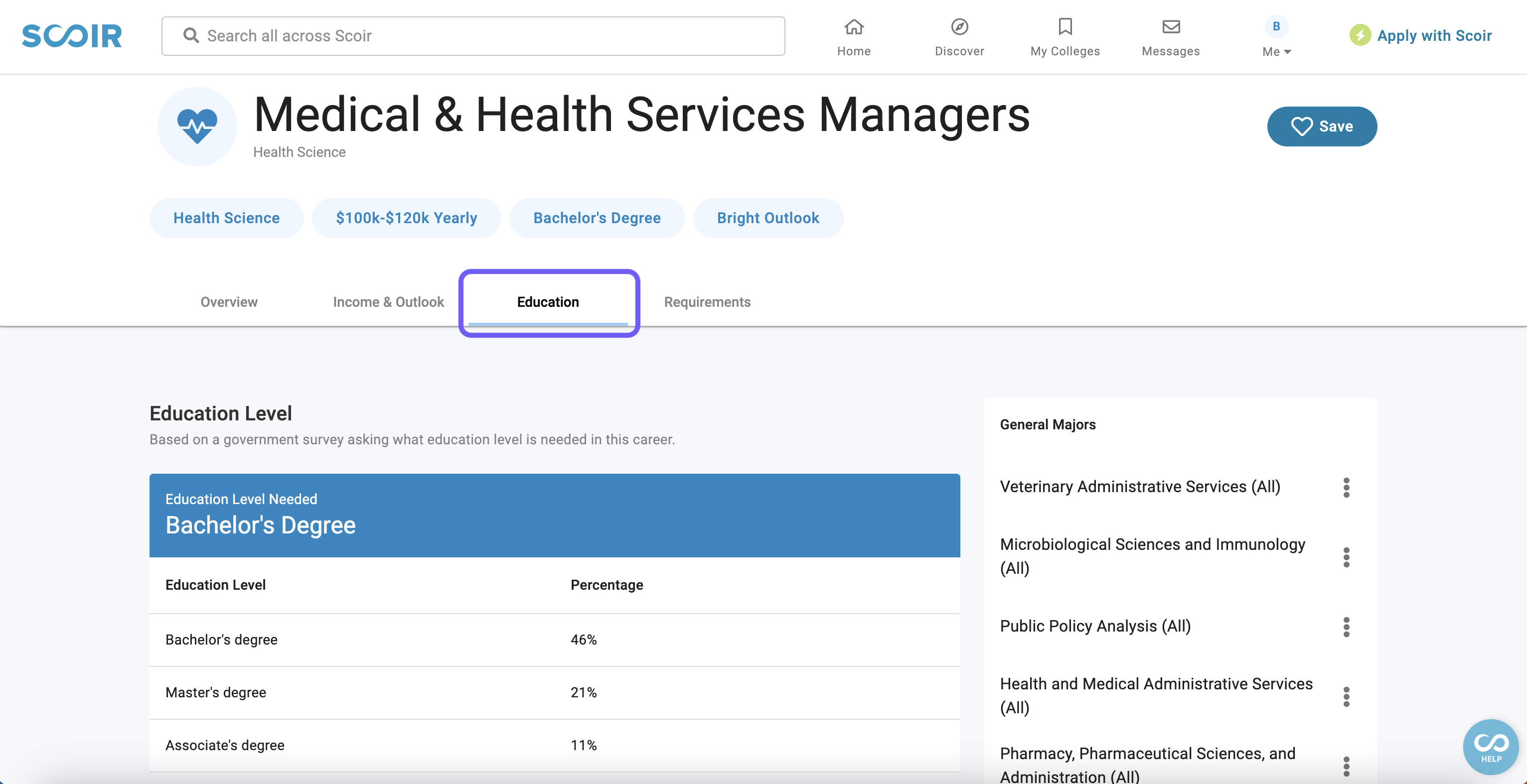 Click the 3-dot icon on the right of the major to add or remove it from your college preferences, and to search colleges based on the major.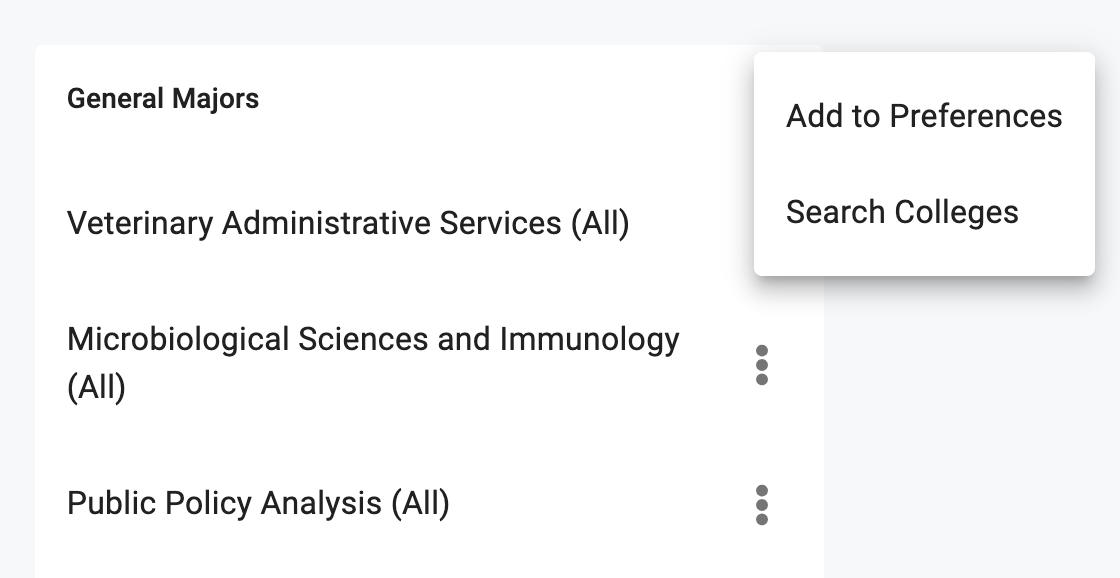 When choosing Requirements, view the skill sets that are important for the careers. Click the expand icon to view each sections details.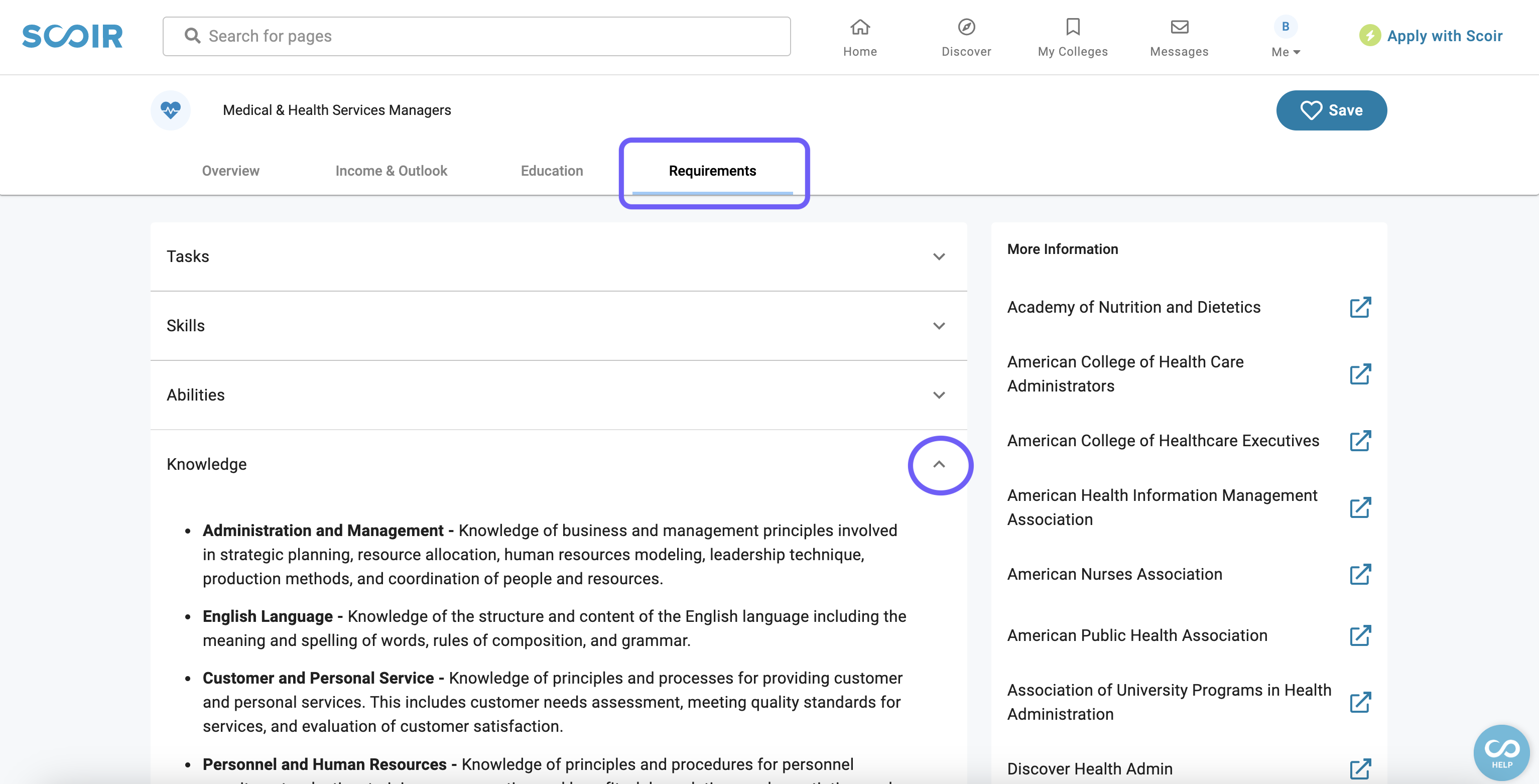 Get more information by choosing from the right side and selecting the arrow icon. 
Clicking the arrow icon takes you to websites outside of Scoir that are not maintained by Scoir.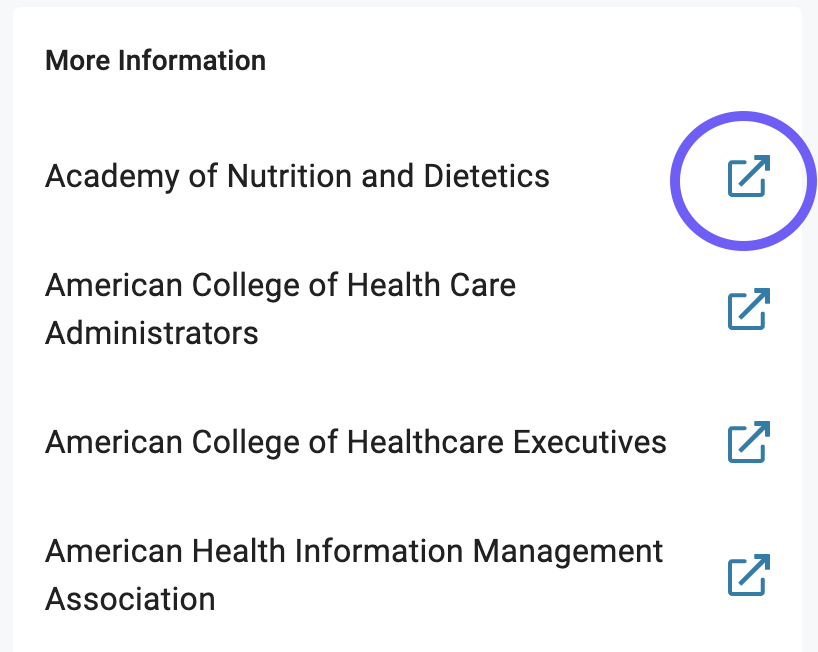 Saving Careers
At any time you can save careers that interest you by clicking on the heart icon and Save button throughout. You'll manage these careers in your profile and you can learn more about that here.