For Students: Digitally Signing Your Early Decision Contract
For Students: Digitally Signing Your Early Decision Contract

Updated by Elliot
What is Early Decision (ED)?
Early decision (ED) is a binding agreement, where you indicate to the college that upon acceptance you will attend that school. This is a good choice if you know the school is your number one choice. However, you may only apply to one school using this process. Because it is a binding agreement, the institution requires signatures from you, your family, and a school counselor.
How do I initiate an ED contract?
ED Contracts can be initiated from the My Colleges list.
A college must first be added as an early decision application, by moving or adding the college to the Applying List and selecting Early Decision as the application type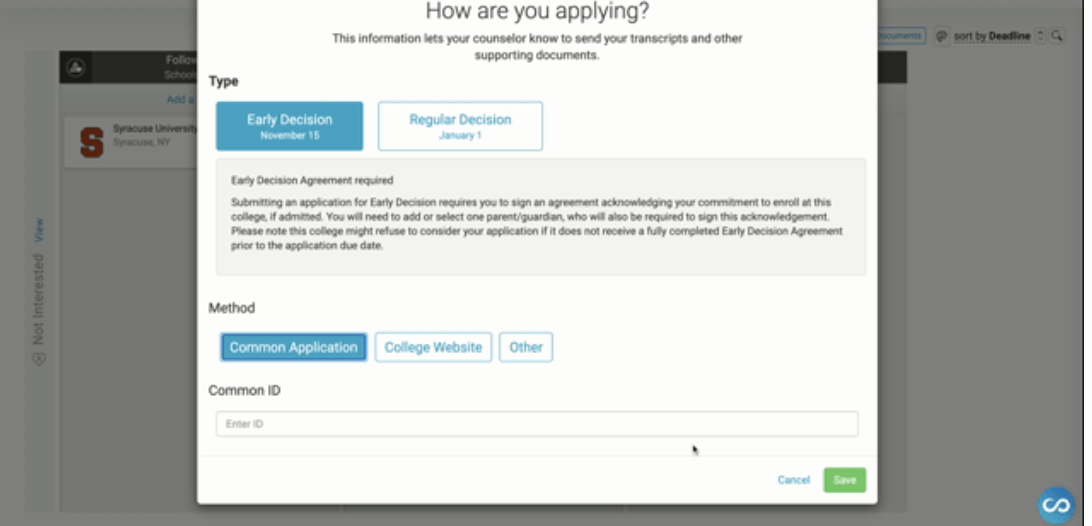 Next, you will be prompted to add your parent/guardian or parent/guardian contact information and add your digital signature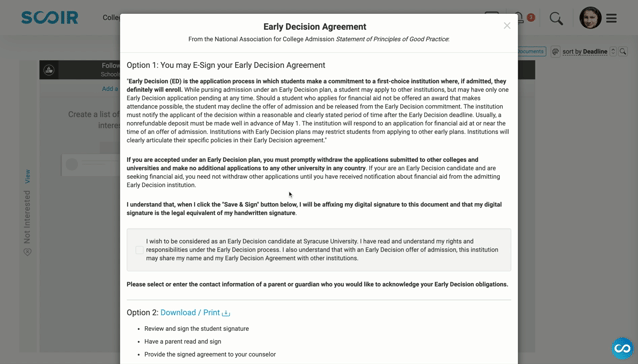 How do I add a Parent/Guardian?
To add a parent/guardian to your ED contract, simply choose your guardian's name from the dropdown list, or if you do not have a guardian listed, you may enter in your guardian's contact information
Notifications
When both your counselor and parent/guardian sign your ED Contract, you will receive a notification within your Mesage Center notifications, alerting you that your ED Contract is complete.

I want to wait to sign the ED agreement
That's ok. You don't need to sign it immediately, but it will need to be signed before your application documents are submitted. To skip signing the document, choose Skip. You may come back at any time by clicking on Application Documents from your My Colleges page.
What if I don't want to Apply ED anymore?
No problem, just mark the school as no longer applying. If you still want to apply, but not ED just re-add it to your applying list.
Can I complete a second Early Decision contract?
You can have only one active ED contract on your profile. To initiate a second ED contract, the outcome of the first one needs to be finalized first. You can update the outcome for the specific college under your My Colleges list.
The outcome of the first ED contract has to be either Deferred or Denied in order to start a second ED contract. All other outcomes are not considered final.
After the outcome of the first ED contract is updated, the process of initiating the second ED contract is the same.