School Account Settings Tab Overview
School Account Settings Tab Overview
SCOIR has a new tab name to help organize your school-wide data in one area.  The new name is called School Account & Settings.  This tab is where you will find your faculty, student permissions settings, GPA settings and school documents such as the school profile.  NOTE:  You must have Administrator Account Permissions to change these settings.
Navigate to your Name | School Account & Settings.
On the left side, the tab will default to Counseling Team, but also available are tabs for Teachers, Account Settings as well as Documents & Templates.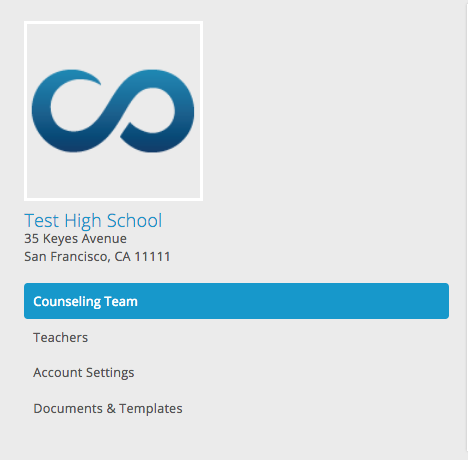 Counseling Team
This is where Counselors are added to SCOIR.  Counselors need to be added individually to Scoir due to the flexibility of the 'Roles' which allows the Scoir Admin. to set different Roles for each user.  The Counselor Assignment button can also be utilized from this screen.

Teachers
While Teachers can be added in bulk, via the Data Management | Add/Update Teachers import process as well, they will show here in your staff list.  This display is your Teacher list where new Users can be individually added, edited, removed or invited to join SCOIR.

Account Settings
This tab is designed to contain all of your SCOIR settings and permissions.  The Process Application Materials reflects the ability to send student application materials to Colleges as well as teacher recommendations.  This area will reflect the status of your SCOIR settings and will either be Enabled or Disabled.
Process Applications Materials
Clicking on the Blue Link will send a message to SCOIR Support indicating a request to change the status of this feature.
School Reports - please see more information here.
Transcripts
Select default settings for your Mid-Year and Final Transcripts and when you would like to be prompted to send these based on the sections.
FERPA - please see more information for Releases and Waivers.
GPA Preferences
The GPA Preferences show your school's current GPA settings, using either Weighted GPA, Unweighted GPA or both, including the low and high range.  If both Weighted GPA and Unweighted GPA are selected, the primary GPA will be indicated by the 'Primary' tab.
Changes can be made to GPA settings by contacting SCOIR support by clicking on the blue link.
Application Scattergram Display Settings
The Scattergrams are controlled by the GPA and SAT or ACT tests.  If the student took both SAT and ACT, the highest test score will be use.
Selection can be made to display the scattergram for students, based on a minimum number of applications.  Five is the default, but this can be adjusted to show less or more.  Ensure that SAVE is used to save any adjustments made to the default.
Default class years can be set as well by the Account Administrator.  If historical data goes back many year, click the starting year to include in the scattergram display.  

Student Permissions
We offer the ability to either allow or restrict a student's ability to update/edit their own standardized tests or GPA scores, in SCOIR.  The default value will allow students access to these scores.  Selecting no removes the ability for the student to add or update their own scores.
Acceptance Likelihood Settings
First determine if you would like students and counselors both to be able to set acceptance likelihood by selecting the appropriate radio button to Yes or No.

Next, customize the label headings as needed and Save.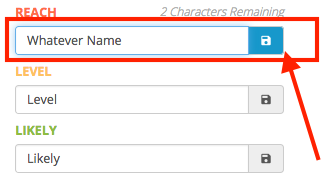 High School Email Address Domains
Each year at student rollover time in Mid-July, email addresses for Alumni (which will included the recently graduated seniors) will be purged to allow re-use of duplicate student names for upcoming students.
Communications
Changing communication options will either allow or restrict email messages from reaching students and/or parents.
Communication Planner emails are those set up in the Planner by you or your team.  Bulk Messages are the messages sent directly from a counselor and College Visit Notifications are those added visits that counselors have setup on the College tab.
Teacher Recommendations
Letters of Recommendation settings can be edited at any time by putting a check box into each applicable setting. 
To allow students to request letters of recommendation, turn this on by checking the box.  Next, select when you would like your students to request recommendations by selecting the month and student status year. 

If students will be allowed to select college-specific recommendations, simply check the box

If teachers will be able to see student profiles for a better glimpse of the students' activities outside of school, enable this box.

To allow teachers to 'write' recommendations directly in Scoir; upload recommendations via a .PDF, or do both, make the applicable choice.


Calendar
Calendar sync options are available through the link.  Please click here for more information on this process.

Documents and Templates
School Profile
The School Profile is now moved to the Documents & Templates Tab under the School Account Settings.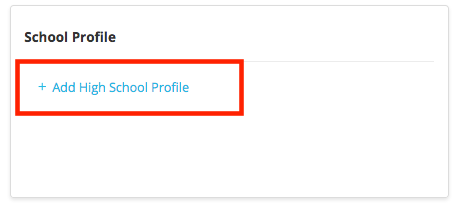 Once uploaded, the view will change to allow the ability to View, Replace and Delete this profile.
Letters of Recommendation Template
Scoir provides a template containing three sections which can be used to customize your recommendation if written in Scoir.  Each section can either contain a logo or text.  In order to select the logo, first you must upload a logo into Scoir.  Then when clicking the Letter of Recommendation 'Edit Letterhead' button, you will be able to add the log to your template.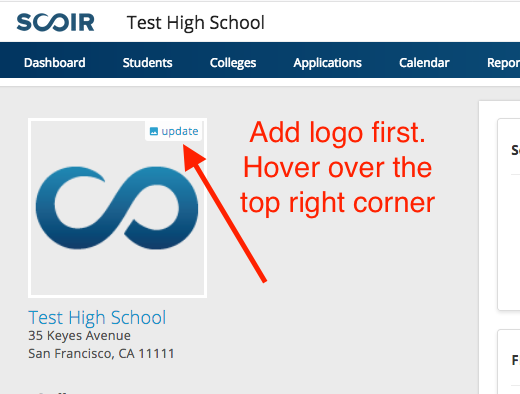 Click Edit Letterhead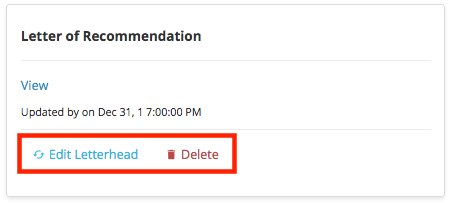 Select the section and add either text or logo, or clear the section.

Student Invite URL
The Student Invite URL is designed specifically for your high school.  This URL is only for your school and can be posted on a website or provided to your students to registered their Scoir account.  Students who are directed to this URL will be required to enter some personal data to confirm that they are a current student in your high school; but may register their Scoir account directly with this link.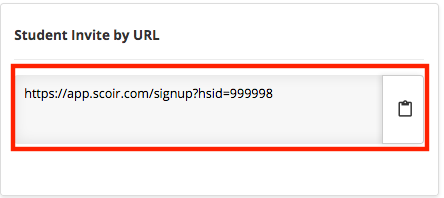 FERPA Release & Waiver
The FERPA documents are designed to be configurable as needed.  These documents can be used as they are, or the verbiage can be customized for your school.  Please click here for more information on FERPA.
School Reports Template
Secondary School Reports are designed to be customized specifically for your high school.  These reports can be adjusted as needed.  Please see our documentation here for customizing these reports.