For Students: Discover and Match with Careers
For Students: Discover and Match with Careers
Updated by Kelly Saello
We're gradually launching a new experience for Career Discovery in the first half of 2023 🚀 This article covers the first two parts of the larger release. Learn more about
what's coming next for Careers
!
Currently, students can discover, match, and manage careers from the Careers tab in their Profile.
Taking the Career Interest Assessment
Get started by taking a 5 minute assessment to match your interests with careers. There are two ways to take the Career Assessment for the first time. One is straight from your dashboard.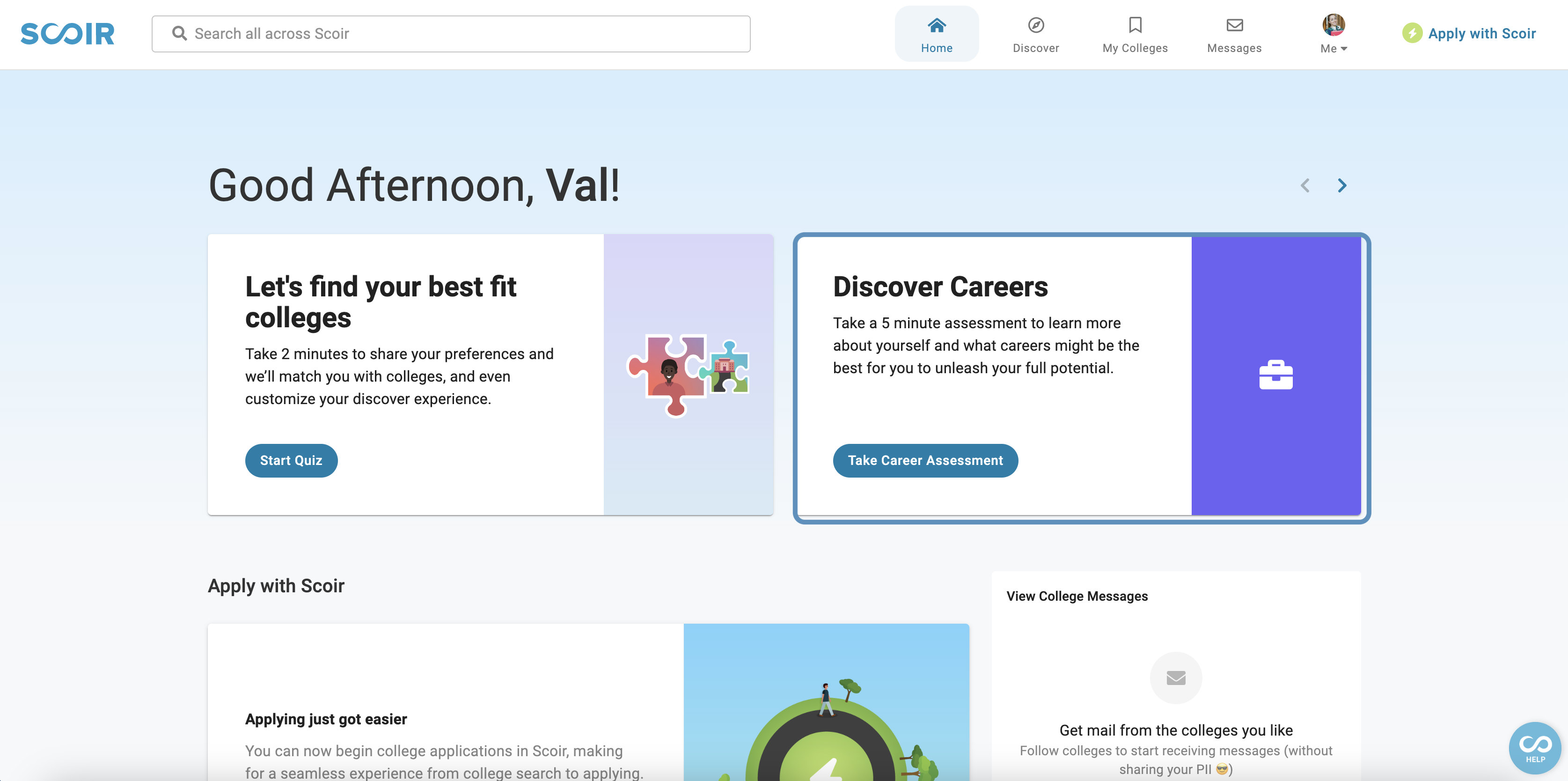 Another is by navigating to your Profile, select "Careers" in the left sidebar (or simply scroll down to reach that section). Then, select "Take a Career Assessment" to begin.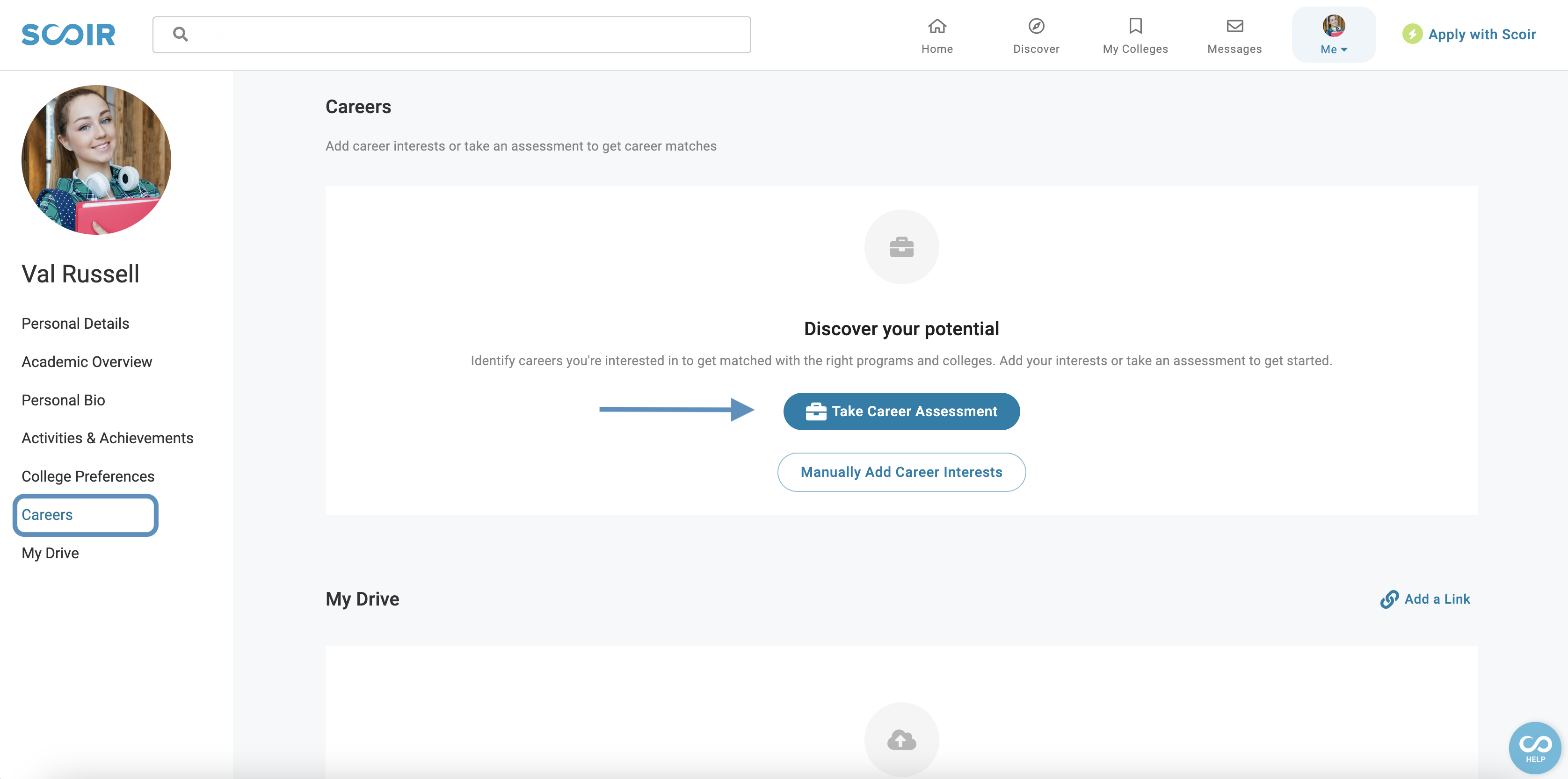 The assessment can be finished in roughly 5 minutes, but you can spend as long as needed. Please note that the assessment must be completed in one sitting. Click "Begin Assessment" to see the first question.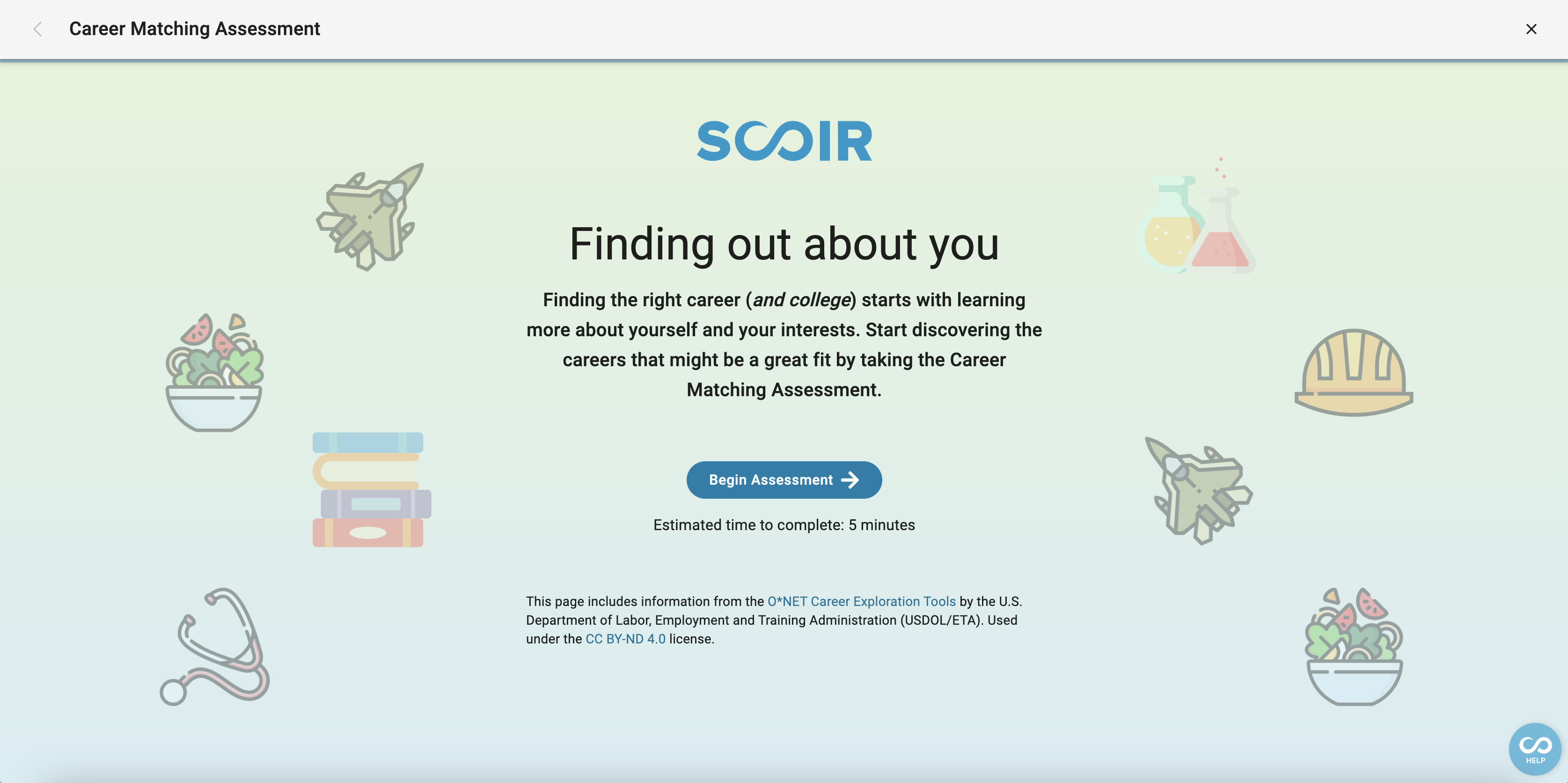 During the assessment, you'll walk through 60 questions that cover activities people perform when working in different careers. Rank how much you like, or dislike, each activity by selecting the associated icon.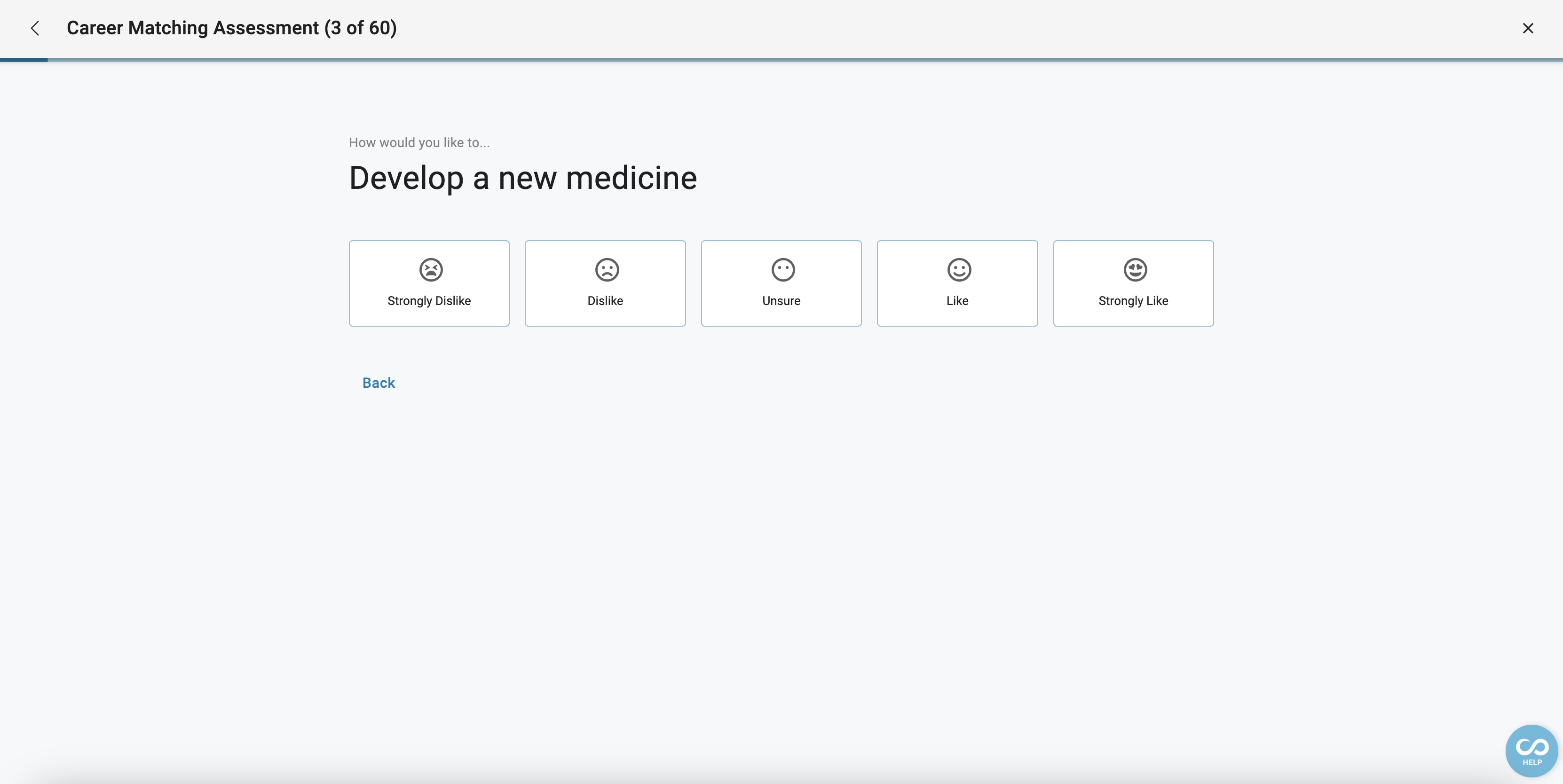 Select "back" to change the prior question's ranking.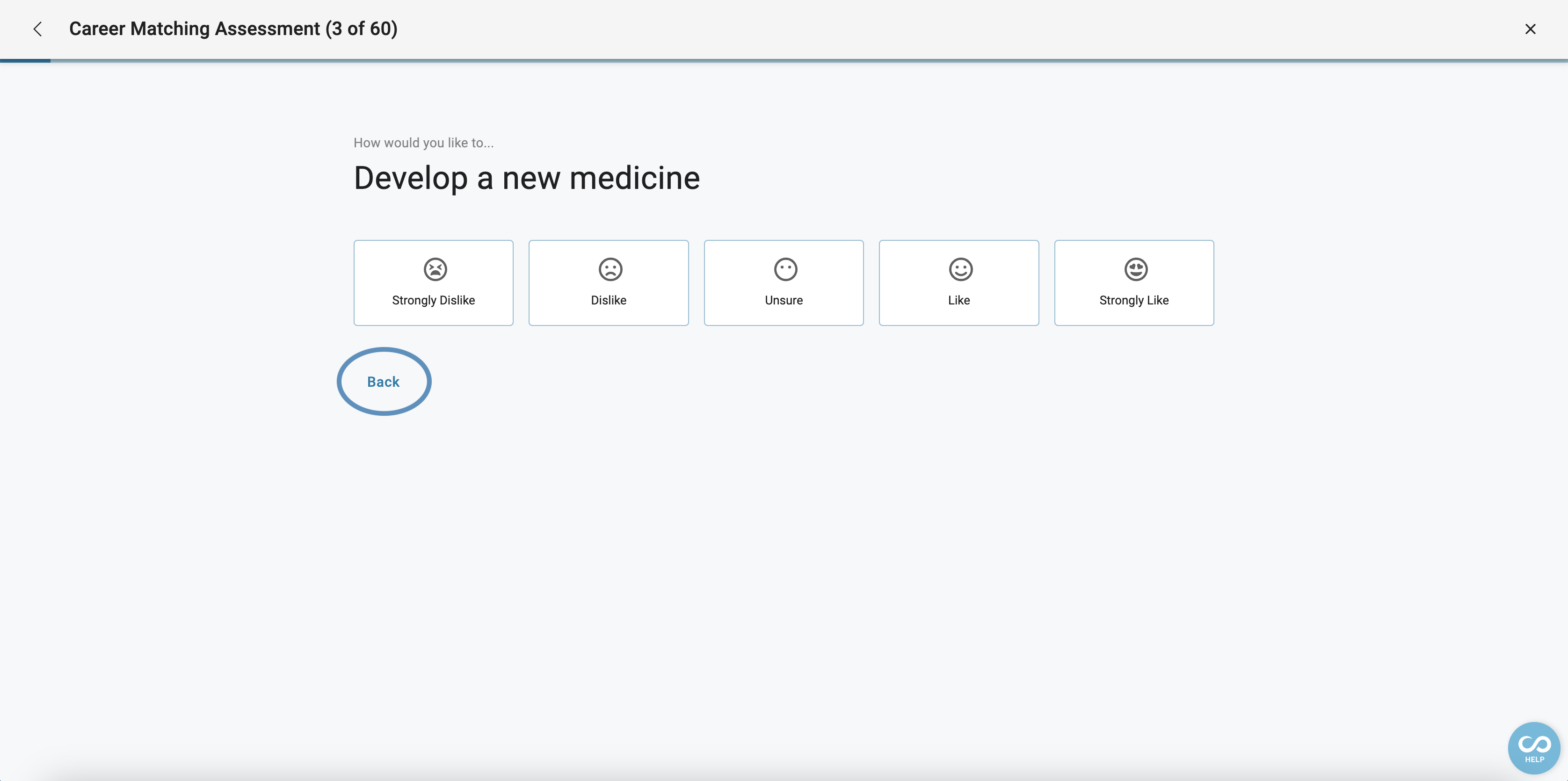 When using the back button, you will have to resubmit all previous responses if you navigate beyond the most recent question. For instance, if you decide on question 5 that you want to change the response to question 1, you can go back to question 1, but you will have to respond to questions 2-4 again.
Once all 60 questions are complete, choose View Career Matches.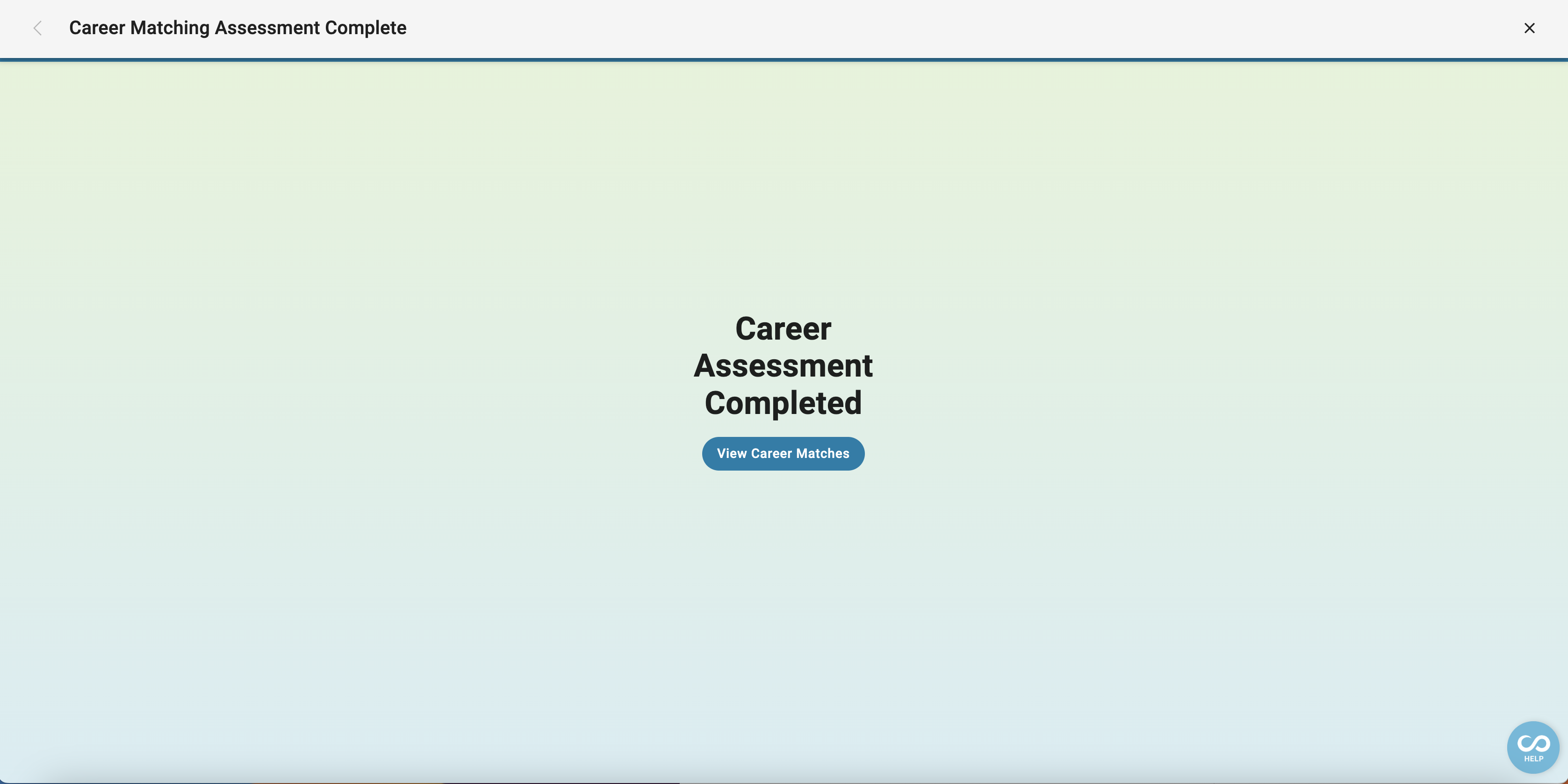 Viewing Career Assessment Matches
When completing the assessment, you'll be taken directly to your matches. From here, review matches to see best fit careers, outlook, median income, education level, and a description.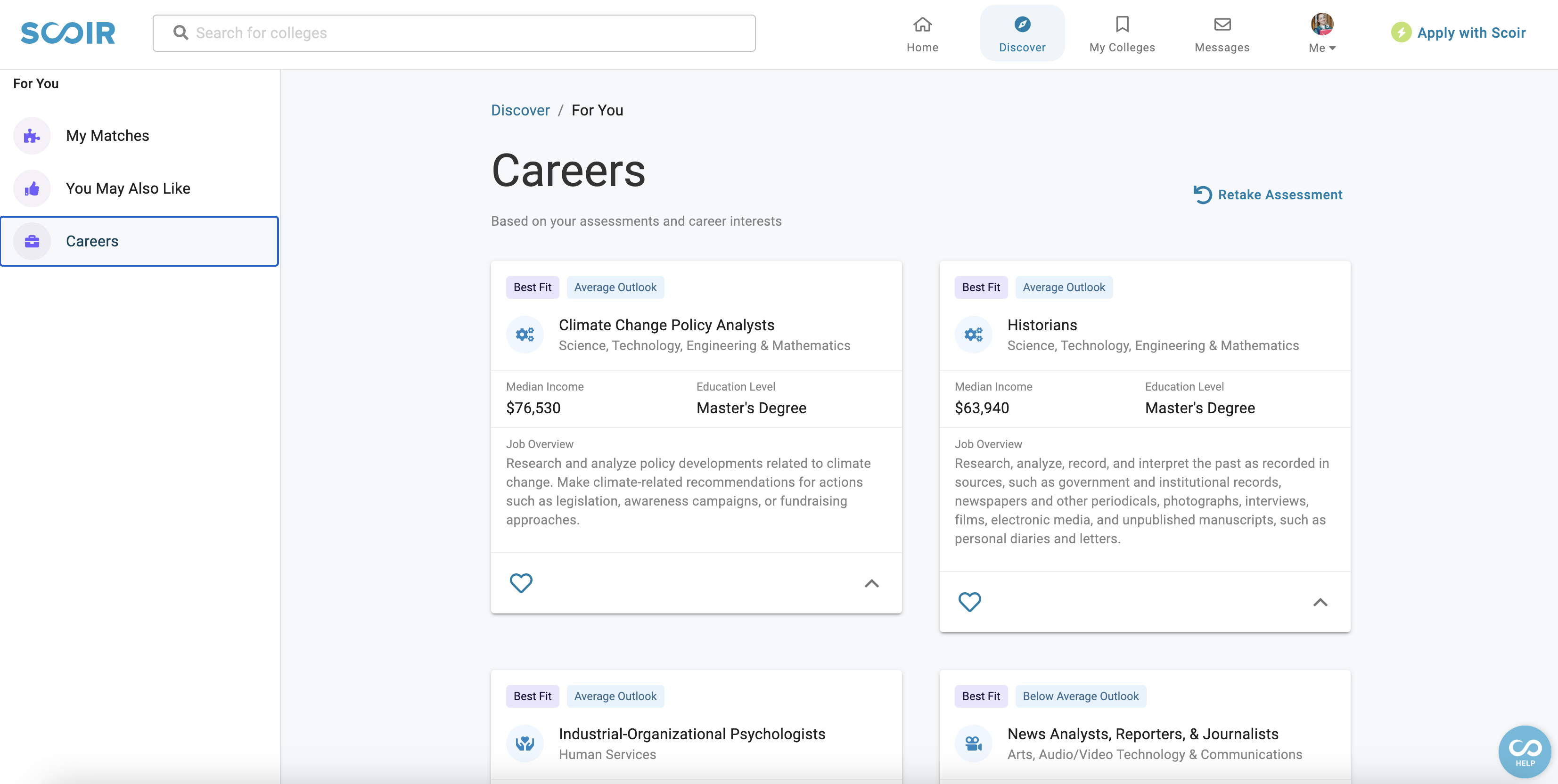 Return to these matches by navigating to Discover and selecting Careers under For You, or by going to Careers in your Profile and clicking on See Matches. Know that you won't see Careers in For You until you take the assessment.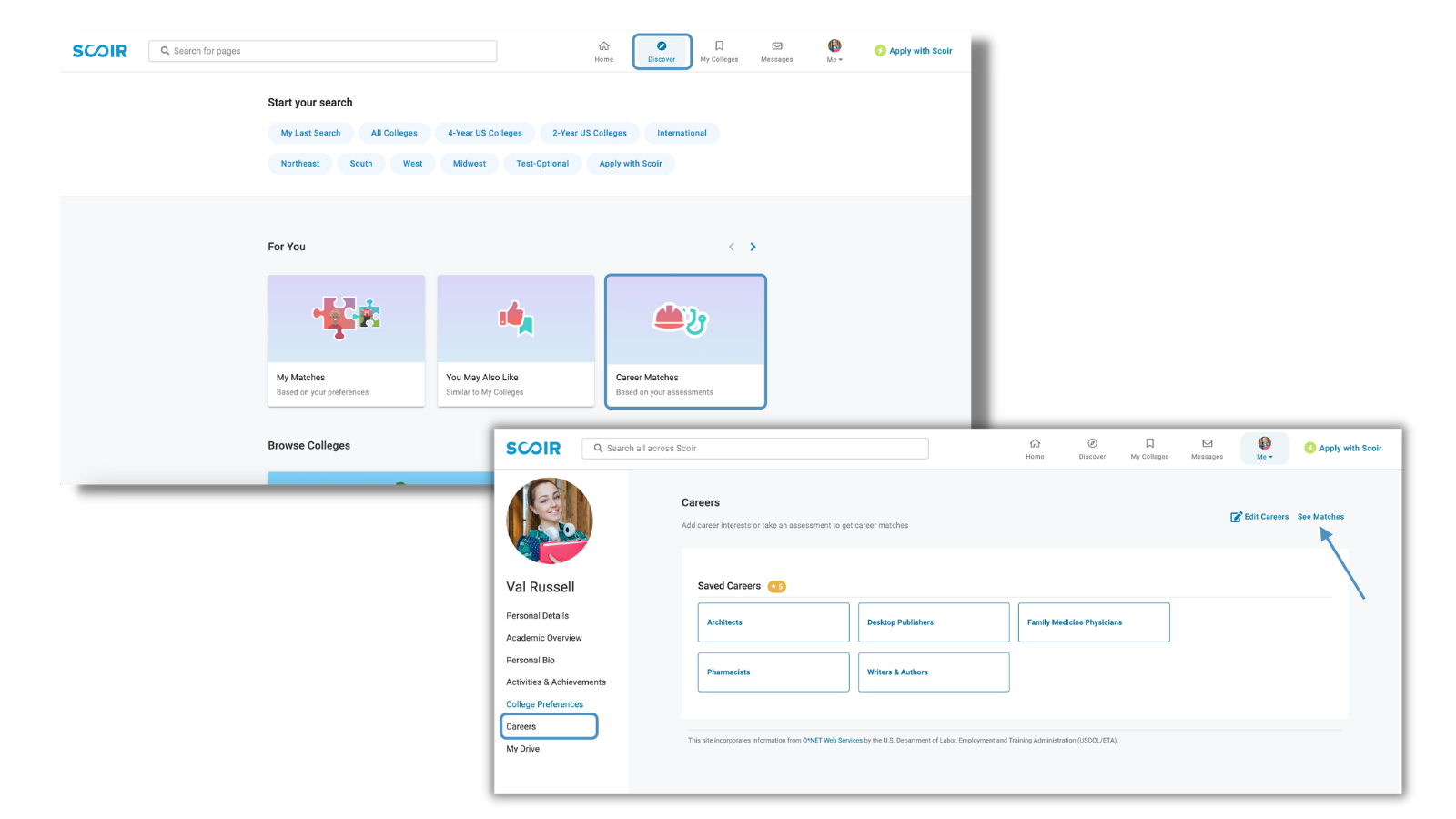 Saving Career Matches
Save careers that interest you by clicking the heart icon in the bottom left corner.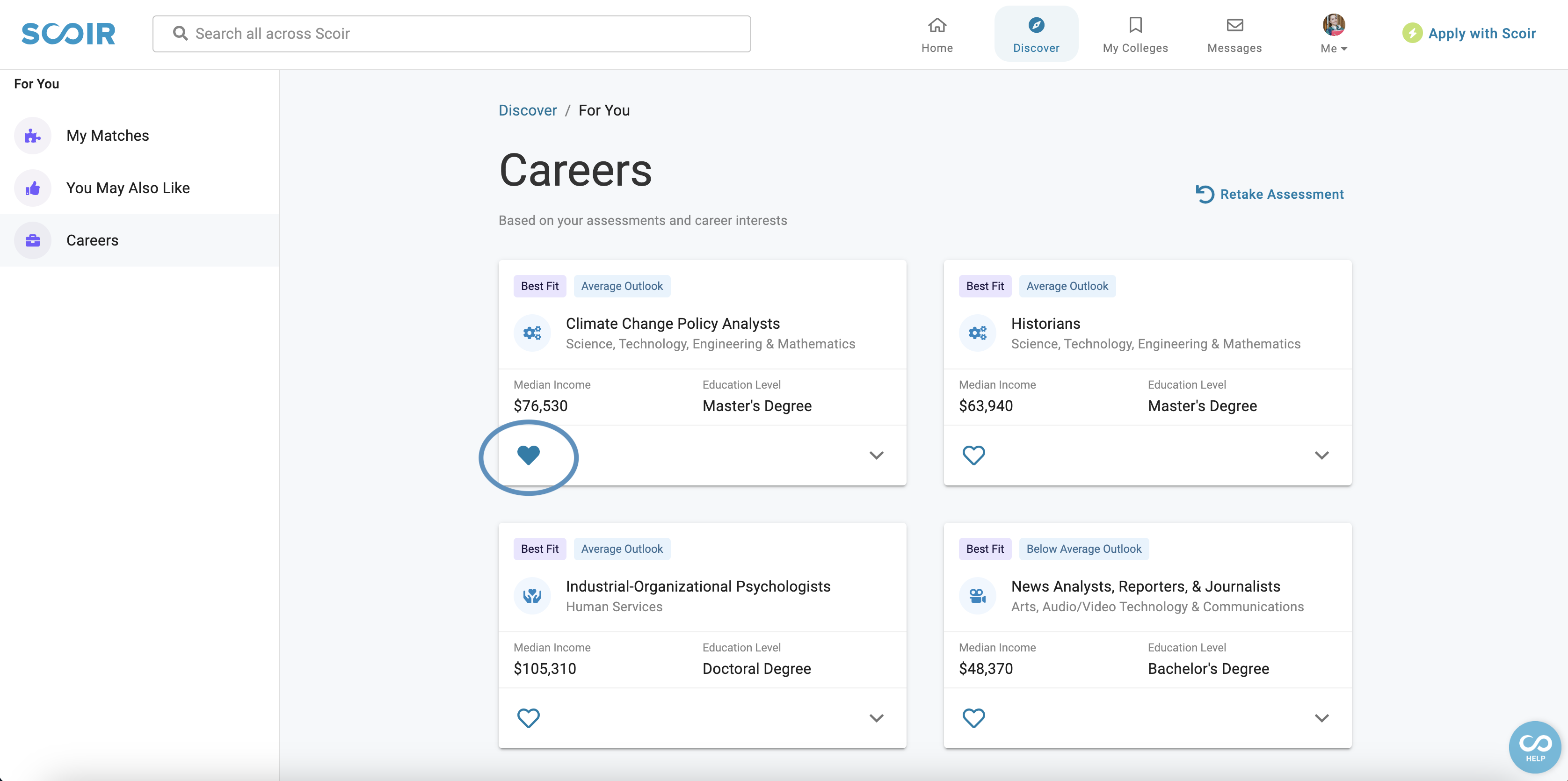 View those saved careers in your Profile under Careers.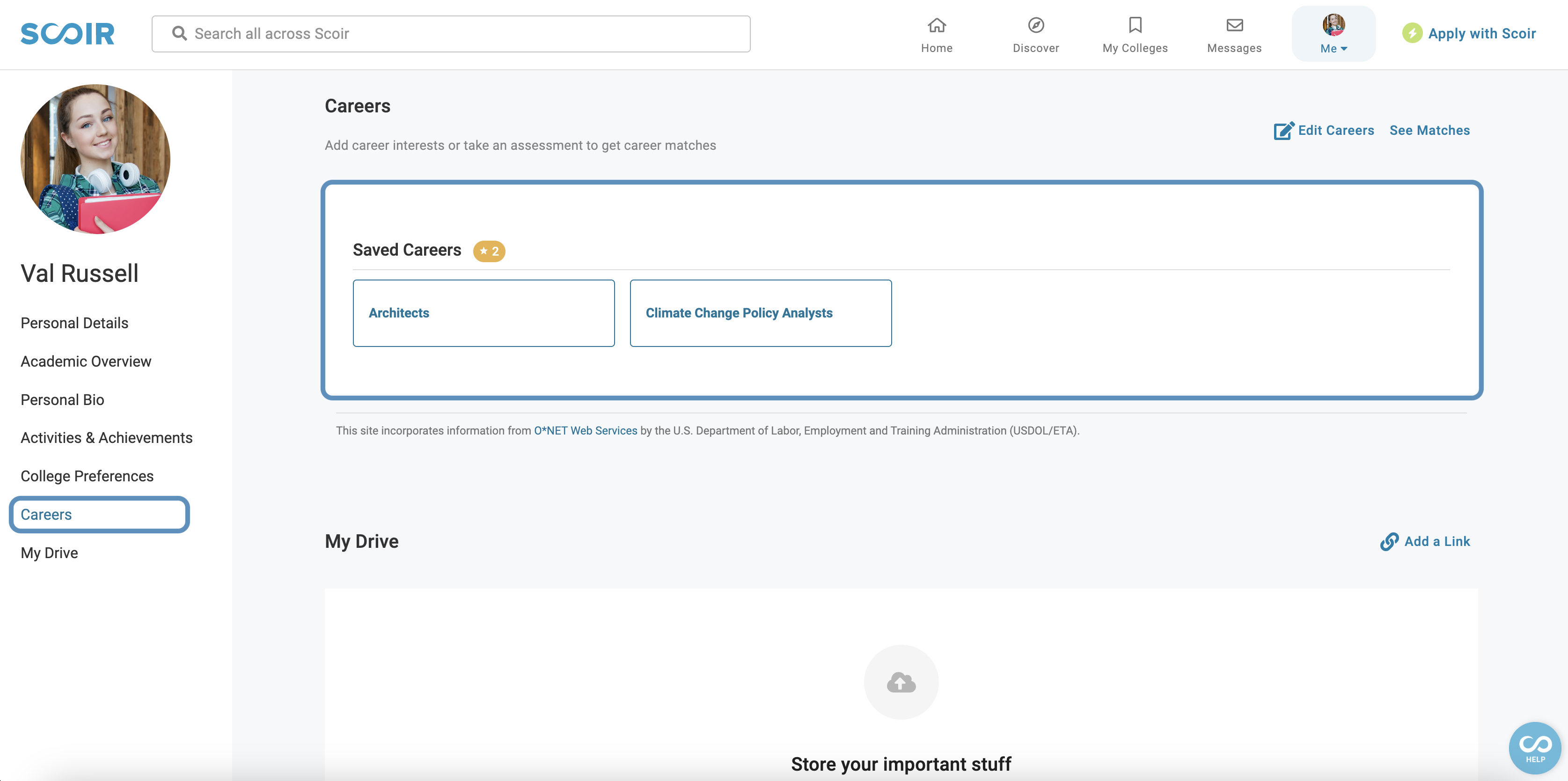 Retaking the Career Assessment
You can take the Career Assessment as many times as you like by selecting "Retake Assessment" from Discover > For You > Careers.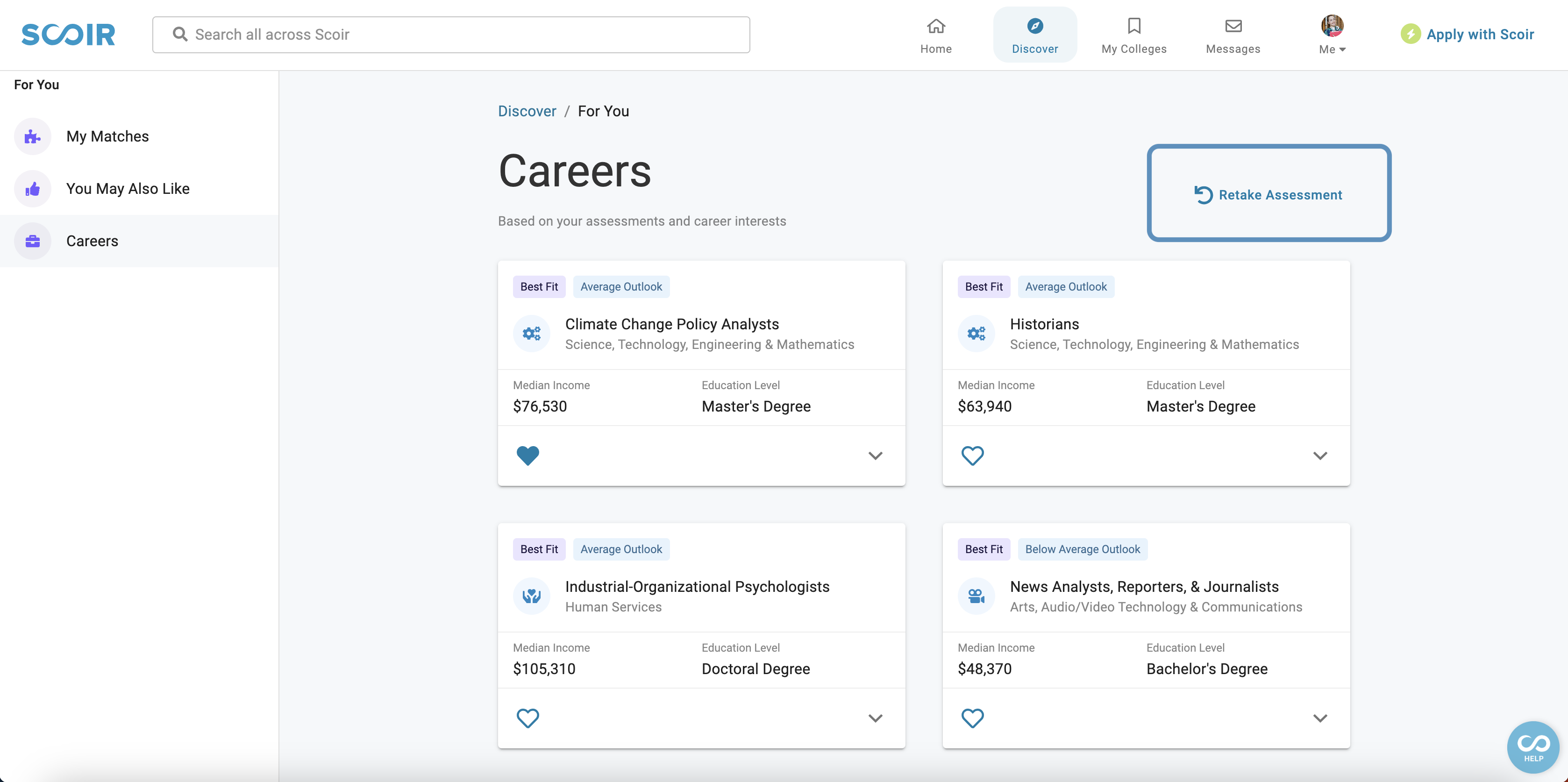 Before retaking the assessment, review and save any careers of interest! Retaking the assessment will remove prior results and populate new ones.
Matching Colleges with Your Careers
When saving a career from your assessment matches, you'll see the associated majors automatically populate in your College Preferences. This will help you find your best-fit colleges!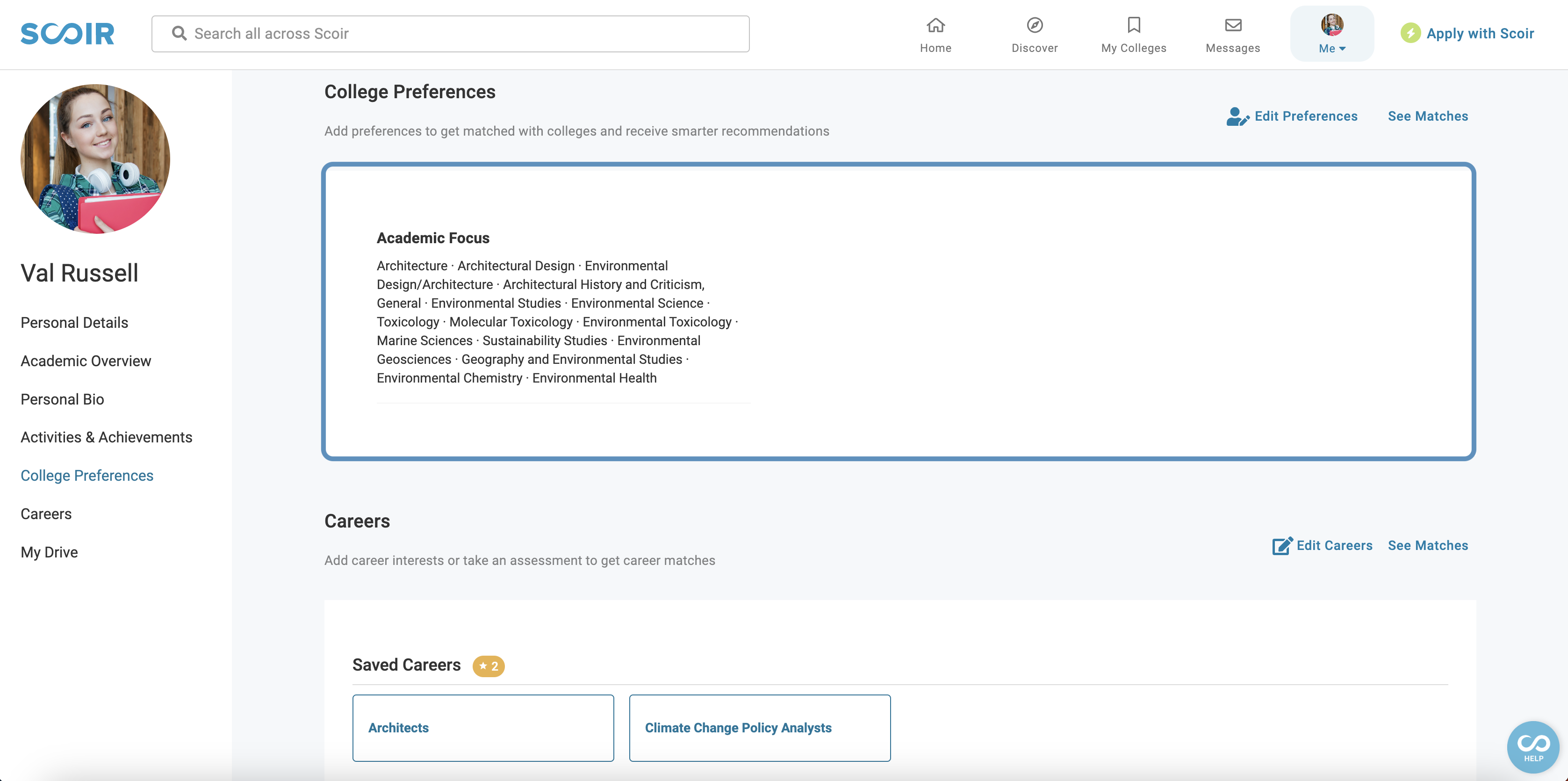 View colleges based on those majors, as well as the other preferences you've set, by selecting "See Matches."
Edit your majors by selecting "Edit Preferences." Choose the X on the left to remove a major or use the search bar to add additional majors.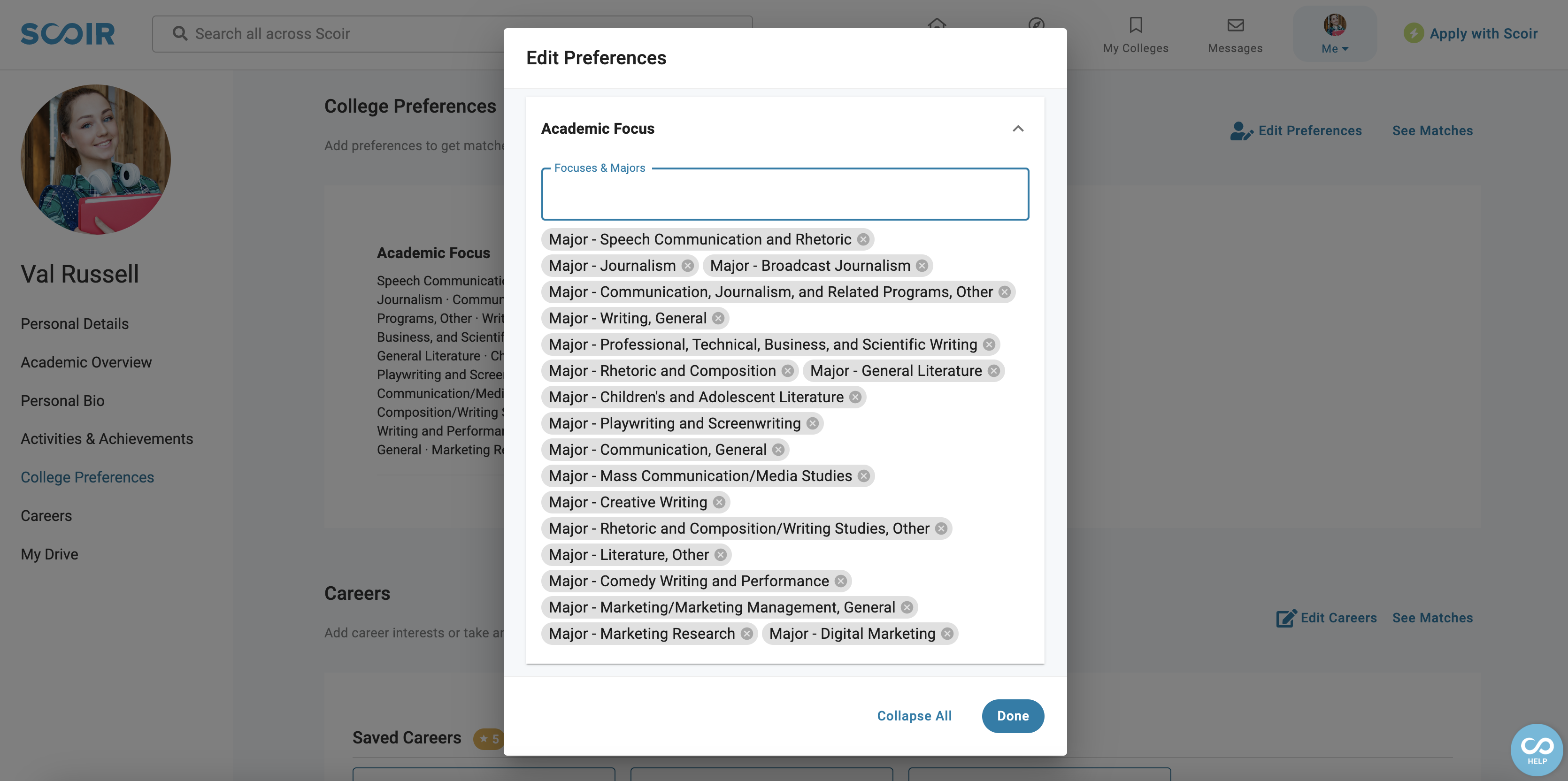 Manually Adding and Editing Career Interests
From your Profile, go to Careers, select "Add Your Career Interests." In the search bar, type in your job title(s) of interest, and click "Add."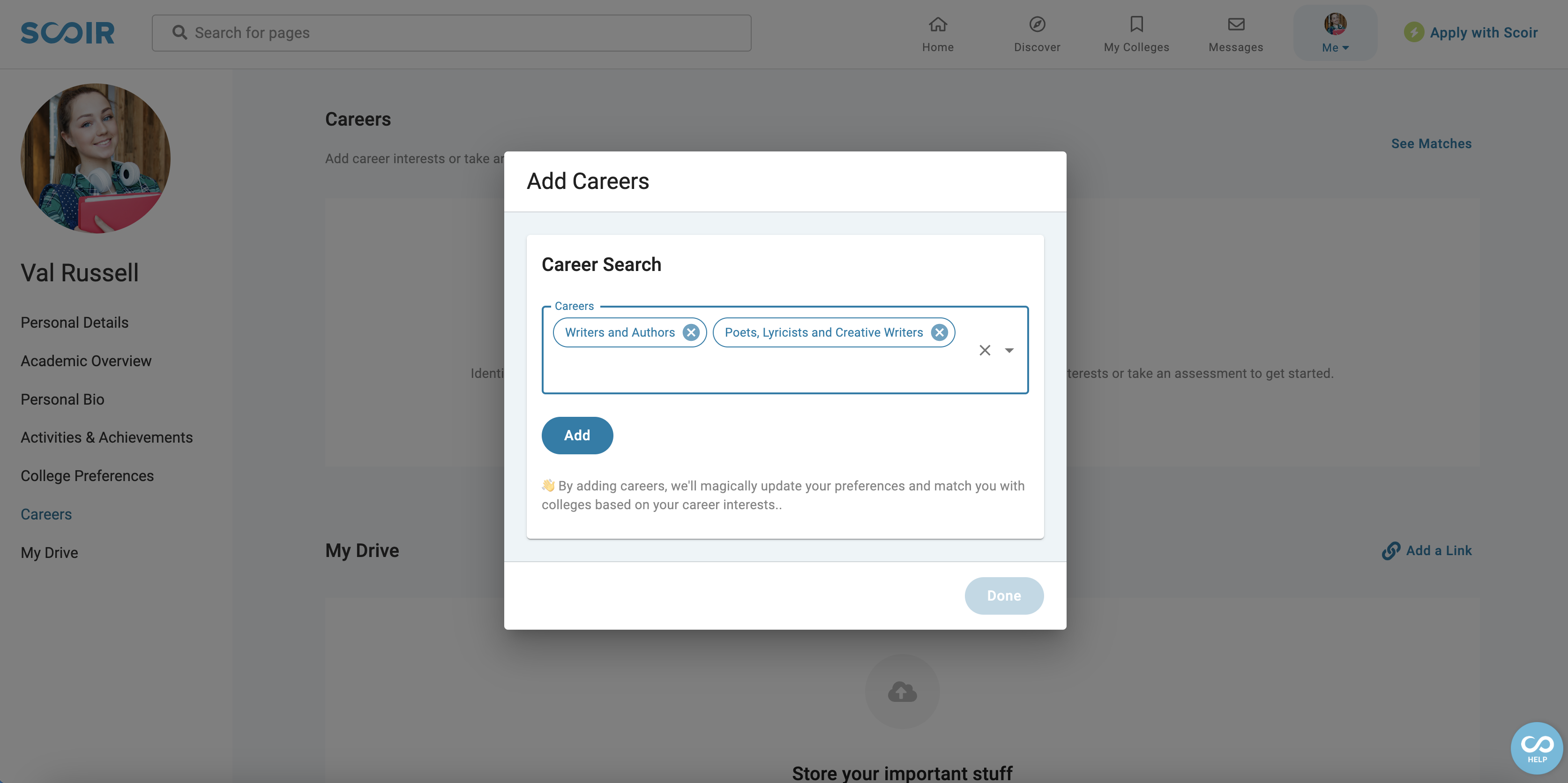 You'll see the added careers now listed in "Saved Careers." From here, you can continue adding or removing careers until you're happy with your list. Select "Done" to save the careers in your list to your profile.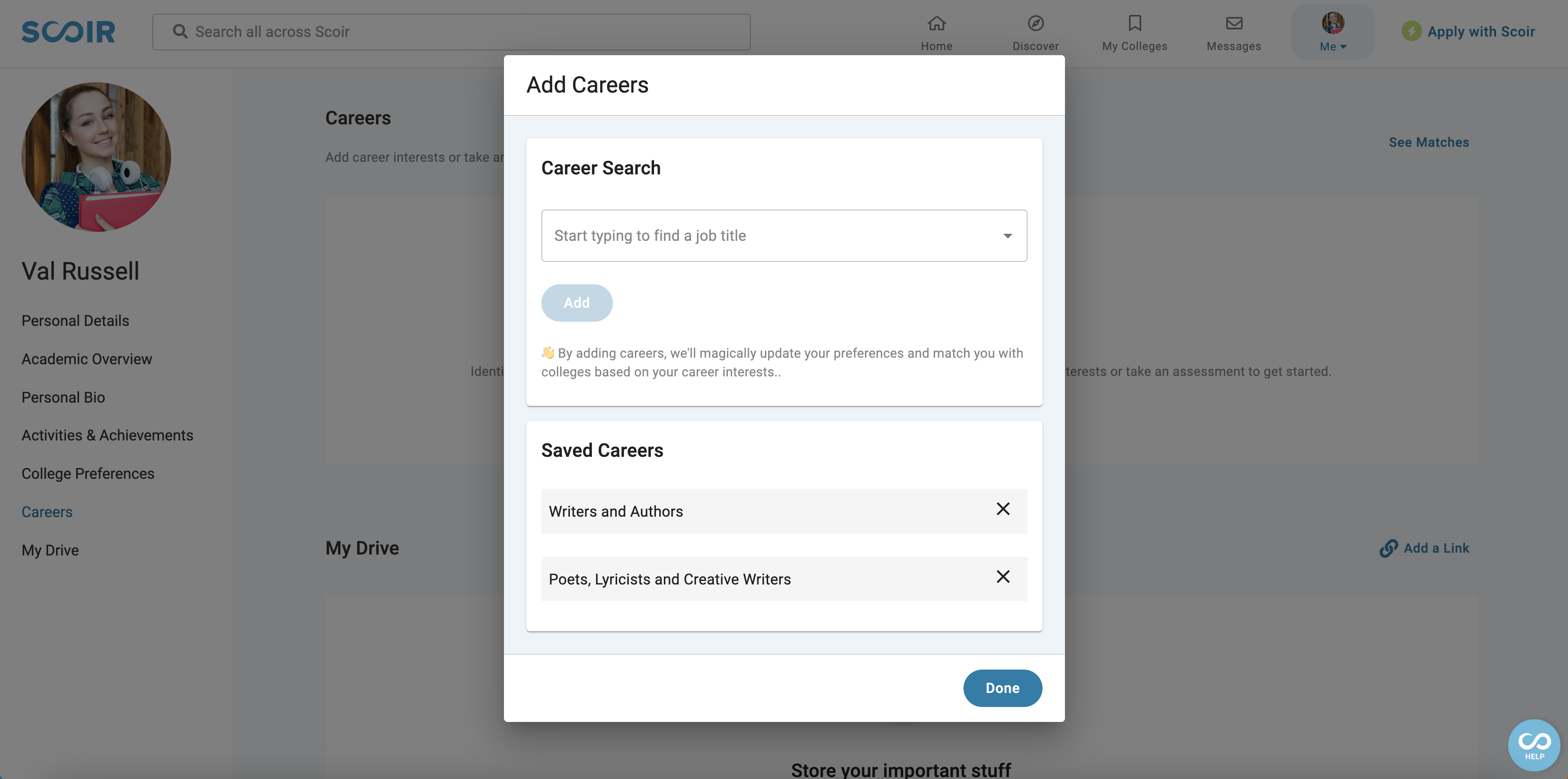 Make changes to your saved careers by selecting "Edit Careers" in the top right corner of your Career Profile.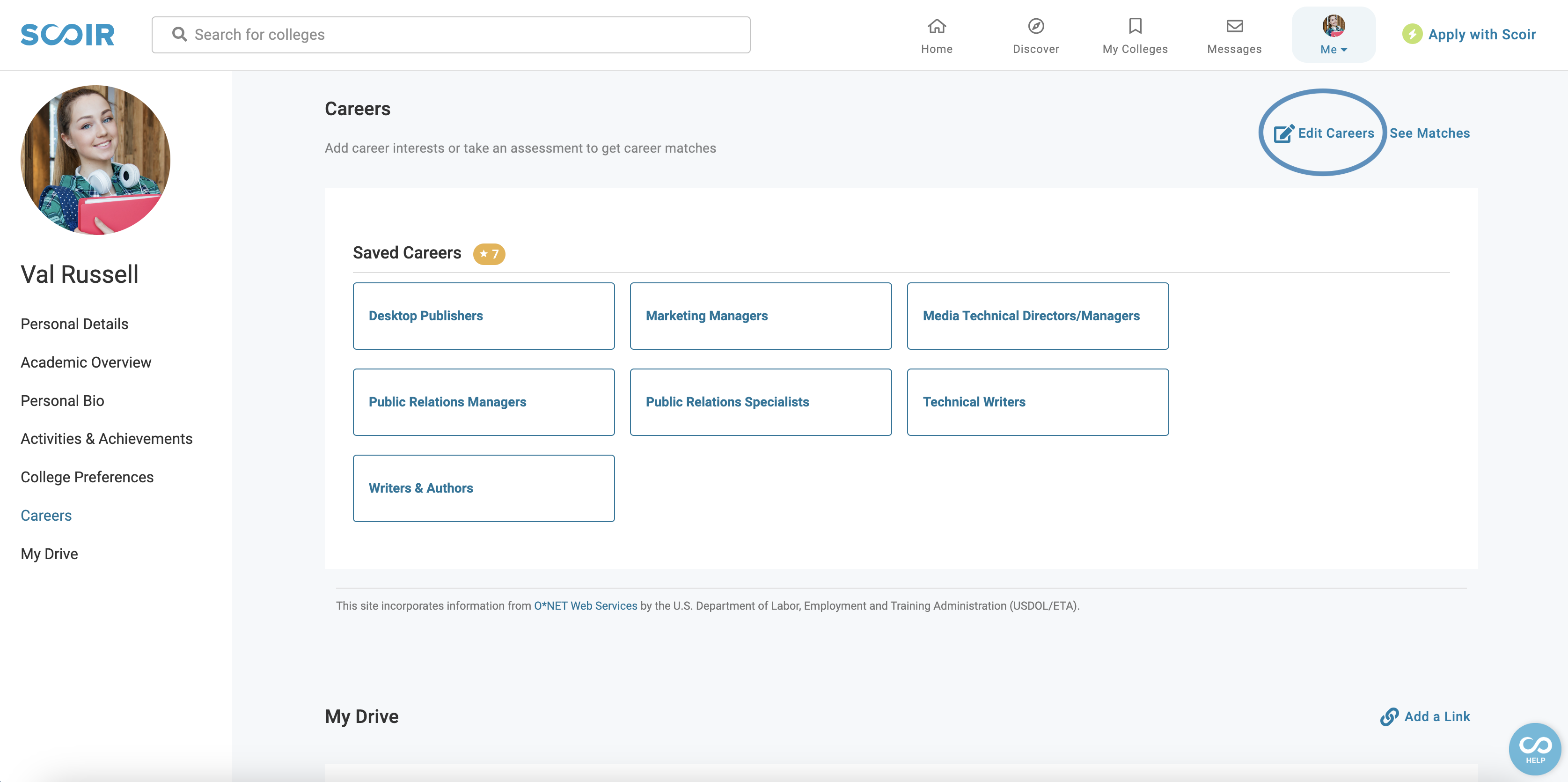 From there, you can add additional careers. Remove saved careers by selecting the X beside the job title.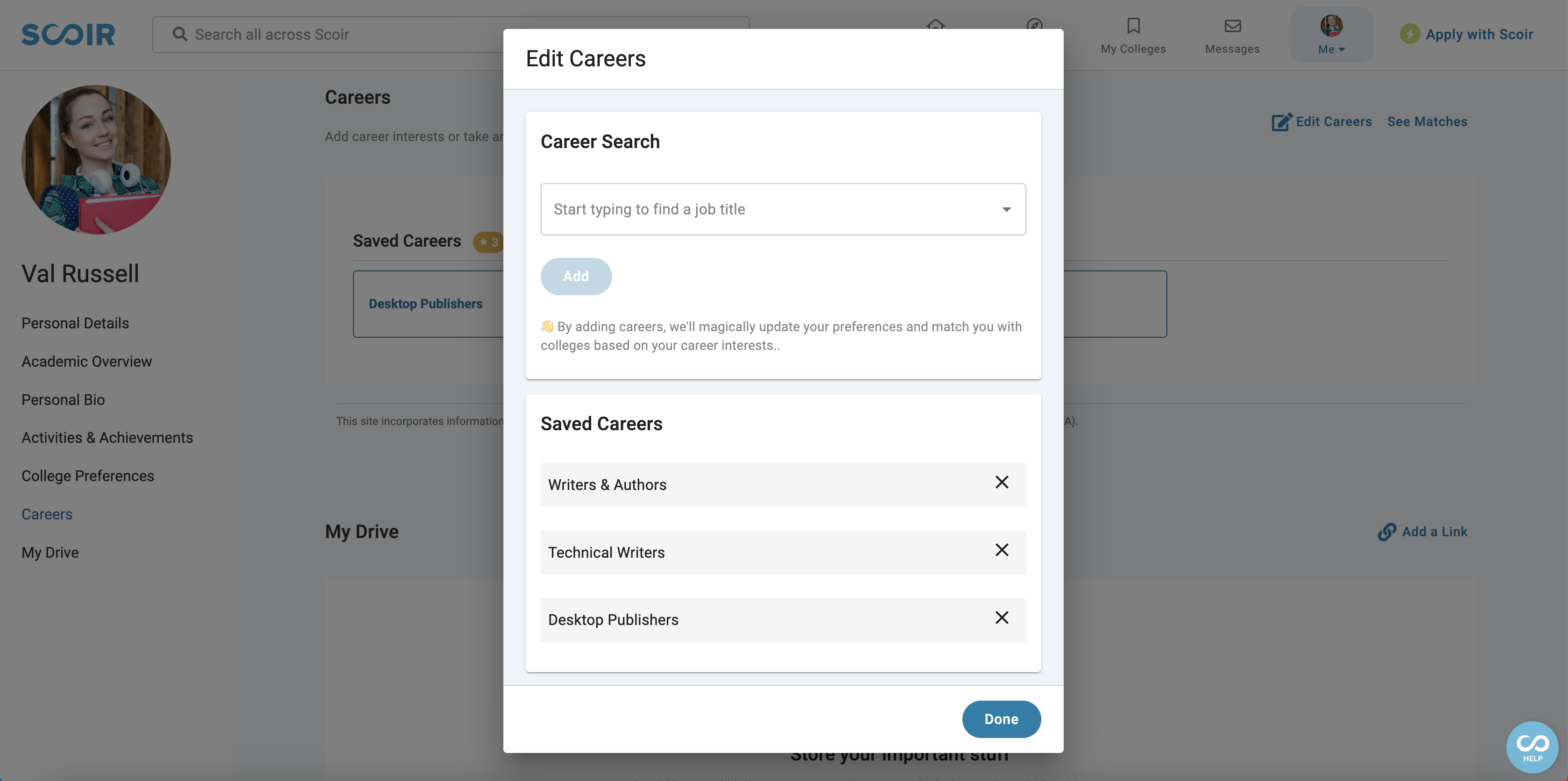 Adding Academic Preferences
When you click into a manually saved career, you'll be shown related majors and fields of study you can pursue to help narrow down academic areas of focus and majors.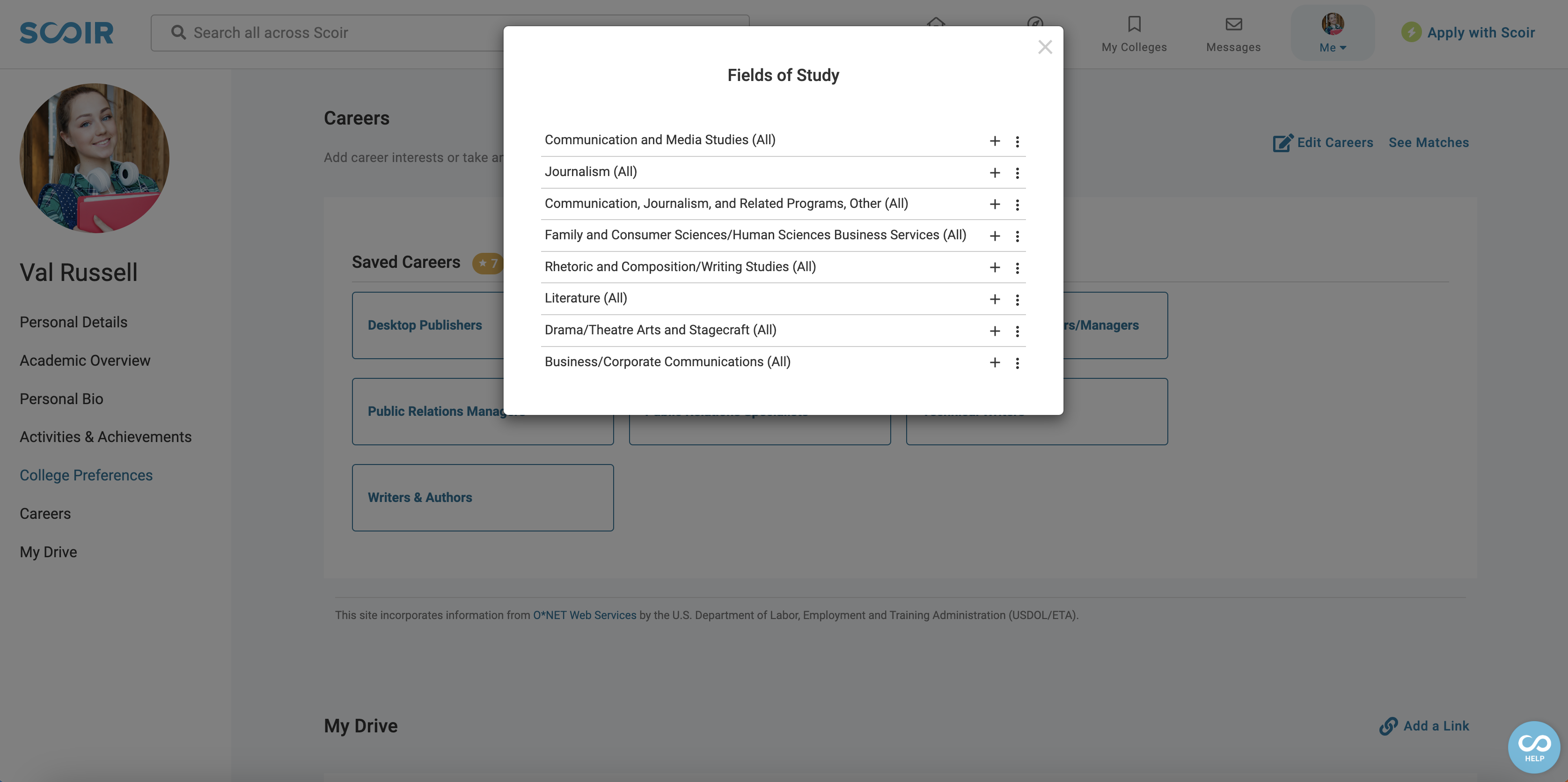 By clicking the three-dot action menu on the right, you can mark fields of study as "Must Have" to save them as academic focuses in College Preferences.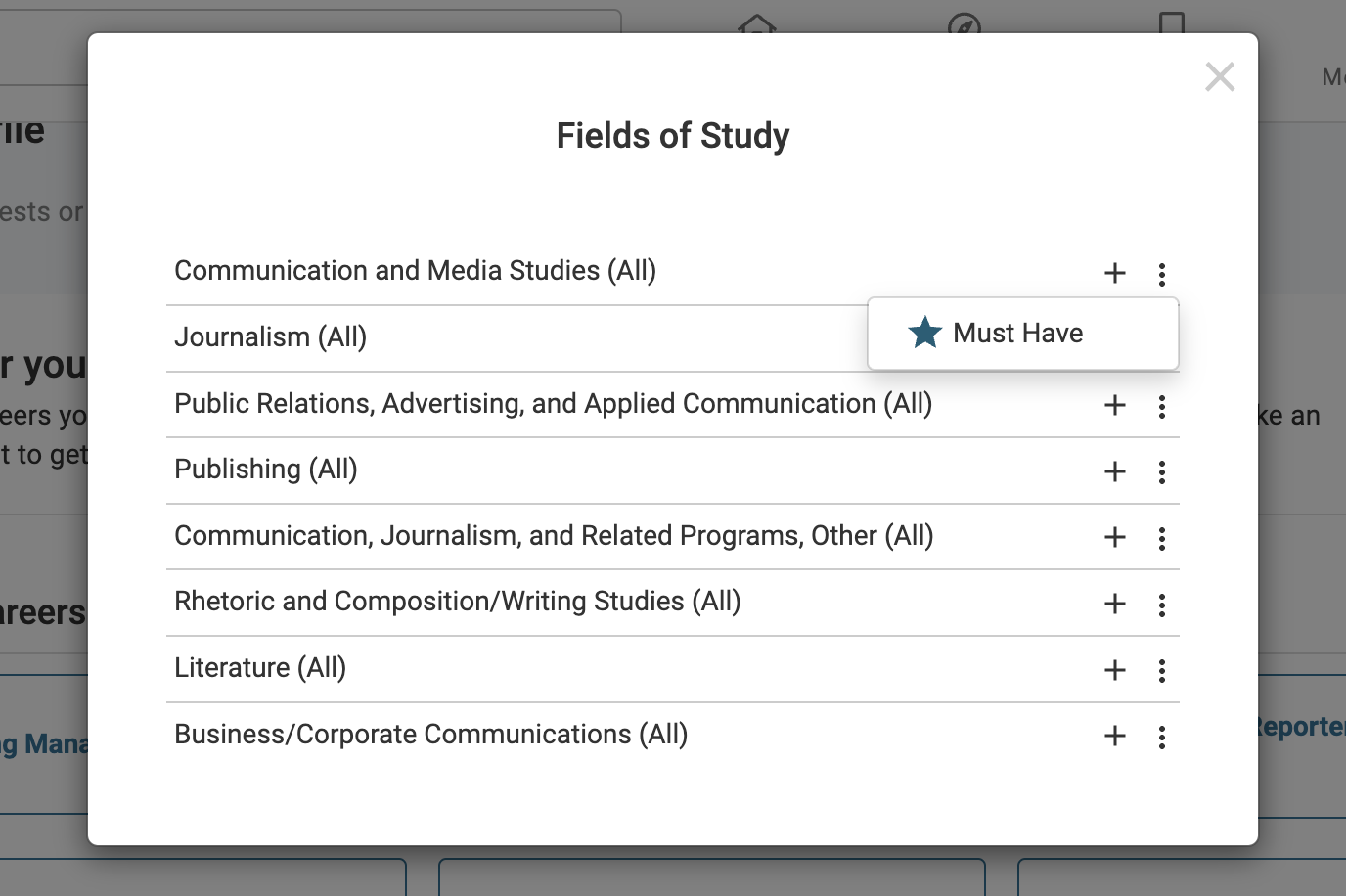 Coming Soon 🚀
We're launching an integrated Career Search and Exploration tool, followed by an integration with the PrinciplesYou character-based assessment, alongside a career matching tool.
Learn more about
what's coming next for Careers
!
Learn about the counselor experience here.